New York—May 20, 2012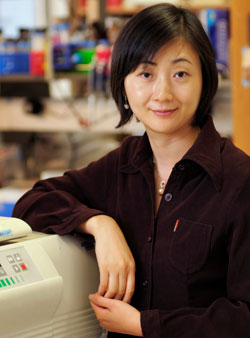 A new study led by researchers at Hospital for Special Surgery identifies the mechanism by which a cell signaling pathway contributes to the development of rheumatoid arthritis (RA). In addition, the study provides evidence that drugs under development for diseases such as cancer could potentially be used to treat RA. Rheumatoid arthritis, a systemic inflammatory autoimmune disease that can be crippling, impacts over a million adults in the United States.
"We uncovered a novel mechanism by which the Notch pathway could contribute to RA, said Xiaoyu Hu, MD, PhD, a research scientist at Hospital for Special Surgery in New York City and principal investigator of the study. The study appears online in advance of print in Nature Immunology.
Prior to this study, researchers knew that an intracellular molecular pathway called Notch is involved in diseases such as cancer. In the last year, other scientists conducted a genome wide association study to identify genes that were linked to the development of rheumatoid arthritis. They discovered that a certain mutation in a gene involved in the Notch pathway puts patients at risk for RA, but nobody knew just how it was involved.
"We were intrigued. Nothing has been known about how the Notch pathway is important to RA," said Dr. Hu. Working with researchers at other institutions in the United States and abroad, HSS investigators started putting two and two together and noted that Notch might be involved in a misfiring of the immune system that is commonly seen in RA.
The researchers designed experiments to test whether the Notch pathway had an influence on macrophages, a type of white blood cell that is most commonly known for gobbling up pathogens but which can also cause inflammation. Macrophages that have gone awry possess widespread pro-inflammatory and destructive capabilities that can critically contribute to acute and chronic rheumatoid arthritis. "In the case of RA, inflammatory macrophages attack joints and they produce inflammatory mediators that basically sustain inflammation in joints," said Dr. Hu.
In experiments, researchers found that knockout mice that lack the Notch pathway in macrophages were unable to produce certain type of macrophages and exhibited a lesser inflammatory phenotype.
"Notch is essential for the development and function of a cell type called the inflammatory macrophages and if this pathway is missing in mice, then you don't get good differentiation of the inflammatory macrophages," said Dr. Hu. In a nutshell, the Notch pathway is essential for the differentiation and function of inflammatory macrophages, and these macrophages are critical for human RA pathogenesis.
In a series of test tube studies, the researchers flushed out the specifics of how Notch influences the molecular cascade that leads to generation of inflammatory macrophage. In another experiment, the investigators used an inhibitor of the Notch pathway called GSI-34 that is under development and showed that this drug could inhibit the function of macrophages.
The researchers say the study provides the first explanation of how Notch contributes to rheumatoid arthritis pathogenesis. It also shows, for the first time, that investigational Notch inhibitors under development for cancer and Alzheimer's could potentially be used to treat RA. Several Notch inhibitors are under development by various companies and a few are currently in Phase III trials.
"Before this study, the Notch pathway has been implicated mainly in cancer, but in this study we define how it is connected to RA," said Dr. Hu.
The study was supported by funding from the National Institutes of Health and the American College of Rheumatology. Other authors involved in the study include Hospital for Special Surgery researchers Baohong Zao, PhD, Lionel Ivashkiv, MD, Carl Blobel, MD, PhD, Jimmy Zhu, Sinead Smith, and Allen Chung; Julia Foldi, PhD, and Chao Shi, PhD, from Weill Cornell Graduate School of Medical Sciences; Hasina Outtz and Jan Kitajewski, PhD, from Columbia University; Silvio Weber and Paul Saftig, PhD, from the Christian Albrechts Universitat Kiel, Kiel, Germany; Yueming Li, PhD, from Memorial Sloan-Kettering Cancer Center; and Keiko Ozato, PhD, from the National Institute of Child Health and Human Development.
About HSS | Hospital for Special Surgery
HSS is the world's leading academic medical center focused on musculoskeletal health. At its core is Hospital for Special Surgery, nationally ranked No. 1 in orthopedics (for the ninth consecutive year) and No. 3 in rheumatology by U.S.News & World Report (2018-2019). Founded in 1863, the Hospital has one of the lowest infection rates in the country and was the first in New York State to receive Magnet Recognition for Excellence in Nursing Service from the American Nurses Credentialing Center four consecutive times. The global standard total knee replacement was developed at HSS in 1969. An affiliate of Weill Cornell Medical College, HSS has a main campus in New York City and facilities in New Jersey, Connecticut and in the Long Island and Westchester County regions of New York State. In 2017 HSS provided care to 135,000 patients and performed more than 32,000 surgical procedures. People from all 50 U.S. states and 80 countries travelled to receive care at HSS. In addition to patient care, HSS leads the field in research, innovation and education. The HSS Research Institute comprises 20 laboratories and 300 staff members focused on leading the advancement of musculoskeletal health through prevention of degeneration, tissue repair and tissue regeneration. The HSS Global Innovation Institute was formed in 2016 to realize the potential of new drugs, therapeutics and devices. The culture of innovation is accelerating at HSS as 130 new idea submissions were made to the Global Innovation Institute in 2017 (almost 3x the submissions in 2015). The HSS Education Institute is the world's leading provider of education on the topic on musculoskeletal health, with its online learning platform offering more than 600 courses to more than 21,000 medical professional members worldwide. Through HSS Global Ventures, the institution is collaborating with medical centers and other organizations to advance the quality and value of musculoskeletal care and to make world-class HSS care more widely accessible nationally and internationally.