New York, N.Y.—March 17, 2014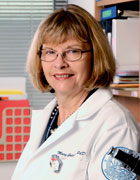 Mary B. Goldring, Ph.D., senior scientist at Hospital for Special Surgery (HSS) in New York City, has been named president of the Orthopaedic Research Society (ORS). The inauguration took place at the organization's annual meeting on March 17 in New Orleans, with more than 2600 attendees.
Dr. Goldring is credited with developing models for the study of human cartilage cell biology. Her research has identified molecular and cellular mechanisms underlying cartilage loss and changes involved in osteoarthritis and inflammatory joint disorders.
The mission of the Orthopaedic Research Society is to advance the global orthopedic research agenda through excellence in research, education, collaboration, communication and advocacy. The ORS has more than 2,800 members, including orthopedic surgeons, research scientists, engineers and biologists.
"It is an honor to be named president of an organization that strives to be the world's leading forum for the dissemination of new musculoskeletal research findings," Dr. Goldring said. As president, her goals will include supporting the society's long-standing mission of delivering outstanding scientific programs. She will also seek to ensure the growth, interactions and long-term retention of the diverse international ORS membership and cultivate young investigators.
Dr. Goldring is currently associate editor of the Journal of Cellular Physiology, Arthritis Research and Therapy, and the Journal of Orthopedic Research. She previously served as co-editor of the journal Arthritis and Rheumatism. In addition, she has served as a member of the Board of Directors of the Osteoarthritis Research Society International and as chair of the Arthritis Foundation Molecular Biology and Genetics Study Section. She has also served on study sections for the National Institutes of Health, the Orthopaedic Research and Educational Foundation, and NASA.
About Hospital for Special Surgery
Hospital for Special Surgery (HSS) is the world's leading academic medical center focused on musculoskeletal health. HSS is nationally ranked No. 1 in orthopedics and No. 2 in rheumatology by U.S. News & World Report (2016-2017), and is the first hospital in New York State to receive Magnet Recognition for Excellence in Nursing Service from the American Nurses Credentialing Center four consecutive times. HSS has one of the lowest infection rates in the country. HSS is an affiliate of Weill Cornell Medical College and as such all Hospital for Special Surgery medical staff are faculty of Weill Cornell. The hospital's research division is internationally recognized as a leader in the investigation of musculoskeletal and autoimmune diseases. Hospital for Special Surgery is located in New York City and online at www.hss.edu.