Less than five percent of Board-certified orthopedic surgeons are women
New York—July 10, 2013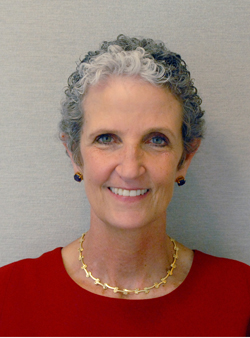 Jo A. Hannafin, M.D., Ph.D., an orthopedic surgeon at Hospital for Special Surgery (HSS) in New York City, has been named the first female president of the American Orthopaedic Society for Sports Medicine (AOSSM). She will begin her one-year term as president in July.
With 3,042 members, the Society is an international organization of orthopedic surgeons and other allied health professionals dedicated to sports medicine. Founded in 1972, AOSSM is a world leader in sports medicine education, research, communication and fellowship.
"It's the largest sports medicine society in the world, and I'm very excited to have been chosen as president," Dr. Hannafin said. "I became the 21st female member of the organization in 1997.
"Hospital for Special Surgery takes pride in the achievements of Dr. Hannafin, and we are delighted to congratulate her on her new position," said Lou Shapiro, president and CEO of Hospital for Special Surgery. "Dr. Hannafin is a trailblazer. She was the first clinician scientist at Hospital for Special Surgery, as well as a highly respected orthopedic surgeon and scientist on both a national and international level."
Dr. Hannafin, who specializes in sports medicine, is Director of Orthopedic Research at Hospital for Special Surgery and Orthopedic Director of the Women's Sports Medicine Center at HSS. The Center, which Dr. Hannafin founded with Dr. Lisa Callahan, sports medicine physician at HSS, in 1997, was the first such center of its kind in the United States.
"It is with immense pride and joy that we celebrate the selection of Dr. Jo Hannafin as the first female President of the prestigious AOSSM," said Dr. David Altchek, co-chief of the Sports Medicine Service at Special Surgery. "Dr Hannafin has been an inspiration to all of us on the HSS Sports Service and we are delighted to share her wisdom and leadership with our national organization."
"It is only fitting that Dr. Hannafin is the first woman to be elected president of the American Orthopaedic Society for Sports Medicine. She has been a leader throughout her whole career," said Dr. Scott Rodeo, co-chief of the Sports Medicine Service at HSS. "She was a world class athlete herself and one of the first women to complete a sports medicine fellowship, during which time she was the first woman to work with an NFL team as a fellow. Her combination of wisdom, skill and grace will lead the prestigious AOSSM to new heights."
Dr. Hannafin focuses on injury treatment and prevention in athletes and active individuals. She has published more than 80 papers in peer-reviewed journals, written 20 book chapters and co-authored the book, "Say Goodbye to Knee Pain." She was the first clinician-scientist at HSS with a research program in ligament physiology.
Dr. Hannafin is currently head team physician for the Women's National Basketball Association New York Liberty. A lifelong rower and a physician for the U.S. Olympic Rowing team, she also serves as a team physician for the United States Rowing Team. She was a three-time national rowing champion and silver medalist at the 1984 World Championships. She is a member of the FISA Medical Commission and is vice president of the Board of Trustees of the National Rowing Foundation. Dr. Hannafin previously was an assistant team physician for the New York Mets and team physician for the WUSA NY Power.
Over the years, Dr. Hannafin has been an active member of AOSSM, serving on a number of important committees. She previously chaired the Research Committee, where she led an initiative to enhance research funding provided by the organization. Under her leadership, the committee launched a three-year grant program of $250,000 to fund a major sports medicine study chosen from AOSSM member proposals.
"Very high quality studies have come out of this grant program," Dr. Hannafin said. "The first study was on the non-contact ACL injury, which is common in female athletes. The AOSSM grants represent significant seed money for important sports medicine research, and many investigators we have supported have gone on to acquire major NIH funding."
Dr. Hannafin has also chaired the Society's Enduring Education Committee and has served as secretary of the Board of Trustees.
As president, she is responsible for overseeing the organization's annual meeting and sports sub-specialty meeting. She also has a personal goal as president. "I would like to focus on improving member fellowship." The missions of the AOSSM include education, research, patient care and fellowship. By fellowship, I don't mean fellowship training, but fellowship in a community of like-minded people - the fellowship among sports medicine physicians," she explains.
Dr. Hannafin would like to highlight sports medicine physicians around the country who may not be nationally famous, but are doing things that are important to the mission of AOSSM. "They're taking great care of patients, they're volunteering their time to take care of teams, perhaps a high school or college team," she explains. "One of the things I hope to do is to highlight the unsung heroes of sports medicine, the people who are doing the work, but not always getting the credit and the applause for it. We're going to figure out how to recognize them, such as with a feature on the web site that highlights different physicians around the country. For me, it's important to reinforce that we do what we do because we love it."
Her other goals as president are to further strengthen the organization and to ensure that it offers innovative and intellectually challenging annual and sub-specialty meetings that are well attended. "Ultimately, the hope is that at the end of the year, the organization is stronger than when you took the helm," she said.
In March, Dr. Hannafin was honored by Castle Connolly Medical Ltd. as a Physician of the Year.
NOTE: Dr. Hannafin's induction as president will take place Saturday, July 13.