Weill Cornell Medical College--Dean's Bulletin—May 10, 2012
A coalition of interdisciplinary researchers from four institutions — including Hospital for Special Surgery and Weill Cornell Medical College — has won a prestigious award recognizing the team's success in translation of research discoveries pertaining to perioperative outcomes in orthopedic surgery into clinical practice.
The team, led by Dr. Madhu Mazumdar, professor of biostatistics in public health and chief of the Division of Biostatistics and Epidemiology in the Department of Public Health at Weill Cornell, and Dr. Stavros G. Memtsoudis, a clinical associate professor of anesthesiology and public health at Weill Cornell and associate attending anesthesiologist at Hospital for Special Surgery, garnered the esteemed Team Science Award from the Association for Clinical Research Training, American Federation for Medical Research, Association for Patient Oriented Research and Society for Clinical and Translational Science during their annual Translational Science meeting April 18-20.
Composed of anesthesiologists, an orthopedic surgeon, a spine surgeon, biostatisticians, and epidemiologists from Weill Cornell, Hospital for Special Surgery, University of Massachusetts Medical School and Mathematica Policy Research in Princeton, N.J., the team was recognized for studying various aspects of the perioperative epidemiology including the incidence, risk factors and trends of morbidity and mortality, changes in the population receiving care and — following the concepts of comparative effectiveness research — outcomes associated with different orthopedic surgical approaches and anesthetic techniques. The team was also recognized for spurring national dialogue on these issues. The award carries a $1,000 cash prize.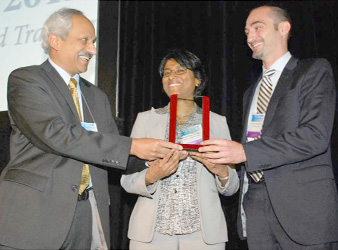 The team began four years ago with five collaborators. Dr. Memtsoudis was writing an article on the perioperative period in orthopedic surgery with his colleague, Dr. Alejandro Gonzalez Della Valle, an orthopedic surgeon at Hospital for Special Surgery, and reached out to Dr. Mazumdar for some biostatistical help.... Dr. Mazumdar then enlisted biostatistician Dr. Yan Ma from Hospital for Special Surgery.
The team initially engaged in research on the safety of bilateral total knee replacement surgery, which seemed to be linked to increased perioperative morbidity and mortality. Using nationally represented databases, the researchers discovered in the first large-scale national study on this subject that the procedure carries a three-fold adjusted risk for in-hospital mortality, even when performed on younger and healthier patients. Moreover, the researchers found that staggering the procedure across several days produced even greater risk for morbidity and mortality.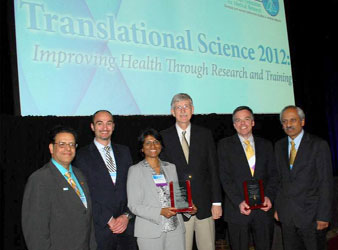 As a result, Hospital of Special Surgery revised its institutional guidelines on who is an appropriate candidate for same stage bilateral knee replacement surgery and who would benefit from having two procedures staged months apart, Dr. Memtsoudis said. In addition, the Hospital discontinued the protocol of staging procedures only days apart. The team is now organizing a symposium at the Hospital in September with national health care leaders and experts in an effort to develop national guidelines.
This article originally appeared at weill.cornell.edu.