New York, NY—July 29, 2010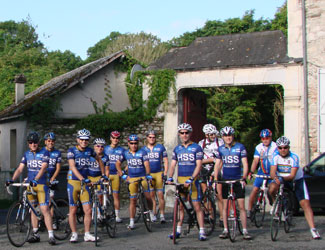 In southern France, a group of HSS physicians and friends congratulated each other on their remarkable accomplishment – cycling 306 miles and 33,400 vertical feet to the summits of some of the most beautiful mountains in the Pyrenees.
This is the sixth year HSS physicians have come to Europe to cycle on the same mountains climbed by Lance Armstrong and other professional cyclists in the Tour de France, the world's premier cycling race. The routes traveled by the HSS team are among the most difficult mountain stages in the competition.
Organized by Leonardo Paroli, M.D., an anesthesiologist at HSS, this year's 19 cyclists included HSS physicians Andrew Weiland, M.D., hand surgeon, and Michael Gordon, M.D., anesthesiologist. The group consisted of Americans and Italians in their early 40s to mid 70s joining together in their love of the sport and the spectacle of the Tour.
In past years, limb-lengthening surgeon Robert Rozbruch, M.D., sports medicine surgeon Frank Cordasco, M.D., foot and ankle surgeon David S. Levine, M.D., and anesthesiologists Christopher DiMeo, M.D., and Bradford Carson, M.D., have traveled with the bike tour as well.
Base camp this year was at Domaine Lou Castet, a centuries-old inn located in Tuzaguet, France, population 459. Owners Patrick and Corrine Lopez and daughter Lugdivine treated the riders with splendid meals and wonderful French hospitality.
Preparation for the trip began for most of the group many months earlier where training helped build the strength and stamina necessary to endure the 60+ miles of daily riding while in France. When weather allowed, HSS physicians gathered at 6 a.m. most mornings for 20 to 30 mile rides around Central Park.
"Training was hard, but the rides here are beautiful and definitely more fun than getting ready for them," said Dr. Gordon.
"This trip provided an opportunity for tremendous exercise and, more importantly, to share the experience with members of our group," said Dr. Weiland, who was joined by his son Dan Weiland, M.D., an HSS-trained sports medicine surgeon, and son-in-law Matt Holland from Maine.
Watch a video of the HSS peloton (French term for group of cyclists)
The physicians wear HSS-sponsored cycling uniforms emblazoned with the hospital's logo during their training rides in Central Park, not only displaying the HSS brand, but showcasing the fact that HSS physicians practice what they counsel their patients.
"Not only do our physicians restore the mobility of patients, but they care for their own physical well-being through regular exercise," said Julie Pelaez, HSS web director, whose husband J.D. also rode with the group.
The Special Surgery jerseys provided recognition even at the top of Col du Tourmalet, the most famous peak of the Pyrenees, where group members were asked, "Are you from Hospital for Special Surgery?"
In addition to the Col du Tourmalet (6,900 ft), the group conquered five more mountains including Col du Mente (4,400 ft), Col du Soulor (4,800 ft), Col d'Aubisque (5,600 ft), Port de Bales (5,700 ft), and twice up Col d'Aspin (4,900 ft).
Adding to the difficulty were the scores of RVs and cars waiting hours, even days, for the chance to glimpse a few seconds of the yellow jersey and cheer on their favorites. Painted on the roads were the encouraging messages for the cyclists in all different languages. Descending the mountain was thrilling for most, terrifying for some. Reaching speeds of 50 miles/hour, the hairpin turns and sheer drop-offs made the descent just as challenging as the grueling ascent.
The peloton formed by the HSS cyclists during their week-long tour epitomized the mutual admiration and support shared by the riders.
"The camaraderie pulls you along and pushes you to work hard to reach the top," remarked Dr. Gordon.
Click on thumbnails for larger images
---
This ride was dedicated to the memory of former resident and spine fellow,
Dr. Andrew Swanson, who died June 2009.
---
About HSS | Hospital for Special Surgery
HSS is the world's leading academic medical center focused on musculoskeletal health. At its core is Hospital for Special Surgery, nationally ranked No. 1 in orthopedics (for the eighth consecutive year) and No. 3 in rheumatology by U.S. News & World Report (2017-2018). Founded in 1863, the Hospital has one of the lowest infection rates in the country and was the first in New York State to receive Magnet Recognition for Excellence in Nursing Service from the American Nurses Credentialing Center four consecutive times. An affiliate of Weill Cornell Medical College, HSS has a main campus in New York City and facilities in New Jersey, Connecticut and in the Long Island and Westchester County regions of New York State. In 2017 HSS provided care to 135,000 patients from 80 countries and performed more than 32,000 surgical procedures. In addition to patient care, HSS leads the field in research, innovation and education. The HSS Research Institute comprises 20 laboratories and 300 staff members focused on leading the advancement of musculoskeletal health through prevention of degeneration, tissue repair and tissue regeneration. The HSS Innovation Institute was formed in 2015 to realize the potential of new drugs, therapeutics and devices; the global standard total knee replacement was developed at HSS in 1969, and in 2017 HSS made 130 invention submissions (more than 2x the submissions in 2015). The HSS Education Institute provides continuing medical curriculum to more than 22,000 subscribing musculoskeletal healthcare professionals in 125 countries. Through HSS Global, the institution is collaborating with medical centers worldwide to advance the quality and value of care and to make world-class HSS care more accessible to more people.