New York—March 28, 2012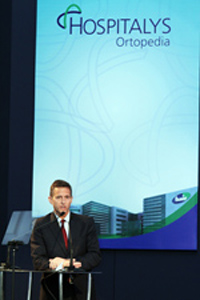 A leading Brazilian managed healthcare provider, Amil Par, will welcome educational partner and orthopedic powerhouse Hospital for Special Surgery as they move toward the opening of its new orthopedic center, Hospitalys, in Rio de Janeiro.
Hospitalys is on schedule for a spring debut of its initial phase. Leaders of both Amil Par and Hospital for Special Surgery will mark the occasion with an educational event and inaugural ceremony March 28. Visiting Rio to participate will be Orthopedic Surgeon-Scientist Scott A. Rodeo, M.D., and Laura Robbins, DSW, senior vice president for education and academic affairs and an associate scientist in the research division at Hospital for Special Surgery.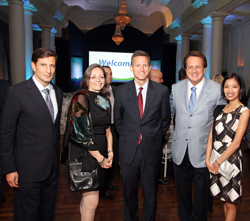 Dr. Rodeo, co-chief of the Sports Medicine Service at Hospital for Special Surgery, will highlight the program with a keynote lecture on "The Future of Orthopaedics."  He will address the future impact of research advances now in the laboratory such as stem cells and other emerging biologic approaches and their healing potential for regenerative therapies in elite/Olympic level athletes as well as other orthopedic injuries.
"Hospital for Special Surgery, a world leader in orthopedics, is the ideal partner for this initiative," said Casio Zandona, CEO/RJ for Amil Par., "as they have the insight and depth of experience in general orthopedics as well as sports medicine that result in best outcomes for our patients."
Hospitalys will specialize in spine disorders, joint replacement and sports medicine, orthopedic areas for which Hospital for Special Surgery is renowned.
As part of the educational portion of the program, Dr. Robbins will speak on "Hospital for Special Surgery: A Value-Based Model of Excellence in Healthcare Delivery," tracing the hospital's development from its origins to its world-class reputation today.
"We are very pleased to be collaborating with Hospitalys in Brazil and to be sharing our clinical, education and research expertise," said Hospital for Special Surgery President and CEO Louis A. Shapiro.  "This global collaboration reflects both of our Institutions' dedication to high quality patient care, academic excellence and cutting-edge research in orthopedics."
HSS orthopedists and sports medicine specialists, including Dr. Rodeo, served on the U.S. Olympic Committee medical staff team that covered the Beijing Games in 2008 and the Athens Games in 2004.  They look forward to similar roles in the 2012 and 2016 Games, noted Dr. Rodeo.
Among the future initiatives under consideration for this ongoing relationship, explained Dr. Robbins, may be a post-Olympic international sports medicine symposium this summer in Rio, the host city of the 2016 Games.