Chicago—November 5, 2011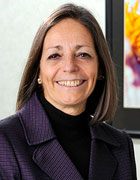 The Association of Rheumatology Health Professionals (ARHP), a division of the American College of Rheumatology (ACR), has awarded its highest honor, the ARHP Lifetime Achievement Award, to Laura Robbins, DSW, Senior Vice President of Education and Academic Affairs and Associate Scientist at Hospital for Special Surgery.
Presented today during the ACR's 2011 Annual Scientific Meeting in Chicago, the Lifetime Achievement Award recognizes a current or former member of ARHP whose career has demonstrated a sustained and lasting contribution to the field of rheumatology and rheumatology health professionals.
"Dr. Robbins is an amazing volunteer. She has provided her expertise to both the ARHP and the Arthritis Foundation," said Linda Ehrlich-Jones, president of the Association of Rheumatology Health Professionals, who is from the Rehabilitation Institute of Chicago. "In 2010, Dr. Robbins was extremely helpful to me during my year as ARHP President. Dr. Robbins is a well-known qualitative researcher who works with underserved populations. She sees the big picture and is a forward thinking administrator. This year, Dr. Robbins' will receive the ARHP Lifetime Achievement Award, which is well deserved."
Dr. Robbins has a distinguished history of leadership and service with the ARHP, serving as its first President when the organization joined the ACR. It was during this time that she acknowledges the role that ARHP and ACR played in fostering her leadership skills while serving on strategic planning and reorganization committees, as well as her tenure on the ACR Board of Trustees.
"ARHP is a unique group of professionals who take the brightest, most talented clinicians, researchers, educators and administrators and fosters their professional development while learning from patients in day to day experience on how to continuously improve the quality of life for rheumatology patients," said Dr. Robbins.
Much of Dr. Robbins' research efforts focus on the development of culturally sensitive education strategies to meet the needs of underserved, diverse communities. This includes research into cognitive rehabilitation intervention and quality of life for patients with lupus; clinical and economic outcomes of patients with total joint replacement; and educational interventions for patients living with rheumatoid as well as osteoarthritis.
Serving on over 70 national arthritis-related committees spanning three decades and authoring or co-authoring over 40 peer reviewed publications, Dr. Robbins embodies the philosophy that education and information sharing are empowerment tools for both patients and health care providers.
"Dr. Robbins has dedicated her life's work to improving health care for individuals from all walks of life," said Mary K. Crow, M.D., physician-in-chief at Hospital for Special Surgery. "We are proud to have had Dr. Robbins represent Hospital for Special Surgery as a leader in the field of rheumatologic health care research."
Dr. Robbins received her doctorate degree in social welfare in 1994 following over a decade in practice as a rheumatology clinical social worker. She started her career in 1975 in the rheumatology division at Downstate Medical Center in New York City. Her experience working with culturally diverse lupus and rheumatoid arthritis patients led her to pursue a research career in qualitative research as a way to understand the role of culture and ethnicity in a patient's health care experience, and how to apply these findings to develop educational programs.
During Dr. Robbins' doctoral studies, she was recruited to be part of a National Institutes of Health-funded multipurpose arthritis center at Hospital for Special Surgery, where she furthered her clinical and research experience. Dr. Robbins served as chair of the Arthritis Foundation from 2004 to 2006. In 2009, Dr. Robbins also received the Charles B. Harding Award from the Arthritis Foundation—the highest honor the Foundation gives for volunteer service to improve quality of life for people with arthritis.
HSS congratulates Dr. Robbins, as well as two other outstanding HSS faculty members, who were among the award winners at ACR/ARHP's 2011 Annual Scientific Meeting. For their outstanding contributions in the field of rheumatology, Stephen A. Paget, MD, FACP, MACR received ACR's 2011 Distinguished Clinician Scholar Award and Theresa Lu, MD, PhD was recognized with the 2011 Henry Kunkel Young Investigator Award.
About HSS | Hospital for Special Surgery
HSS is the world's leading academic medical center focused on musculoskeletal health. At its core is Hospital for Special Surgery, nationally ranked No. 1 in orthopedics (for the ninth consecutive year) and No. 3 in rheumatology by U.S.News & World Report (2018-2019). Founded in 1863, the Hospital has one of the lowest infection rates in the country and was the first in New York State to receive Magnet Recognition for Excellence in Nursing Service from the American Nurses Credentialing Center four consecutive times. The global standard total knee replacement was developed at HSS in 1969. An affiliate of Weill Cornell Medical College, HSS has a main campus in New York City and facilities in New Jersey, Connecticut and in the Long Island and Westchester County regions of New York State. In 2017 HSS provided care to 135,000 patients and performed more than 32,000 surgical procedures. People from all 50 U.S. states and 80 countries travelled to receive care at HSS. In addition to patient care, HSS leads the field in research, innovation and education. The HSS Research Institute comprises 20 laboratories and 300 staff members focused on leading the advancement of musculoskeletal health through prevention of degeneration, tissue repair and tissue regeneration. The HSS Global Innovation Institute was formed in 2016 to realize the potential of new drugs, therapeutics and devices. The culture of innovation is accelerating at HSS as 130 new idea submissions were made to the Global Innovation Institute in 2017 (almost 3x the submissions in 2015). The HSS Education Institute is the world's leading provider of education on the topic on musculoskeletal health, with its online learning platform offering more than 600 courses to more than 21,000 medical professional members worldwide. Through HSS Global Ventures, the institution is collaborating with medical centers and other organizations to advance the quality and value of musculoskeletal care and to make world-class HSS care more widely accessible nationally and internationally.