New York—April 22, 2013
Hospital for Special Surgery in New York City has received a $5.6 million grant from The Tow Foundation to establish the Hospital for Special Surgery Genomics Center. The new center will apply genomic approaches to study two autoimmune diseases, rheumatoid arthritis and systemic lupus erythematosus, with the aim of developing more effective therapies.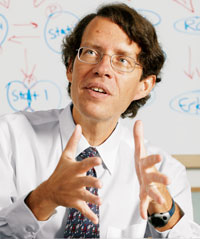 "Our goals are to use genomic approaches to understand the regulation and function of disease-associated genes, understand how disease-associated genetic variants contribute to disease, and identify new genes associated with autoimmune diseases," said Lionel B. Ivashkiv, M.D., associate chief scientific officer at Hospital for Special Surgery (HSS), who will serve as director of the new center. "We will use this new knowledge to develop more effective and personalized therapies."
Genomics is the study of an organism's complete set of genetic material, including gene sequence, structure and function, regulation of gene expression, and gene-environment interactions.
In the United States, rheumatoid arthritis, a crippling disease that destroys joints, affects approximately 3 million people. Lupus, a disease that can be very serious, affects joints, skin, kidneys, blood cells, brain, heart and lungs, and impacts 600,000 people in the United States. HSS is internationally known for research into these two diseases, and treats one of the world's largest populations of rheumatoid arthritis and lupus patients.
"HSS has strength in both the clinical area and the basic science area of these diseases," said Dr. Ivashkiv. "Our strength is we can have an integrated multidisciplinary approach to trying to study and understand these diseases and develop new therapies."
"We are honored that The Tow Foundation has provided a generous grant to support our continued leadership in exploring the mysteries of autoimmune disease," said Louis A. Shapiro, president and CEO of Hospital for Special Surgery. "Thanks to The Tow Foundation's gift, our scientists and physicians will offer hope to our patients with these challenging diseases."
Over the last two decades, scientists have discovered that certain proteins, including tumor necrosis factor and interleukin-6, are associated with rheumatoid arthritis and have used this knowledge to revolutionize treatments for patients. Researchers have also identified proteins associated with lupus that have advanced therapies. Basic, translational and clinical investigators at HSS have worked together and been major contributors to the progress that has been made.
The HSS Genomics Center will use genomic approaches to understand the regulation and function of the genes associated with these proteins, as well as identify new genes associated with lupus and rheumatoid arthritis. The goal is to develop more effective treatments with fewer side effects, and researchers expect to be testing new therapeutics in animal models by year four of the grant.
The new endeavor will focus on several aspects of research including epigenetics.
"We are very excited to try to understand how genes involved in lupus and rheumatoid arthritis are regulated, because it would represent a new way to drive therapy. It is called epigenetic therapy, meaning therapy targeted around how the environment controls gene expression and thus the environmental causes of disease," said Dr. Ivashkiv.
"In recent years, researchers have identified DNA sequences previously thought to be junk DNA that regulate the expression of genes. These are affected by the environment, for example by hormones or by smoking. It turns out that a lot of susceptibility to diseases falls within these regulatory regions." 
A future focus of the new center will be whole genome sequencing. "We would like to look at the genomes of individuals and try to understand how the variation in genes among different people, which occurs normally, influences that person's disease susceptibility and their response to treatment. This part of the research will be more prognostic, looking at the genetic makeup of an individual and potentially making predictions about disease prognosis and, equally important, trying to find which treatments might work the best for them. This is called personalized medicine," said Dr. Ivashkiv. "That is a very complex undertaking, but we think that would also have a very big impact on improving patient's lives."
The new center will collaborate with scientists at the New York Genome Center (NYGC), a center known for its technical, bioinformatic, and educational resources that houses genome sequencing machines.  HSS is an associate founding member of the NYGC and will develop a partnership similar to the relationship of the Broad Institute with Harvard University and Massachusetts Institute of Technology. In collaboration with NYGC, the HSS Genomics Center plans to host international research symposia every two years called Genomics of Autoimmune Diseases.
The HSS Genomics Center will have an estimated 20 scientists and will recruit four genomics fellows, a computational biologist and a senior genomics researcher who will interact closely with NYGC staff. In the future, research may expand to other autoimmune and musculoskeletal diseases.
HSS has more than 30 rheumatologists who care for an estimated 2,600 rheumatoid arthritis patients and 300 lupus patients, and many of its scientists are internationally recognized experts in their respective fields. The institution has patient registries and repositories that store patient samples and DNA linked with clinical information.
Shiaoching Gong, Ph.D., associate scientist at HSS, will serve as co-director of the HSS Genomics Center. Other key faculty include Assistant Scientists Kyung Park-Min, Ph.D.; Xiaoyu Hu, Ph.D.; and Baohong Zhao, Ph.D.; Senior Scientist Alessandra Pernis, M.D., Peter Jay Sharp Chair in Lupus Research; and Associate Scientist Inez Rogatsky, Ph.D., from HSS; Robert Darnell, M.D., Ph.D., director of New York Genome Center; and Olivier Elemento, Ph.D., assistant professor; and Eugenia Giannopoulou, Ph.D., computational fellow, both from the Weill Cornell Medical College Institute for Computational Biomedicine. HSS Genomics Center faculty will work closely with leading HSS SLE investigators Mary K. Crow, M.D., physician-in-chief and Benjamin M. Rosen Chair in Immunology and Inflammation Research, and Jane Salmon M.D., senior scientist and Collette Kean Research Chair.
The Tow Foundation, a family foundation located in Connecticut, structures grants that provide leverage to the recipients, making possible things that are far greater than what could be achieved alone. Investments focus on support of innovative programs in the areas of groundbreaking medical research, cultural institutions, higher education and vulnerable children and families, with a concentrated initiative on juvenile justice reform. For more information, visit www.towfoundation.org.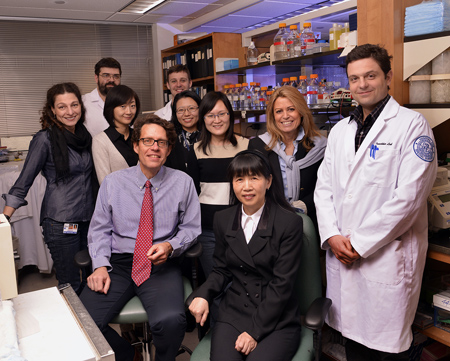 Pictured are Dr. Ivashkiv and Dr. Gong, front row from left, with some current members of the new HSS Genomics Center. Second row from left, Inez Rogatsky, Ph.D.; Xiaoyu Hu, M.D., Ph.D.; Kyung-Hyun Park-Min, Ph.D.; Yu (Grace) Qiao, Ph.D.; Alessandra Pernis, M.D.; and George D. Kalliolias, M.D., Ph.D; (back row from left, Yurii Chinenov, Ph.D., and Edd Ricker, graduate student.
About HSS | Hospital for Special Surgery
HSS is the world's leading academic medical center focused on musculoskeletal health. At its core is Hospital for Special Surgery, nationally ranked No. 1 in orthopedics (for the ninth consecutive year) and No. 3 in rheumatology by U.S.News & World Report (2018-2019). Founded in 1863, the Hospital has one of the lowest infection rates in the country and was the first in New York State to receive Magnet Recognition for Excellence in Nursing Service from the American Nurses Credentialing Center four consecutive times. The global standard total knee replacement was developed at HSS in 1969. An affiliate of Weill Cornell Medical College, HSS has a main campus in New York City and facilities in New Jersey, Connecticut and in the Long Island and Westchester County regions of New York State. In 2017 HSS provided care to 135,000 patients and performed more than 32,000 surgical procedures. People from all 50 U.S. states and 80 countries travelled to receive care at HSS. In addition to patient care, HSS leads the field in research, innovation and education. The HSS Research Institute comprises 20 laboratories and 300 staff members focused on leading the advancement of musculoskeletal health through prevention of degeneration, tissue repair and tissue regeneration. The HSS Global Innovation Institute was formed in 2016 to realize the potential of new drugs, therapeutics and devices. The culture of innovation is accelerating at HSS as 130 new idea submissions were made to the Global Innovation Institute in 2017 (almost 3x the submissions in 2015). The HSS Education Institute is the world's leading provider of education on the topic on musculoskeletal health, with its online learning platform offering more than 600 courses to more than 21,000 medical professional members worldwide. Through HSS Global Ventures, the institution is collaborating with medical centers and other organizations to advance the quality and value of musculoskeletal care and to make world-class HSS care more widely accessible nationally and internationally.