Dr. Mary Goldring Named President of Orthopaedic Research Society - 2010
New York, NY—March 31, 2010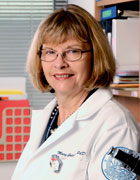 Mary Goldring, PhD, senior scientist, director, Laboratory for Cartilage Biology, Tissue Engineering Repair and Regeneration Program at Hospital for Special Surgery, and professor of Cell and Developmental Biology at Weill Cornell Medical College in New York has been elected fourth vice present of the Orthopaedic Research Society. The announcement at the 56th Annual Meeting of the Orthopaedic Research Society in New Orleans in March, confirms Dr. Goldring's path toward assuming the presidency in four to five years.

Previously the head of the Special Projects and Education committee, Dr. Goldring was chosen by the members of the Orthopaedic Research Society (ORS) over a number of other candidates through an election process. The organization's membership is composed of orthopedists, basic scientists and bioengineers and they strive to have a board that is representative of their membership. Dr. Goldring will represent the basic sciences in her position. She is also currently a co-editor for the journal Arthritis & Rheumatism and a board member of the Osteoarthritis Research Society International.

Dr. Goldring's research is focused on cartilage, the tissue within the joints that provides cushioning. Her work explores the basic biology of the tissue and its individual cells, called chondrocytes, both in its normal state and when it is damaged, as in osteoarthritis, the leading cause of joint replacement surgery. Understanding, at a mechanistic and genetic level, how cartilage tissue develops and and responds to mechanical and inflammatory stress may provide insight into approaches to slow cartilage damage, if not help stimulate repair.


About HSS | Hospital for Special Surgery
HSS is the world's leading academic medical center focused on musculoskeletal health. At its core is Hospital for Special Surgery, nationally ranked No. 1 in orthopedics (for the eighth consecutive year) and No. 3 in rheumatology by U.S. News & World Report (2017-2018). Founded in 1863, the Hospital has one of the lowest infection rates in the country and was the first in New York State to receive Magnet Recognition for Excellence in Nursing Service from the American Nurses Credentialing Center four consecutive times. An affiliate of Weill Cornell Medical College, HSS has a main campus in New York City and facilities in New Jersey, Connecticut and in the Long Island and Westchester County regions of New York State. In 2017 HSS provided care to 135,000 patients from 80 countries and performed more than 32,000 surgical procedures. In addition to patient care, HSS leads the field in research, innovation and education. The HSS Research Institute comprises 20 laboratories and 300 staff members focused on leading the advancement of musculoskeletal health through prevention of degeneration, tissue repair and tissue regeneration. The HSS Innovation Institute was formed in 2015 to realize the potential of new drugs, therapeutics and devices; the global standard total knee replacement was developed at HSS in 1969, and in 2017 HSS made 130 invention submissions (more than 2x the submissions in 2015). The HSS Education Institute provides continuing medical curriculum to more than 22,000 subscribing musculoskeletal healthcare professionals in 125 countries. Through HSS Global, the institution is collaborating with medical centers worldwide to advance the quality and value of care and to make world-class HSS care more accessible to more people.