New York, NY—October 28, 2016
Dale J. Lange, MD, neurologist-in-chief at Hospi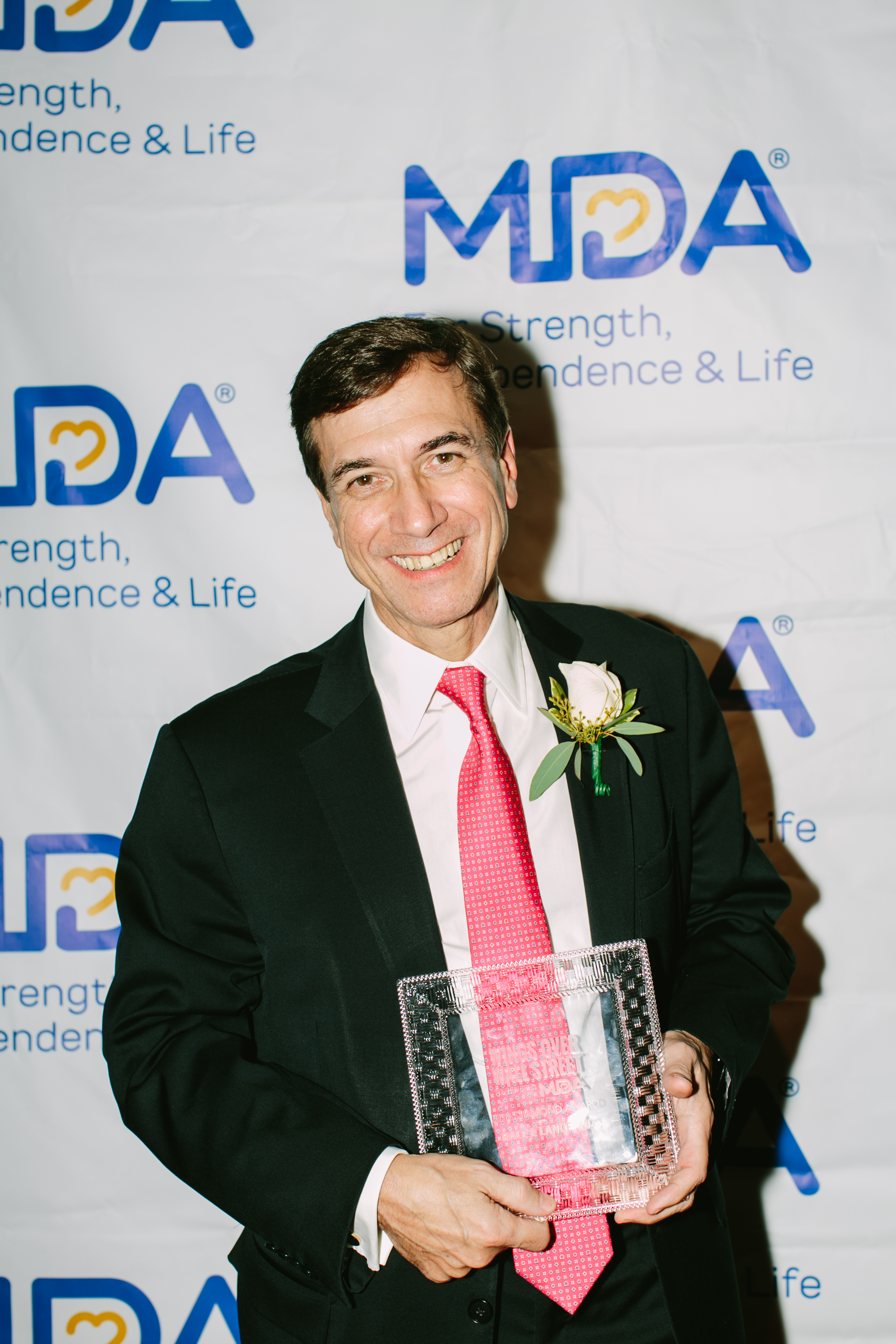 tal for Special Surgery (HSS) and a professor of Neurology at Weill Cornell Medicine, has received the Diamond Award from the Muscular Dystrophy Association (MDA). The recognition is granted to a scientific leader dedicated to the eradication of amyotrophic lateral sclerosis, also known as ALS and Lou Gehrig's Disease. Dr. Lange was honored at the 16th annual Wings Over Wall Street® event to benefit the MDA on October 27 in New York City.
"I am honored to receive this prestigious award," said Dr. Lange. "Those honored in the past have been true giants in the field of ALS research and patient care, and it is truly humbling to be in their company."
The MDA's Wings Over Wall Street® gala was founded and supported by Persons with ALS and Caregivers of Persons with ALS to raise research funding to find a cure for the disease. Amyotrophic lateral sclerosis is a progressive disease that attacks nerve cells in the brain and the spinal cord. As time goes on and the disease progresses, patients lose the ability to initiate and control muscle movement. With voluntary muscle action affected, patients in the later stages of the disease may become paralyzed. For the vast majority of people, their minds remain unaffected. In addition to Lou Gehrig, physicist Steven Hawkings is another well-known person with ALS.
Dr. Lange, chairman of Neurology at Hospital for Special Surgery, has devoted his entire career to caring for patients with nerve and muscle disorders, including ALS. He has also conducted research to find new ways to diagnose and treat people with muscle weakness and impaired mobility.
As medical director of the MDA/ALS Program at HSS, Dr. Lange oversees a multidisciplinary team of professionals devoted to caring for patients and their families with ALS. "Our skilled and compassionate team of healthcare professionals have expertise in dealing with any issues that patients and their families will encounter," he noted.
Dr. Lange has been engaged in clinical and basic science research to improve the lives of people with ALS throughout his career. He has written more than 110 peer-reviewed articles and chapters in textbooks. He has been invited to lecture, both nationally and internationally, on topics related to his research in neuromuscular disease. He served as president of the New York State Neurological Society in 2011 and 2012.
"MDA is proud to honor Dr. Lange with the 2016 Wings Over Wall Street Diamond Award for his dedication to the individuals impacted by ALS. His commitment to care and research continues to drive the lifesaving mission for a future free of ALS," said Bonnie Fuchs, director of Business Development at the MDA.
"Over the past 20 years, there have been significant strides in our understanding and treatment of ALS," Dr. Lange noted. "Unfortunately, we are still searching for the cure, but we have learned so much about the molecular changes that occur in the cells affected by ALS, that most investigators in the field firmly believe we are close to finding new ways to slow or stop the progression of this disease. In the meantime, our clinical care of patients has shown significant advances. Multidisciplinary programs, such as the one at Hospital for Special Surgery, have enabled us to prolong and improve the quality of life of people with ALS."
About the Muscular Dystrophy Association
The Muscular Dystrophy Association is leading the fight to free individuals – and the families who love them – from the harm of muscular dystrophy, ALS and related muscle-debilitating diseases that take away physical strength, independence and life. More information is available online at MDAUSA.org.