New York, NY—August 30, 2010
If Don Healy had listened to the first doctor he sought advice from regarding continuing to mountain climb following a hip replacement, he never would never have achieved his childhood dream of reaching the top of Mr. Everest. Don, who was sixty-two at the time, had broken his hip in New Hampshire in a biking accident and had it pinned together the same day by a local specialist, rather than replaced. After nine weeks on crutches, his leg wasn't improving and he sought the help of a New York surgeon near his home in New York City.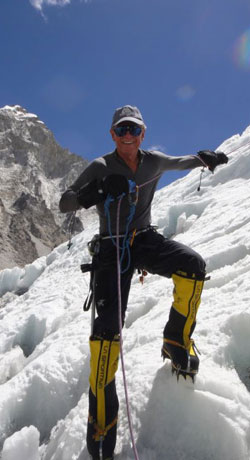 "When I mentioned mountain climbing, the surgeon winced," recalls Don. "He told me that following a hip replacement I should forget about climbing and that I probably wouldn't be able to squat." Don returned to his Greenwich Village home discouraged. "That was one of the most depressing days of my life," he says. Don looked to his cousin, a physician in Cleveland for guidance. "He told me to get a second opinion and to call Dr. Thomas Sculco at Hospital for Special Surgery in New York." Later the same day, he was out to dinner and Dr. Sculco's name came up again. After hearing the surgeon's name twice in the course of two hours, Don decided to make an appointment with him.
As luck would have it, Dr. Sculco had a cancellation in his schedule and was able to see Don right away. "He looked at my x-rays and examined me and said, yes, I would be able to climb after a hip replacement," recalls Don. "And, of course, I'd be able to squat, too."
Don Healy had lived the sedentary life of a business owner until he turned 60 in May of 2005. Suddenly he felt like a couch potato. "I had gone up a couple of waist sizes and I started to feel sluggish," he recalls. A year later he began seriously working out. He shed 25 pounds and set the goal of scaling Mt. Everest, which had been a childhood dream, by the time he reached his 65th birthday. He mapped out the peaks he'd need to scale in preparation, and began training in earnest. He made his first journey above the tree line on a climb up Mt. Washington in spring of 2007. Soon afterward, he ascended Mount Baker in the Northern Cascades. He continued his strength and aerobic training in preparation for a trip up Mt. Rainier in Washington State for August 2007. Five days before the expedition, a broken hip from a bicycle accident stopped him in his tracks. The day of the accident Don feared he wouldn't be able to walk again, much less climb high peaks.
Two weeks after his meeting with Dr. Sculco, Don went in for surgery. During the total hip replacement, the cup-shaped hip socket and the ball of the thigh bone were replaced with a ceramic ball and titanium stem and a socket. Within a day, he was walking with a cane and working with a physical therapist. After two weeks of therapy, Don was taking short walks around the block. Soon he was adding training to his physical therapy sessions."I would complete my therapy and then stay for an extra hour and work on my upper body strength to maintain my fitness," he continues. After six weeks, Dr. Sculco lifted his hip precautions. "He said, 'You are free to do whatever you want,'" recalls Don. "At first I didn't feel comfortable trying to do too much so I paced myself," he continues. Three months following his surgery, Don resumed climbing and scaled the Gros Piton, an elevation of 2,600 feet in St. Lucia in the Caribbean. "My hip was fine,' he said.
Several weeks later, he'd made it up Mt. Adams in New Hampshire and then within a year of his accident, he'd climbed Mount Rainier. "My broken hip made me more determined than ever," he says. "I wanted to demonstrate that neither age nor physical setbacks need to limit one's goals."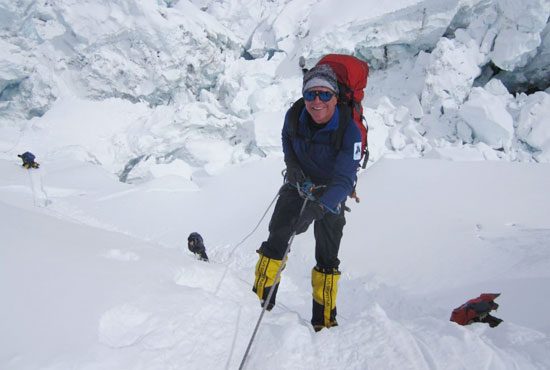 In 2009, he reached the summit of Mount Kilimanjaro in Tanzania and then Denali, in Alaska, (formerly called Mount McKinley) a requirement before attempting Mt. Everest. In May 2010, Don Healy became one of the oldest Americans to reach the top of Mount Everest and is believed to be the first person to achieve this with a hip replacement.  Says Don, "Even though Dr. Sculco said I'd be able to make the climb, I think even he was surprised to learn that I had done it."
Says Dr. Sculco, "With the increased knowledge we have today regarding joint replacement techniques, a patient like Don Healy can expect a full recovery. And, as seen in Don's case, if a patient is motivated and determined, he or she can do just about anything following hip arthroplasty."
Don dedicated his climb to the Hospital and Rehabilitation Center for Disabled Children in Katmandu, Nepal. The Center specializes in orthopedic surgery for children from rural areas and treats congenital deformities such as clubbed feet, as well as improperly healing broken bones, burns and metabolic bone disease. Don has pledged $29,035 (one dollar for every foot he climbed) with the help of family and friends to the American Himalayan Foundation, an organization that provides education, health care and preservation services in the Himalayan region. The donation will support the Hospital, which also treats young patients through three satellite centers and makes visits to children to provide needed physical therapy. (To learn more visit: http://www.everesthiphop.com/).