New York, New York —March 11, 2011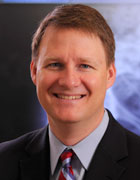 Ernest L. Sink, M.D., widely known for his work in treating complex hip conditions in infants through teens and young adults, will join Hospital for Special Surgery (HSS) in Manhattan. He has been named co-director of the hospital's nationally recognized Center for Hip Preservation. Dr. Sink will also be a member of the HSS Pediatric Orthopedics Service.
Dr. Sink comes from the Children's Hospital in Denver where he was director of the Hip Preservation Program and associate professor at the University of Colorado at Denver and the Health Sciences Center.
The HSS Center for Hip Preservation, formed in 2009, provides individuals experiencing hip pain with proper diagnosis and treatment through innovative diagnostic imaging techniques, a full complement of non-operative and surgical approaches, and less invasive surgical procedures including arthroscopic surgery.
Recognized as a leader in the pediatric orthopedic community for hip preservation, Dr. Sink travels widely on a national level to direct and participate in facilitating courses for this growing surgical specialty. Dr. Sink's practice focuses on hip disorders and dysplasia in infants, children, adolescents and young adults. He treats hip impingement and sees referrals from around the country for the most difficult conditions.
Having studied hip surgery techniques under the world-renowned Reinhold Ganz, M.D., at the University of Berne in Switzerland, he has performed more than 200 hip surgical procedures annually, including hip osteotomy, Ganz or periacetabular osteotomy (PAO) and surgical hip dislocation. Conditions for which young patients are commonly referred to Dr. Sink include hip dysplasia in all ages including developmental dysplasia of the hip (DDH), Perthes disease, slipped capital femoral epiphysis (SCFE) and impingement. He has also contributed significantly to the care of pediatric femur fractures through his writing and teaching on a national level.
"Ernest Sink is an outstanding surgeon and teacher," says Bryan T. Kelly, M.D., co-director, Center for Hip Preservation. "His strong background in the area of adolescent hip diagnostics and surgical treatment will greatly enhance the work of the Center."
In the past few years, the understanding of hip structural abnormalities has increased, allowing specialists to better identify underlying hip conditions that previously went unrecognized and to more accurately diagnose hip problems. Increasingly, hip specialists may slow or halt the progression of degenerative hip disease, return patients to their chosen activities, and sometimes reduce the need for more extensive surgeries.
"Ernest Sink's extensive experience and focus on complex surgical procedures in the treatment of pediatric and adolescent hip conditions will serve to complement the range of care we offer our young patients," said Roger F. Widmann, M.D., chief of Pediatric Orthopedic Surgery at Hospital for Special Surgery.
"HSS is a center of excellence in the care of children with orthopedic and rheumatic disorders," added Dr. Widmann. "As a leader in the pediatric orthopedic community for hip preservation, Dr .Sink will be a great addition to our comprehensive 'family-centered' pediatric team."
"I am delighted to be joining Hospital for Special Surgery and both its well regarded Pediatric Orthopedic Service and its Center for Hip Preservation," said Dr. Sink. "I am looking forward to working side by side with this remarkable group of specialists."
In his new position, Dr. Sink will treat adolescents and young adults at the Center for Hip Preservation, along with children as part of the Pediatric Service, creating a model transitional program for hip care. Since hip disease starts in childhood and often continues into young adulthood, teens will experience no interruption of care as they mature.
Hospital for Special Surgery is currently undergoing a major physical expansion to meet the needs of a growing patient population, including a new Children's Pavilion, a "hospital-within-a-hospital" with more than 31,000 square feet dedicated exclusively to pediatric musculoskeletal care.
Dr. Sink has trained and worked at some of the most respected academic medical centers in the United States and abroad. After receiving a bachelor of arts in biology at the University of Colorado, Boulder, in 1989, he earned a doctor of medicine degree in 1994 at the University of Texas Southwestern Medical School, Dallas. He also completed a residency in orthopedic surgery there. He then completed a fellowship in pediatric orthopedic surgery at Rady Children's Hospital in San Diego in 2000 and joined the University of Colorado Health Science Center as assistant professor. In 2004, he participated in an AO fellowship/apprenticeship in hip surgery at the University of Berne in Switzerland, studying innovative surgical techniques with Professor Reinhold Ganz, M.D., in the Department of Orthopedic Surgery.