The 'Cake Boss' Whips Up Something Special
New York City—January 28, 2011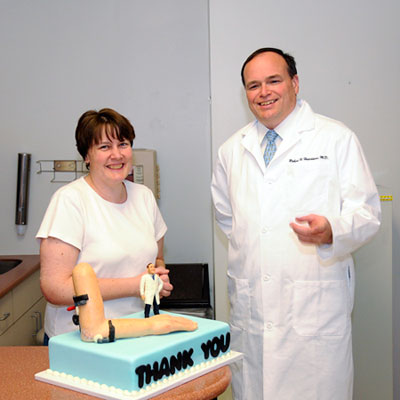 Carlo's Bake Shop aka "The Cake Boss" in Hoboken, N.J., whipped up something special to surprise Hospital for Special Surgery hand surgeon Robert Hotchkiss, M.D., at the request of grateful patient Sarah Donnangelo. Dr. Hotchkiss recently performed Sarah's second elbow reconstruction surgery to avoid the need for an elbow replacement.
About Hospital for Special Surgery
Founded in 1863, Hospital for Special Surgery (HSS) is a world leader in orthopedics, rheumatology and rehabilitation. HSS is nationally ranked No. 1 in orthopedics, No. 3 in rheumatology, and No. 16 in neurology by U.S.News & World Report (2010-11), and has received Magnet Recognition for Excellence in Nursing Service from the American Nurses Credentialing Center, and has one of the lowest infection rates in the country. From 2007 to 2011, HSS has been a recipient of the HealthGrades Joint Replacement Excellence Award. A member of the NewYork-Presbyterian Healthcare System and an affiliate of Weill Cornell Medical College, HSS provides orthopedic and rheumatologic patient care at NewYork-Presbyterian Hospital at New York Weill Cornell Medical Center. All Hospital for Special Surgery medical staff are on the faculty of Weill Cornell Medical College. The hospital's research division is internationally recognized as a leader in the investigation of musculoskeletal and autoimmune diseases. Hospital for Special Surgery is located in New York City and online at http://www.hss.edu/.
^ Back to Top