New York—April 25, 2013
Hospital for Special Surgery (HSS) will honor biomineralization and osteoporosis investigator Adele Boskey, Ph.D., at a symposium on the latest research in bone mineralization and its role in bone disease on Thursday, May 2. Dr. Boskey, Starr Chair in Mineralized Tissue Research, has investigated bone chemistry at HSS since 1970.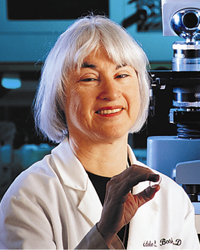 Osteoporosis and other bone diseases affect millions of Americans and the consequences can be devastating. An understanding of the underlying mechanism of these conditions is critical to developing new and better diagnostic tools and treatments. Bone mineralization is one of the most important areas in bone disease research today, and Dr. Boskey is a pioneer in the field.
The event, titled "The Adele Boskey, Ph.D., Symposium on Mineralized Tissues," will take place at the Richard Menschel Conference Center at Hospital for Special Surgery, starting at 2 p.m. A number of distinguished scientists will discuss their work, and a reception to honor Dr. Boskey will follow the presentations. The event is part of the hospital's 150th Anniversary celebration programming.
"This is an opportune time to pay tribute to Dr. Boskey for her 40-year career, for her original thinking and seminal research, and for her influence as a mentor to young investigators," said Steven R. Goldring, M.D., chief scientific officer at HSS.
After a welcome by HSS leaders Thomas P. Sculco, M.D., surgeon-on-chief; Louis A. Shapiro, president and CEO; and Dr. Goldring, Dr. Boskey will begin the symposium with a discussion on bone mineral, explaining what it is and why investigators study it. The program will also feature a group of leading investigators whom Dr. Boskey has mentored. They come from the National Institutes of Health, Boston Children's Hospital, Cornell University, the University of Michigan and Virginia Commonwealth University. Among the other topics to be explored:
Genetic Disorders of Bone Formation and Homeostasis
The Role of the Cell in the Mineralization Process
Genetic Control of Mineralization
Collagen as a Determinant of Bone Properties
"Biology will become more important in the study and treatment of orthopedic diseases in the future," Dr. Boskey predicts. "In the area of osteoarthritis, for example, I foresee less of an emphasis on metal and devices and more on understanding the biology that leads to the need for a total joint replacement in the first place."
Dr. Boskey is director of the Mineralized Tissue Laboratory and program director of the Musculoskeletal Integrity Program at HSS. In 2010, she received the Orthopaedic Research Society/American Orthopaedic Association Alfred R. Shands, Jr. Award, which honors a scientist who has made significant contributions to the understanding of musculoskeletal disease.
As the first female president of the Orthopaedic Research Society, her mentoring of other women researchers was recognized in 2008 with an award from the Orthopaedic Research Society Women's Leadership Forum.
Dr. Boskey's current research focuses on bone quality, a measurement of both the bone matrix and the mineral of bone. The current measure used to identify osteoporosis and the risk for a fracture is bone density, but she believes that measuring bone quality promises greater accuracy and could significantly decrease the number of patients at risk for fracture.
To better define bone quality, Dr. Boskey has repurposed the use of infrared spectroscopy to approach the quality of bone when biopsies are available. Her laboratory, the Musculoskeletal Repair and Regeneration Core Center at HSS, is using this technology to understand how mineral size and content are related to osteoporosis and fracture risk.
Osteoporosis causes more than 1.5 million fractures annually. Dr. Boskey hopes her research will lead to a decrease in that number by gaining a better understanding of the biology and makeup of the bone itself and by analyzing the effects of commonly used osteoporosis medications on bone quality.
View a complete list of symposium topics and speakers.
About HSS | Hospital for Special Surgery
HSS is the world's leading academic medical center focused on musculoskeletal health. At its core is Hospital for Special Surgery, nationally ranked No. 1 in orthopedics (for the ninth consecutive year) and No. 3 in rheumatology by U.S.News & World Report (2018-2019). Founded in 1863, the Hospital has one of the lowest infection rates in the country and was the first in New York State to receive Magnet Recognition for Excellence in Nursing Service from the American Nurses Credentialing Center four consecutive times. The global standard total knee replacement was developed at HSS in 1969. An affiliate of Weill Cornell Medical College, HSS has a main campus in New York City and facilities in New Jersey, Connecticut and in the Long Island and Westchester County regions of New York State. In 2017 HSS provided care to 135,000 patients and performed more than 32,000 surgical procedures. People from all 50 U.S. states and 80 countries travelled to receive care at HSS. In addition to patient care, HSS leads the field in research, innovation and education. The HSS Research Institute comprises 20 laboratories and 300 staff members focused on leading the advancement of musculoskeletal health through prevention of degeneration, tissue repair and tissue regeneration. The HSS Global Innovation Institute was formed in 2016 to realize the potential of new drugs, therapeutics and devices. The culture of innovation is accelerating at HSS as 130 new idea submissions were made to the Global Innovation Institute in 2017 (almost 3x the submissions in 2015). The HSS Education Institute is the world's leading provider of education on the topic on musculoskeletal health, with its online learning platform offering more than 600 courses to more than 21,000 medical professional members worldwide. Through HSS Global Ventures, the institution is collaborating with medical centers and other organizations to advance the quality and value of musculoskeletal care and to make world-class HSS care more widely accessible nationally and internationally.