Fulfills Life's Dream to Open Orthopedic Hospital in Ghana
New York—April 26, 2012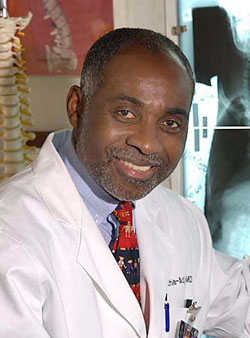 Hospital for Special Surgery (HSS), a world leader in orthopedics and rheumatology, and Oheneba Boachie-Adjei, MD, Chief Emeritus of the scoliosis service at Hospital for Special Surgery and founder and president of the Foundation of Orthopedics and Complex Spine (FOCOS), announce the grand opening of a 50-bed specialty hospital providing comprehensive orthopedic and rehabilitative services for adults and children in Ghana, Africa.
Located on 10 acres in Accra, Ghana, FOCOS Orthopaedic Hospital is fully accredited to operate both inpatient and outpatient departments. In addition to orthopedic care, the hospital will provide emergency medicine, ambulance services, diagnostics (including MRI, CT, echocardiogram, catheterization lab, complete laboratory services and radiology), pharmacy and physiotherapy.
"FOCOS's mission is to provide affordable orthopedic care to those who would not otherwise have access to such treatment," explained Dr. Boachie-Adjei, who was born in Kumasi, Ghana, and immigrated to the United States in 1972. "The patients we treat both surgically and nonsurgically have disabling musculoskeletal disorders including complex spine deformities and pediatric orthopedic problems."
It was Dr. Boachie-Adjei's dream to see the best care reach the underserved in his native country, Ghana, and the sub-Saharan region. Since its inception in 1998, Dr. Boachie-Adjei through FOCOS has treated more than 17,000 local and international patients. The medical team has performed over 800 surgeries including complex spine, total knee and hip replacements.
"The medical outreach program has been sustained by more than 1,800 donors who have contributed in excess of $10 million and a $1.5 million Ghanaian government grant," said Dr. Boachie-Adjie. "FOCOS aspires to become the premier orthopedic teaching hospital in sub-Saharan Africa. I have worked with a pioneering team of international volunteers, including colleagues at Special Surgery, to make this Hospital a reality."
Dr. Boachie-Adjei is chief of the Scoliosis Service at Hospital for Special Surgery, with an international reputation for his special expertise in the treatment of scoliosis, kyphosis and spine reconstruction in both adult and pediatric patients. He earned a bachelor of science summa cum laude from Brooklyn College in 1976, and received a doctor of medicine degree from Columbia University's College of Physicians and Surgeons in 1980.
On April 28, 2012, members of the HSS and FOCOS staffs, as well as government officials, will celebrate the official opening of the hospital in Accra, Ghana.
"As a world leader in musculoskeletal medicine, Hospital for Special Surgery is committed to national as well as international outreach," said Louis A. Shapiro, FACHE, president and CEO, Hospital for Special Surgery. "We are proud to have supported Dr. Boachie in his efforts to make the FOCOS Orthopaedic Hospital a reality."
About Foundation of Orthopedics and Complex Spine (FOCOS)
FOCOS (The Foundation of Orthopedics and Complex Spine) is a non-profit organization established in 1998 by Dr. Oheneba Boachie-Adjei. The mission of FOCOS is to provide comprehensive, affordable orthopedic and spine care to underserved communities in Ghana and throughout West Africa. www.focoshospital.org/.