New York—November 27, 2012
Edward V. Craig, MD, MPH, an orthopedic surgeon at Hospital for Special Surgery and pioneer in shoulder replacement, received the Lifetime Achievement Award from the Arthritis Foundation, New York Chapter, at the Ambassadors of Change Founders' Award Gala on November 20 in New York City.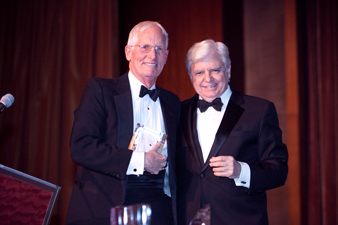 Dr. Craig, who practices in the Sports Medicine Service at Special Surgery, designed both an anatomic and reverse total shoulder replacement system for patients with severe arthritis in their shoulder. He also specializes in rotator cuff repair of the shoulder and has designed a rotator cuff repair system. His other specialties include arthroscopic surgery and sports medicine. Internationally known, Dr. Craig lectures throughout the United States and abroad.
Educated at Princeton University for his undergraduate studies, Dr. Craig went on to receive a doctor of medicine degree from the Columbia College of Physicians and Surgeons. He completed a residency in orthopedic surgery and two fellowships: one in shoulder and elbow surgery, and another in hand surgery, at Presbyterian Hospital, Columbia Presbyterian Medical Center.
Dr. Craig spent his early professional career at the University of Minnesota before joining Hospital for Special Surgery. He is also a professor of clinical orthopedic surgery at Weill Cornell Medical College.
The author of more than 100 publications, Dr. Craig has written or edited eight textbooks, including The Shoulder, Clinical Orthopedics, Shoulder Instability, Shoulder Arthroplasty, and An Atlas of Orthopaedic Surgery. He has extensive research and teaching experience and is a member of numerous professional organizations, including the American Orthopedic Society for Sports Medicine, the American Orthopedic Association, American Shoulder and Elbow Surgeons (of which he is a past president) and the American Academy of Orthopaedic Surgeons, where he previously served on the board of directors.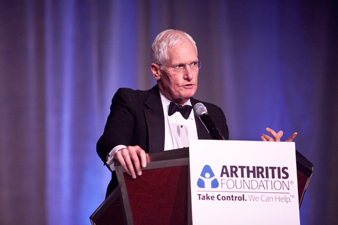 Dr. Craig has received numerous professional awards and is listed in Who's Who in America and Castle Connelly's Top Doctors: New York Metro Area. He has also been featured in both New York magazine and Connecticut magazine's Best Doctors issues.
In 2009, Dr. Craig was named the Wholeness of Life Honoree by the Hospital for Special Surgery Spiritual Care Committee and The HealthCare Chaplaincy. This prestigious award is given annually to a member of the hospital staff who has made a significant contribution to the quality of patient care by understanding and responding to the needs of the whole person in body, mind and spirit.
In addition to his practice of orthopedic surgery, Dr. Craig completed a master's degree in public health at Columbia University, has written and lectured on many aspects of health care and has served as a health care columnist for MSNBC.com.
About the Arthritis Foundation, New York Chapter
The New York Chapter of the Arthritis Foundation has a range of programs, services, events and resources for all those living with arthritis in New York. The Foundation helps people take control of arthritis by providing public health education; pursuing public policy and legislation; and conducting evidence-based programs to improve the quality of life for those living with arthritis. For more information, visit www.arthritis.org/new-york.