New York—November 27, 2012
Edward V. Craig, MD, MPH, an orthopedic surgeon at Hospital for Special Surgery and pioneer in shoulder replacement, received the Lifetime Achievement Award from the Arthritis Foundation, New York Chapter, at the Ambassadors of Change Founders' Award Gala on November 20 in New York City.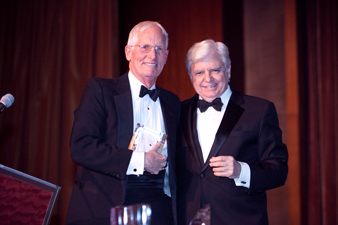 Dr. Craig, who practices in the Sports Medicine Service at Special Surgery, designed both an anatomic and reverse total shoulder replacement system for patients with severe arthritis in their shoulder. He also specializes in rotator cuff repair of the shoulder and has designed a rotator cuff repair system. His other specialties include arthroscopic surgery and sports medicine. Internationally known, Dr. Craig lectures throughout the United States and abroad.
Educated at Princeton University for his undergraduate studies, Dr. Craig went on to receive a doctor of medicine degree from the Columbia College of Physicians and Surgeons. He completed a residency in orthopedic surgery and two fellowships: one in shoulder and elbow surgery, and another in hand surgery, at Presbyterian Hospital, Columbia Presbyterian Medical Center.
Dr. Craig spent his early professional career at the University of Minnesota before joining Hospital for Special Surgery. He is also a professor of clinical orthopedic surgery at Weill Cornell Medical College.
The author of more than 100 publications, Dr. Craig has written or edited eight textbooks, including The Shoulder, Clinical Orthopedics, Shoulder Instability, Shoulder Arthroplasty, and An Atlas of Orthopaedic Surgery. He has extensive research and teaching experience and is a member of numerous professional organizations, including the American Orthopedic Society for Sports Medicine, the American Orthopedic Association, American Shoulder and Elbow Surgeons (of which he is a past president) and the American Academy of Orthopaedic Surgeons, where he previously served on the board of directors.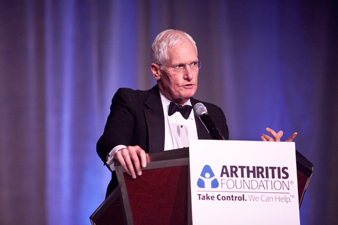 Dr. Craig has received numerous professional awards and is listed in Who's Who in America and Castle Connelly's Top Doctors: New York Metro Area. He has also been featured in both New York magazine and Connecticut magazine's Best Doctors issues.
In 2009, Dr. Craig was named the Wholeness of Life Honoree by the Hospital for Special Surgery Spiritual Care Committee and The HealthCare Chaplaincy. This prestigious award is given annually to a member of the hospital staff who has made a significant contribution to the quality of patient care by understanding and responding to the needs of the whole person in body, mind and spirit.
In addition to his practice of orthopedic surgery, Dr. Craig completed a master's degree in public health at Columbia University, has written and lectured on many aspects of health care and has served as a health care columnist for MSNBC.com.
About the Arthritis Foundation, New York Chapter
The New York Chapter of the Arthritis Foundation has a range of programs, services, events and resources for all those living with arthritis in New York. The Foundation helps people take control of arthritis by providing public health education; pursuing public policy and legislation; and conducting evidence-based programs to improve the quality of life for those living with arthritis. For more information, visit www.arthritis.org/new-york.
About HSS | Hospital for Special Surgery
HSS is the world's leading academic medical center focused on musculoskeletal health. At its core is Hospital for Special Surgery, nationally ranked No. 1 in orthopedics (for the ninth consecutive year) and No. 3 in rheumatology by U.S.News & World Report (2018-2019). Founded in 1863, the Hospital has one of the lowest infection rates in the country and was the first in New York State to receive Magnet Recognition for Excellence in Nursing Service from the American Nurses Credentialing Center four consecutive times. The global standard total knee replacement was developed at HSS in 1969. An affiliate of Weill Cornell Medical College, HSS has a main campus in New York City and facilities in New Jersey, Connecticut and in the Long Island and Westchester County regions of New York State. In 2017 HSS provided care to 135,000 patients and performed more than 32,000 surgical procedures. People from all 50 U.S. states and 80 countries travelled to receive care at HSS. In addition to patient care, HSS leads the field in research, innovation and education. The HSS Research Institute comprises 20 laboratories and 300 staff members focused on leading the advancement of musculoskeletal health through prevention of degeneration, tissue repair and tissue regeneration. The HSS Global Innovation Institute was formed in 2016 to realize the potential of new drugs, therapeutics and devices. The culture of innovation is accelerating at HSS as 130 new idea submissions were made to the Global Innovation Institute in 2017 (almost 3x the submissions in 2015). The HSS Education Institute is the world's leading provider of education on the topic on musculoskeletal health, with its online learning platform offering more than 600 courses to more than 21,000 medical professional members worldwide. Through HSS Global Ventures, the institution is collaborating with medical centers and other organizations to advance the quality and value of musculoskeletal care and to make world-class HSS care more widely accessible nationally and internationally.