Amyotrophic lateral sclerosis, more commonly known as Lou Gehrig's Disease or ALS, is a progressive disease in which nerves in the brain and spinal cord degenerate over time. The progressive degeneration of the motor neurons in ALS eventually leads to their deterioration. When the motor neurons die, the ability of the brain to initiate and control muscle movement is lost.
Symptoms of ALS vary from person to person and can progress at different rates. The onset is typically gradual. It can start in the muscles resulting in decreasing function in the arms and legs, or in the mouth and throat, hindering functions like speaking and swallowing.
Diagnosing ALS may be difficult as there is not just one specific test that can be used to determine the diagnosis. Instead, there are multitudes of tests and procedures that can be done to slowly eliminate similar neurodegenerative diseases. These tests may include: Electromyography (EMG), muscle biopsy, Magnetic Resonance Imaging (MRI), genetic tests, Nerve Conduction Velocity (NCV), spinal tap, blood and urine collection, and neurological examinations.
What to expect when you attend the clinics at HSS
Each time you visit one of our clinics, you will have the chance to meet with the members of our team, as needed. Generally, you will return to see the team once every three months or as necessary based on the medical team's assessment of your needs.
During your visit, each healthcare team member is available to see you to work with you and your family/friends to develop a care plan to best manage your symptoms and individual needs. Because the visits can be long and may include many different specialists in one day, we recommend that you come to clinic with a trusted family member, friend, or caregiver. Having another person with you can help you keep track of all the information discussed during your visit.
After each visit, the clinic coordinator will work with you and/or your family to manage the services, equipment, and/or testing that the team recommended. Between your visits, the clinic team members are available to answer questions and to provide any support you may need.
Frequently Asked Questions
How do I schedule an appointment?
Contact the clinic coordinator at 646-797-8917 to schedule an appointment at one of our ALS & Neuromuscular Treatment clinics.
What should I do to prepare for my clinic appointment?
Bring any test results from other facilities and/or related medical reports from your doctor(s). Bring a list of questions you have for the different specialists you will see. Bring a notepad, pen and a trusted family member/friend/caregiver to help you keep track of everything that is discussed during your visit. Bring a snack, as it can be a long visit!
What can I expect at my clinic appointment?
Clinic visits usually last 2 ½ - 3 ½ hours. You will sit in one room as each of our healthcare specialists visit with you to answer your questions, conduct evaluations, and develop an individualized care plan. You may leave with prescriptions and recommendations for future care.
How do I manage the different recommendations that were made during my visit?
After your visit, our administrative staff will contact you to schedule any lab work and/or tests that were ordered. The clinic coordinator will order all medical equipment, home care services, and outside evaluations that were recommended, unless otherwise discussed during your visit. You can fill any written prescriptions at your local pharmacy. If you need assistance or have any questions, contact the office at 646-797-8917.
Am I eligible to participate in research studies?
If you would like to take part in one of our studies, let the medical team know you are interested during your visit or contact the research team by calling, 646.797.8592.
How much will a clinic visit cost me?
The cost of your visit depends on your insurance coverage. For further information, please contact the office.
How can I find out more information about your services?
For more information, call us at 646.797.8917.
Additional Reading
You can find more information on ALS at the following sites.
Our neuromuscular disease programs embrace a comprehensive approach to the diagnosis and management of ALS and other neuromuscular diseases. This includes a multidisciplinary team of experienced health care professionals who work with patients who come to our clinic.
Evidence from international research studies shows that when people with neuromuscular diseases are cared for by a multidisciplinary healthcare team, they experience an improved quality of life and longevity with the disease. The patient is at the center of this team, which also includes family members, friends, and caregivers. The healthcare specialists who make up our clinical team include:
Neurologists
Pulmonologists
Neurology Fellow
Robin Petrizzo, DO
Jeffrey Schachter, MD
Dietitian
Danna Strahl, RD, CDN
Danna Strahl is a registered dietitian who comes to Hospital for Special Surgery with nearly 10 years of medical nutrition therapy experience. She has worked with a diverse patient population in a variety of settings, including oncology, critical care and liver transplant, as well as in general nutrition care. She joined the ALSE clinic in June 2017.
Infusion
Tiffany Holley, RN
William Aguilar, RN, BSN
Physical Therapists
Devany Tiedeman, MSPT
Devany Tiedeman received her bachelor's degree of health sciences in 1998 and her master's degree in physical therapy in January 2000 from Boston University. Since that time she has worked as a physical therapist in many different settings including outpatient orthopedics, pediatrics, long-term acute care and neurological acute rehab. She joined the physical therapy team at HSS in 2007 and works part-time in the ALSA clinic.
Laura Manfredo, MSPT
Laura Manfredo received her master's in physical therapy from Mercy College in 2000. She has been employed in acute, sub-acute, long term and home care settings. She has worked with geriatric, neurological, and orthopedic conditions. Laura has been an instructor in disease processes, gait/transfer training and body mechanics for Isabella Visiting Care Inc. She joined HSS in 2014 and works part time in the ALSA/MDA clinic.
Occupational Therapists
Lorene Janowski, DPS, OTR/L, MS, C/NDT
Gioia Ciani, OTR/L, OTD
Gioia Ciani received her master's in occupational therapy from Mercy College and her doctorate in occupational therapy from Rocky Mountain University of Health Professions. Gioia works at the Hospital for Special Surgery in the ALS clinic. Gioia is also the Occupational Therapy Program Director and an Assistant Professor at Hofstra University.
Speech/Language Pathologist
Shara Holzberg, MS, CCC-SLP
Shara Holzberg is a speech-language pathologist on the ALS/Neuromuscular Disorders team at Hospital for Special Surgery. She is an experienced clinician, who specializes in working with people with communication, speech, voice and/or swallowing difficulties. She is a certified and active member in the American Speech and Hearing Association's (ASHA) Division of Swallowing Disorders and is certified in Lee Silverman Voice Treatment (LSVT-LOUD). She received dual BS degrees in speech-language pathology and psychology from Towson University and her MS degree in communication sciences and disorders from William Paterson University. Shara has been active within the ALSA community since 2005 and became a member of ALS clinical team at HSS in January 2012.
Clinical Research Coordinator
Chloe Fico
Misha Hooda
Misha Hooda
Misha Hooda received her dual bachelor's degree in Biology and Anthropology from Washington University in St. Louis in 2018. Prior to beginning at Hospital for Special Surgery, she primarily focused on researching and developing molecular and genomic tools to understand disease variability in ALS. Misha is currently a clinical research coordinator on the ALS/Neuromuscular Disorders team.
Social Worker
Chloe Fico
We are committed to the cooperative implementation, timely completion, analysis, and reporting of clinical trials and other research studies aimed at improving patient care and understanding of the disease processes of amyotrophic lateral sclerosis (ALS), chronic inflammatory demyelinating polyradiculoneuropathy (CIDP), myasthenia gravis (MG) and many other neurological conditions.
Upcoming Studies
Next Generation Gene Sequencing and Mutation Analysis in Patients with Neurological Diseases
Will be identifying genetic factors from individuals' DNA and RNA, creating genetic profiles and gene expression profiles.
Enrolling Now
Neuro-Biology Tissue Repository
Creating a repository of blood, CSF and tissue samples that collects clinical and biological data on patients with neurological diseases and their relatives.
Triple Stimulation Technique (TST) in ALS for Quantifying Upper Motor Neuron Function
Evaluating the use of TST as an effective diagnostic tool for ALS. This includes assessments that may possibly identify the presence of proximal conduction blocks in upper motor neuron function.
Non-invasive Brain Stimulation for the Treatment of Spasticity in Neuromuscular Disorders: A Pilot Study
Will be assessing the role of repetitive transcranial magnetic stimulation (rTMS) as a treatment for symptom reduction of spasticity among patients with a variety of neuromuscular diseases.
Clinical trial of Dalfampridine in Primary Lateral Sclerosis (PLS)
Assessing the safety, tolerability and efficacy of Dalfampridine on walking in patients with PLS.
Non-invasive Brain Stimulation for the Treatment of Depression Symptoms in Neuromuscular Disorders: A Pilot Study
Assessing the role of repetitive transcranial magnetic stimulation (rTMS) as a treatment for symptom reduction of mood disorder and cognitive loss among patients with a variety of neuromuscular diseases.
Phase III Clinical Trial of RA101495 in Generalized Myasthenia Gravis
Investigating how effective the drug RA101495 is as a treatment for patients with generalized myasthenia gravis (gMG).
Phase II Clinical Trial of M281 in Adults with Generalized Myasthenia Gravis
We will be investigating the safety and tolerability of treatment with M281 in patients with generalized Myasthenia Gravis (gMG).
Phase III Clinical Trial of HYQVIA/HyQvia in Chronic Inflammatory Demyelinating Polyradiculoneuropathy (CIDP)
We will be assessing the efficacy, safety, and tolerability of HYQVIA/HyQvia as a maintenance therapy for CIDP to prevent relapse of neuromuscular disability and impairment.
Phase III Clinical Trial of Ravulizumab in Complement-Inhibitor-Naïve Patients with Generalized Myasthenia Gravis (gMG)
Investigating how effective the drug Ravulizumab is as a treatment for Complement-Inhibitor-Naïve Patients with gMG.
Clinical Trial of Rozanolixizumab in Patients with Chronic Inflammatory Demyelinating Polyradiculoneuropathy (CIDP)
Investigating how effective the drug Rozanolixizumab is as a treatment for patients with CIDP.
Ongoing Studies
Phase III Clinical Trial of Levosimendan in ALS
Will be evaluating the effects of ODM-109 (Levosimendan) on the respiratory function in patients with ALS.
Phase III Clinical Trial of Arimoclomol in Amyotrophic Lateral Sclerosis
Assessing the effect of Orphazyme on the breathing status, functional health and survival status of patients with ALS.
Misfolded SOD1 as a Biomarker for ALS
Will be comparing the presence of SOD1 in the spinal fluid of ALS patients against the spinal fluid of demographically healthy-matched volunteers in order to test and improve a newly developed tool for measuring the levels of misfolded SOD1 in spinal fluid (CSF).
Awaiting Results
Enrollment is closed and data is being analyzed.
Safety of Caprylic Triglycerides in ALS: A Pilot Study
Determining if Axona (a medical food) is safe, tolerated and able to cause ketones to increase in the blood of patients with ALS.
Department of Neurology Offers Patients Virtual Appointment Options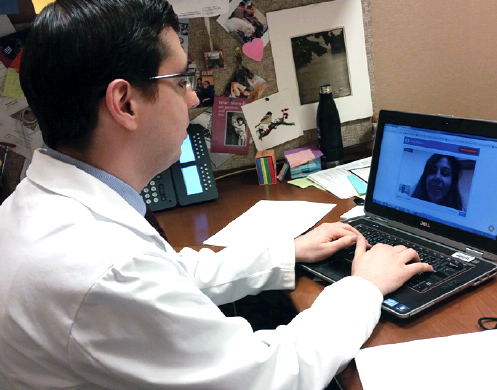 Providing quality patient care and experience is a priority across all departments at HSS. In early 2017, the Department of Neurology began implementing new technology to make care more accessible and convenient through TeleHealth, a web-based telemedicine portal that allows HSS physicians to conduct virtual appointments with patients.
According to Dale J. Lange, MD, Chairman of Neurology and Neurologist-in-Chief at HSS, TeleHealth works just like Skype or FaceTime, but in a HIPAA-compliant network that ensures the safety and security of patient information. Patients can make a formal appointment, but instead of coming to HSS to see a physician, the appointment is conducted virtually.
"Many of our patients find it difficult to come to HSS because of weakness," said Dr. Lange. "TeleHealth enables us to visit real-time and address urgent and non-urgent needs without waiting for appointments."
TeleHealth provides a perfect venue to conduct a virtual appointment and observe the patient. We are able to obtain an interactive history and form a thorough analysis of language and movement. With TeleHealth, physicians can now see the quizzical look on a patient's face or observe their body language while speaking with them.
To date, more than 50 patient encounters have taken place via TeleHealth. The patients who have used the technology have been extremely pleased with the results. They feel as though they are having a personal visit with their treatment team in their own home. It is convenient and easy, especially for those who live far away from HSS or have difficulty traveling into Manhattan.
"This gives us a different option, and now it has become part of my routine to give patients the option to follow up with me to discuss lab results, care management or answer questions," said Dr. Lange. "Many people come from far away to see us for our diagnostic expertise. There is not always a need to have an in-person visit when a face-to-face TeleHealth visit would suffice."
TeleHealth puts HSS at the forefront of a national shift toward providing patients with high-quality, convenient virtual care options in addition to the traditional ways that we deliver care. Dr. Lange sees telemedicine expanding in the department and in medicine in general, becoming integrated throughout other departments across HSS.
Recent studies have shown about 40% of follow-up care typically provided by neurologists can be conducted remotely through video-based telehealth. Telemedicine for neurology has made it possible to offer convenient, routine follow-ups for all patients. 95% of neurology patients who begin receiving remote follow-up care want to continue it.
(Adapted from an article in the April 2017 issue of Neuromuscular News.)