Innovation in Patient Care
Hospital for Special Surgery's Department of Radiology and Imaging is committed to providing the highest quality in patient care. This commitment led to the opening of the Division of Musculoskeletal Ultrasound. The Division is a one-of-a-kind, innovative academic center where fellowship-trained musculoskeletal radiologists and specialized technologists utilize leading-edge diagnostic and treatment techniques in musculoskeletal ultrasound to provide exceptional service to medical professionals and their patients.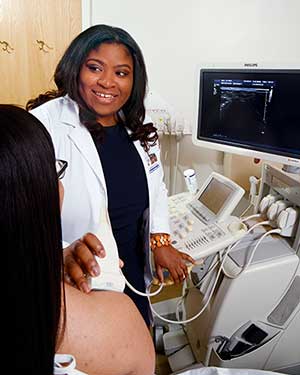 Diagnostic and Treatment Methods
Common diagnostic and treatment procedures performed in the Division of Musculoskeletal Ultrasound include:
Ultrasound evaluation for muscle, tendon, ligament and nerve injury
Ultrasound evaluation for arthropathy
Image-guided therapeutic injections for tendonitis, arthritis and neuropathy
Image-guided aspiration of joints, cysts and bursal sacs
Resources and Environment
The Division boasts an entire treatment suite with six ultrasound machines and patient rooms dedicated to musculoskeletal imaging. All ultrasound systems have capability to perform high-resolution imaging of musculoskeletal structures. Our fellowship-trained radiologists are highly skilled in the interpretation of musculoskeletal ultrasound and routinely perform ultrasound-guided musculoskeletal interventional procedures using state-of-the-art ultrasound imaging. Our specialized technologists are uniquely trained in this high-volume musculoskeletal ultrasound practice.
About HSS Radiology and Imaging
Hospital for Special Surgery's Department of Radiology and Imaging has the largest and most experienced academic musculoskeletal radiology faculty in the world, each with academic appointments at Weill Medical College of Cornell University. The Department focuses on both the imaging diagnosis of musculoskeletal conditions/diseases and the treatment of specific conditions utilizing image guidance. More than 350,000 musculoskeletal examinations including magnetic resonance imaging (MRI), computed tomography (CT), ultrasound (US) and conventional radiography (X-ray) are performed annually, including approximately 13,000 ultrasound exams. All HSS radiologists are board certified by the American Board of Radiology and have received numerous awards by honor and professional societies, including New York Magazine's "Best Doctors" list.
For more information on The Division of Musculoskeletal Ultrasound, call 212.774.7149
Back to HSS Radiology and Imaging