Back on the Gridiron
The family ski trip was meant to be an opportunity for 8-yr-old Bobby Menges to finally have a vacation after undergoing 1½ years of cancer treatment for neuroblastoma. Instead, on his first run down the mountain, he suffered a severe break of his left femur. After a 3-hour ambulance ride home to Long Island and an emergency surgery to place pins to stabilize the broken bone, the active second grader — and passionate football player — was immobilized in a wheelchair for 15 weeks.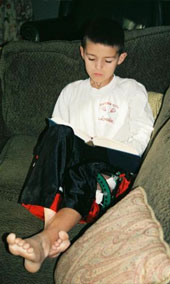 Following months of aggressive physical therapy, it was obvious that Bobby needed further treatment. His parents consulted Dr. Robert Rozbruch, Director of the Institute for Limb Lengthening & Reconstruction at HSS who diagnosed Bobby with a leg-length discrepancy caused by the fusing of his growth plate. Bobby's left leg would never grow on its own.
"We had done extensive research before going to HSS. After our initial consultation, we knew immediately that we were in the right place. Dr. Rozbruch had such a warm and positive attitude; we knew Bobby was in good hands."
Right before his scheduled surgery, Bobby's cancer returned, and there was a chance that Bobby couldn't have the procedure. But Dr. Rozbruch and the oncologists worked intimately throughout the process to ensure that his treatments were compatible and appropriate.
In November 2007, Dr. Rozbruch performed the operation called an osteotomy that involved breaking Bobby's femur and fitting it with an Ilizarov device, an external fixator that extended from his upper thigh to directly above his knee.
"We worked diligently, cleansing and adjusting the pins multiple times every day. It reminded me of adjusting my older son's palate expander. Dr. Rozbruch was amazing; he was always accessible and available to answer all of our questions." Bobby had monthly appointments at HSS where he had regular x-rays and Dr. Rozbruch monitored his progress.
It was a slow process of extending his femur bone about 1 millimeter per day. "By gradually pulling the bones apart, we are stretching the soft tissue in the nerves, the blood vessels and the muscles, all of which create stimulus for growth," Dr. Rozbruch explains. "That's exactly how it works with a growth spurt—the bone is what grows, and all the soft tissue responds to the stretch and grows, as well."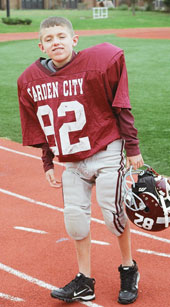 Bobby used crutches to get around his elementary school, and he was anxious to play with his friends and be a normal kid again. Dr. Rozbruch removed the Ilizarov device after three months and 2 inches of bone growth. Bobby immediately began aggressive physical therapy 5 times a week to regain mobility and increase the range of motion in his left knee. After three years, his goal was to finally get back on the football field.
Although his legs are the same length now, Bobby's right leg continues to outgrow his left leg. Dr. Rozbruch will eventually install another Ilizarov device, but for now Bobby is playing football and was just elected captain of his 7th grade team.