HSS is committed to providing high-quality care and skilled, compassionate, reliable service to our community in a safe and healing environment. Consistent with this commitment, HSS admits and treats patients, and provides all care and services without regard to age, race, color, creed, ethnicity, religion, national origin, culture, language, physical or mental disability, socioeconomic status, veteran or military status, marital status, sex, sexual orientation, gender identity or expression, or any other basis prohibited by federal, state, or local law or by accreditation standards.
HSS Honors Martin Luther King, Jr. Day – January 16, 2023
On this day we celebrate the birth, life and leadership of Rev. Dr. Martin Luther King, Jr. and his significant contributions to nonviolent activism and the American Civil Rights Movement. A prominent leader and advocate for racial equity, Dr. King became the youngest recipient of the Nobel Peace Prize at 35 years old in 1964. Martin Luther King Jr. Day is the only federal holiday observed as a national day of service. This year's theme for Martin Luther King, Jr., National Day of Service is United We Serve. In the spirit of Dr. King, it is a time to promote equal rights for all and unite and strengthen our communities through service.
Everyone can be great, because anybody can serve.
Here are some virtual opportunities you can participate in to honor the life and legacy of Dr. King as a "day on, not off":
Our Initiatives and Ongoing Education
HSS strives to deliver optimal care and services to all of our patients by adopting initiatives, behaviors, attitudes, and policies that enhance cultural humility and inclusion while serving a multicultural population. We believe that healthcare services that are respectful of and responsive to health beliefs, practices, and cultural and linguistic needs of diverse patients help to foster positive health outcomes.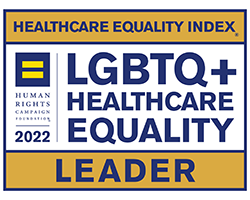 HSS has been recognized as a Leader in LGBTQ Healthcare Equality by the Human Rights Campaign (HRC) Foundation, the largest national lesbian, gay, bisexual, transgender and queer (LGBTQ) civil rights organization in the US. Consistent with our mission of providing the highest quality care for all, this recognition is a testament to our collective effort to raise awareness, provide training and implement best practices around caring for LGBTQ+ community and fostering inclusivity. Read our LGBTQ Committee Mission Statement.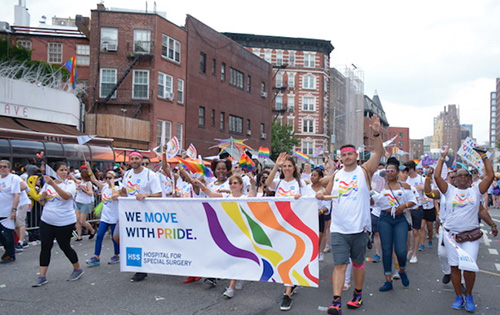 HSS is a proud bronze sponsor of NYC Pride 2021.
Current educational initiatives
If you have any questions regarding community engagement and diversity initiatives please contact us.