Hospital for Special Surgery (HSS) is committed to providing high-quality care and skilled, compassionate, reliable service to our community in a safe and healing environment. Consistent with this commitment, HSS admits and treats patients, and provides all care and services without regard to age, race, color, creed, ethnicity, religion, national origin, culture, language, physical or mental disability, socioeconomic status, veteran or military status, marital status, sex, sexual orientation, gender identity or expression, or any other basis prohibited by federal, state, or local law or by accreditation standards.
Our Initiatives and Ongoing Education
HSS strives to deliver optimal care and services to all of our patients by adopting initiatives, behaviors, attitudes, and policies that enhance cultural competency and inclusion while serving a multicultural population. We believe that healthcare services that are respectful of and responsive to health beliefs, practices, and cultural and linguistic needs of diverse patients help to foster positive health outcomes.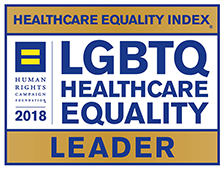 HSS has been recognized as a "Leader in LGBTQ Healthcare Equality" for the fourth consecutive year by the Human Rights Campaign (HRC) Foundation, the largest national lesbian, gay, bisexual, transgender and queer (LGBTQ) civil rights organization in the US. We achieved high marks in the areas of nondiscrimination, LGBTQ education, training, and in our demonstration of commitment to equitable and inclusive care.
The 2018 designation was a part of HRC Foundation's Healthcare Equality Index 2018, a unique annual survey that promotes equal care for LGBTQ Americans and recognizes healthcare institutions doing the best work to enhance their quality of life and experience.
We are proud of our organization-wide efforts to enhance awareness and clinical care practice specifically for LGBTQ populations through:
Mandatory annual staff development trainings for all employees
Gender identity and sexual orientation data collection to guide clinical care and assess quality
Ongoing institutional policies that foster optimal and sensitive care for LGBTQ patients, their family members and loved ones
An interdisciplinary LGBTQ Committee that addresses concerns and clinical care issues related to the LGBTQ population.
View some of our current educational initiatives:
If you have any questions regarding community engagement and diversity initiatives please contact us.
Live in New York State and need health insurance?
You can apply for health insurance through the Affordable Care Act (ACA) and purchase a qualified health plan during open enrollment periods, or if you have a qualifying event. Download information on the Affordable Care Act. (English | Spanish)
Programs and Services
Communication Assistance

Services available for blind/visually impaired and deaf/hard-of-hearing:

Braille documents
Large-print documents
Recorded pre-admission and discharge instructions
Big-button phone
American sign language (ASL) or certified deaf interpreters
CART services: machine which captures speech and converts it to text
TTY equipment (Text Telephone): machine which the patient uses to type a message to be relayed by phone via an operator

Language services include:

Certified onsite interpreters
Video conferencing: Web interpreters through Martti
Telephonic interpreter services: Dual handset phones
Document translation services

Please email Language Services or call 212.606.1760 for more information

HSS Community Programs