The Pain Begins
When my right hip started to bother me, I was only in my 40s, so I figured I must have overdone it somehow. I starting feeling pain in the groin area as well as down my right thigh. To help alleviate this, I modified some of the exercises in my classes and pulled back my teaching to a few days a week. My walks in Central Park also got shorter. Even after that, the pain just didn't go away.
I started going to doctors, was diagnosed with arthritis in my right hip and was prescribed physical therapy. After trying this for a few months, I went back to the doctors to see what other options there were. They all said I would eventually need a hip replacement, but I was still young, so if I can walk up and down a flight of stairs, get myself dressed completely and/or do light housework I should wait. This wasn't going to work for me because I was not able to live my active lifestyle and enjoy my life.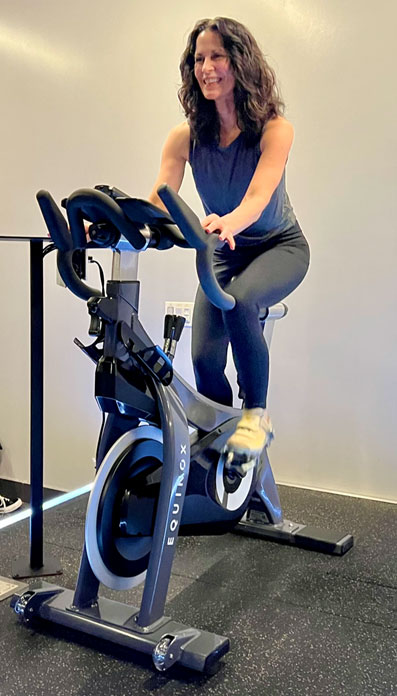 Pam leading an indoor cycling class after her hip replacement at HSS.
Finally, a friend recommended David Mayman, MD, a hip and knee replacement surgeon at HSS. From my first visit with him, he was extremely thorough and completely understood my situation. I asked him a million questions and he patiently answered every one of them. It was the first time in quite some time that I felt like a doctor actually heard me, as opposed to just going down a generic, one-size-fits-all checklist. When he said he frequently cares for younger patients who want to get "back in the game" and resume their active lifestyle, I knew he was the right doctor for me.
Preparing for Surgery
I was very nervous about the surgery itself and terrified about being put under anesthesia, but Dr. Mayman and his anesthesiologist made me feel so comfortable and I completely trusted them. The surgery went great and I was up and walking the next day. I noticed immediately that the pain I was experiencing beforehand was gone!
I had discomfort from the swelling and stitches, which is to be expected, but no pain! I started physical therapy in the hospital during my stay and continued with in-home PT for about a month. Once I felt confident going outside on the city streets, I continued with PT at an HSS Rehabilitation facility. After 10 weeks, I was back on the bike teaching cycling classes. I guess because I was in good shape to begin with, the recovery was easier. But I also made sure to follow all the rules and I did my PT exercises diligently without trying to rush things.
Life After Hip Replacement
I am so happy I had the surgery, and so grateful to Dr. Mayman and his incredible team. Today I'm back to my active lifestyle, teaching cycling and barre classes, and power walking in Central Park!
My advice to anyone who has been told that they're too young for hip replacement is that it has absolutely nothing to do with your age. It has to do with your lifestyle, and whether you can continue to enjoy the activities that are part of it.