Total ankle replacement is not a common procedure. Only several hundred procedures are performed every year in the United States, and you may never meet another person who has gone through it. While this can be scary and intimidating, it doesn't have to be.
At HSS, we have a team of doctors, nurses, and physical therapists who have extensive experience in ankle replacement. As the No. 1 hospital for orthopedic surgery, thousands of patients travel here worldwide to seek our expertise and our commitment to providing our patients with the best outcome possible. Not only are our specialists at the top in their fields, but they are also at the forefront of research, education, and the latest techniques.
Individualized Care for Every Patient
When you come to HSS, you may not realize you require an ankle replacement. Many patients have debilitating ankle arthritis and pain that has gone unchecked or ignored. Others are coming for a second opinion or a solution to ongoing ankle problems. We ensure that the first step is a thorough assessment of the ankle and the foot. Together, we then formulate a plan to address the arthritis in your ankle, and to correct any deformity or malalignment that may also be existing.
To help you through the process, we often connect you with a patient who has gone through total ankle replacement, so you can have a firsthand account. Watch our video featuring an HSS patient who suffered multiple injuries to her ankle that led to severe arthritis.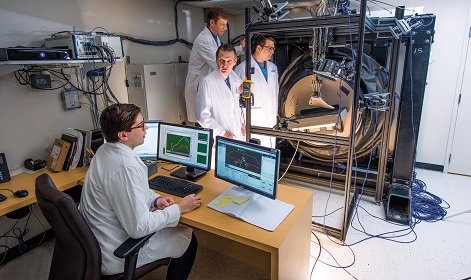 Top Ankle Surgeons and Specialists
HSS Foot and Ankle Surgeons are the top specialists in treating ankle arthritis and the issues that lead to ankle replacement surgery. Serving the dense, diverse New York City Tri-state area, the number of complex cases that are treated rival many other institutions. Our reputation in education and research increases our ability to collaborate with specialists around the world and provide patients with the best options.
Know that everyone from the radiologist who performs your imaging work to your physical therapists after surgery is specialized in ankle injuries and has extensive experience in your procedure.
State-of-the-Art Imaging Technology
Accurate, personalized imaging from a highly specialized radiology team is at the core of our Total Ankle Replacement Center. A dedicated series of images (X-ray, CT Scan, MRI) are needed for preoperative surgical planning, as well as to track your progress after surgery. Weightbearing CT scans with lower radiation levels provide a 3D model of the ankle mimicking real life positions and uses. Our industry-leading, high-resolution MRI is powerful enough to visualize the smallest structures of the foot and ankle, and adaptable enough to track every phase of your recovery.
View our detailed, step-by-step animation video showing the surgical process for ankle replacement surgery.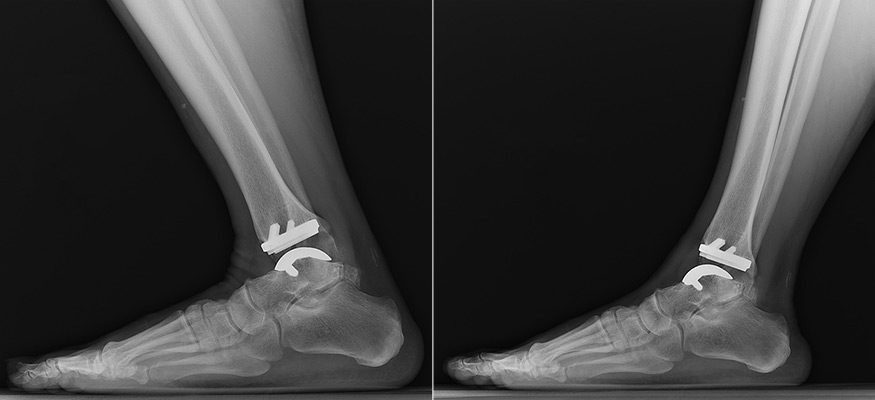 Ankle Replacement Innovation and Research
HSS Foot & Ankle faculty are leaders the field of innovative total ankle replacement research. We are committed to research that results in transformational patient care, improved surgical techniques and clinical outcomes. Here are some of our recent studies.
Differences in Gait and Stair Ascent After Total Ankle Arthroplasty and Ankle Arthrodesis. Sanders AE, Kraszewski AP, Ellis SJ, Queen R, Backus SI, Hillstrom H, Demetracopoulos CA. Foot Ankle Int. 2021 Mar;42(3):347-355. doi: 10.1177/1071100720965144. Epub 2020 Nov 16. PMID: 33198507
Biomechanical evaluation of total ankle arthroplasty. Part I: Joint loads during simulated level walking. Steineman BD, Quevedo González FJ, Sturnick DR, Deland JT, Demetracopoulos CA, Wright TM. J Orthop Res. 2021 Jan;39(1):94-102. doi: 10.1002/jor.24902. Epub 2020 Nov 11. PMID: 33146417
Biomechanical evaluation of total ankle arthroplasty. Part II: Influence of loading and fixation design on tibial bone-implant interaction. Quevedo González FJ, Steineman BD, Sturnick DR, Deland JT, Demetracopoulos CA, Wright TM. J Orthop Res. 2021 Jan;39(1):103-111. doi: 10.1002/jor.24876. Epub 2020 Oct 20. PMID: 33030768
Radiographic and Clinical Outcomes of the Salto Talaris Total Ankle Arthroplasty.
Day J, Kim J, O'Malley MJ, Demetracopoulos CA, Garfinkel J, Sanders A, Roney A, Deland JT, Levine DS, Ellis SJ. Foot Ankle Int. 2020 Dec;41(12):1519-1528. doi: 10.1177/1071100720947030. Epub 2020 Aug 14. PMID: 32791850
Imaging of Bone Perfusion and Metabolism in Subjects Undergoing Total Ankle Arthroplasty Using 18F-Fluoride Positron Emission Tomography. Dyke JP, Garfinkel JH, Volpert L, Sanders A, Newcomer M, Dutruel SP, Sofka CM, Ellis SJ, Demetracopoulos CA. Foot Ankle Int. 2019 Dec;40(12):1351-1357. doi: 10.1177/1071100719882717. Epub 2019 Oct 9. PMID: 31597454
*Awarded the Roger Mann Award for Best Clinical Research Paper at the Annual American Orthopaedic Foot and Ankle Society Meeting in 2019*
Influence of Tibial Component Position on Altered Kinematics Following Total Ankle Arthroplasty During Simulated Gait. Saito GH, Sturnick DR, Ellis SJ, Deland JT, Demetracopoulos CA. Foot Ankle Int. 2019 Aug;40(8):873-879. doi: 10.1177/1071100719858620. Epub 2019 Jun 27. PMID: 31244338
*Awarded Best Research Paper at the Triennial International Federation of Foot and Ankle Societies Meeting in 2018*
Accuracy of patient-specific instrumentation in total ankle arthroplasty: A comparative study.
Saito GH, Sanders AE, O'Malley MJ, Deland JT, Ellis SJ, Demetracopoulos CA.
Foot Ankle Surg. 2019 Jun;25(3):383-389. doi: 10.1016/j.fas.2018.02.008. PMID: 30321969
Short-Term Complications, Reoperations, and Radiographic Outcomes of a New Fixed-Bearing Total Ankle Arthroplasty. Saito GH, Sanders AE, de Cesar Netto C, O'Malley MJ, Ellis SJ, Demetracopoulos CA. Foot Ankle Int. 2018 Jul;39(7):787-794. doi: 10.1177/1071100718764107. PMID: 29589784

Why choose HSS? Our patients say it best.