OMI-Salzburg Medical Seminar
Hospital for Special Surgery, in collaboration with Weill Cornell Medicine, is proud to lead the annual Open Medical Institute (OMI) Seminar on Bone and Joint Surgery in Salzburg, Austria. The OMI-Salzburg Medical Seminar was founded in 1993 to share knowledge and experience with young English-speaking physicians from the former Communist world, operating under the auspices of The American Austrian Foundation (AAF).
Beginning in 1994, Thomas Sculco, MD, David Helfet, MD, and Thomas Wickiewicz, MD, provided the academic leadership for the OMI-Salzburg Bone and Joint Seminars. Today, the seminar alternates between the leadership of Mathias Bostrom, MD, and Russell Windsor, MD, PC. The seminar leaders and three additional faculty members from HSS coordinate lectures and workshops for the seminar at Schloss Arenberg, a cultural and scientific center in Salzburg, Austria. They spend a week teaching young, English-speaking colleagues from more than 100 countries, pro-bono. Wolfgang Aulitzky, MD, Dean of International Medicine and Distance Learning at Weill Cornell, urologist at Weill Cornell Medicine, and Medical Director of the AAF, directs all seminars.
The OMI-Salzburg Medical Seminar allows 30 to 40 competitively-selected physicians, primarily practicing in Central and Eastern Europe, Central Asia, the former Soviet Union, and other countries in transition, to interact with HSS and Weil Cornell staff in an academic environment that fosters both bilateral and international learning exchanges. Through the AAF, the annual seminar is funded by the Austrian Federal Ministry of Science, Research and Economy, and The Open Society Foundations, as well as corporate and individual donors.
The next OMI-Salzburg Medical Seminar on Bone and Joint Surgery will be led by Russell Windsor, MD, PC, in June of 2018.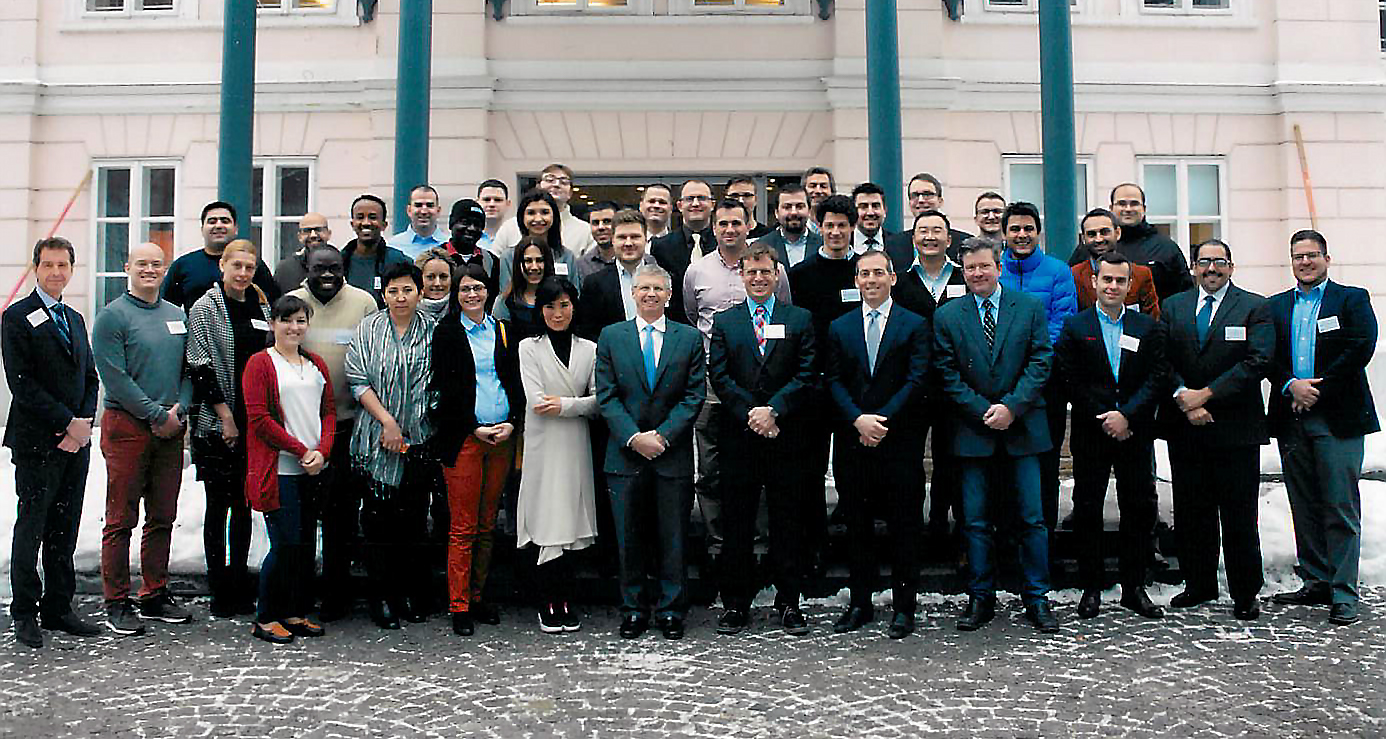 2017 Salzburg Medical Seminar on Bone and Joint Surgery organized by Mathias Bostrom, MD. Additional HSS staff pictured at Schloss Arenberg include Lana Kang, MD, (Hand/UE), Scott Ellis, MD, (Foot/Ankle) and David Mayman, MD (Trauma).
Humes Visiting Professorship
Through the Humes Visiting Professorship, course directors may present two or more lectures on cutting-edge developments in their field, grand rounds with residents and attending physicians, and a session with case presentations at their respective course co-director's home institution. Thomas Sculco, MD, Surgeon-in-Chief Emeritus of HSS, exchanged with Ulrich Dorn, MD, former President of the Austrian Society for Orthopedics and Orthopedic Surgery, as part of a Humes Visiting Professorship in 1996.
Andlinger Residency Exchange
Since 1992, over 166 American and Austrian medical residents have participated in the Andlinger Residency Exchange. The program is designed to give medical residents the opportunity to learn at a partner institution for two weeks to one month in order to supplement their training through experience with a foreign healthcare system.
Andlinger Residency Exchange Alumni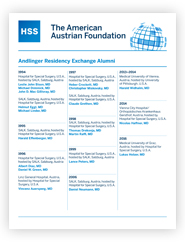 Ines Mandl Research Foundation Research Fellowship
The Austrian American Foundation, in conjunction with the Ines Mandl Research Foundation (IMRF), is supporting a three-year research fellowship to work with Mathias P. Bostrom, MD, in his lab at HSS studying total knee replacements—specifically how bone mass affects osseointegration. Three fellows between 2018 and 2020 will be given the opportunity to conduct connective tissue research for six months each at HSS.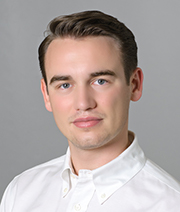 The first fellow, Klemens Vertesich, MD, will be at HSS February 1–July 31, 2018.