Patient Case History: Lansana
Limb Salvage of a Massive Tibial Bone Defect in a Child
Pre-Op
Patient Surgeon: S. Robert Rozbruch
Lansana at the age of 6 was bit by a snake while escaping death during an attack on his village in Sierra Leone, Africa. This led to infection and massive bone loss of his tibia and entire ankle joint.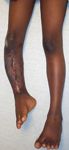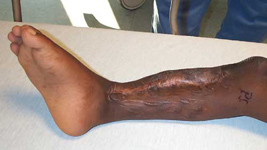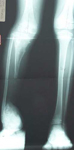 Post-Op
He was brought to the US by an oral surgeon who was visiting the area to do volunteer work. He underwent treatment with the Ilizarov method for gradual correction of the deformity, bone transport and ankle fusion to fill in the defect, and additional bone lengthening. In total, 23 cm of lengthening was done in stages.
Follow-Up
He is doing well with a stable ankle and ability to run and more. He has been adopted by the oral surgeon and his family.
Return to Patient Case Histories