Early RA Support and Education Program
The Early RA Support and Education Program has been developed specially for people recently diagnosed with rheumatoid arthritis.
Participants meet for a free, four-session series which presents essential information about RA and RA treatment. Following the lectures, a discussion with others also coping with a new RA diagnosis is co-facilitated by a social worker and a rheumatology nurse.
When: Meets monthly on Mondays from 5:00pm - 7:00pm
Where: Due to COVID-19 all of our programs are virtual. Please contact us for information.
Contact: Joan Westreich, LCSW, Social Work Coordinator, Early RA Support and Education Program, at 212.774.7378 or westreichj@hss.edu.
Preassessment and registration are required for attendance.
Support and Education Program Summaries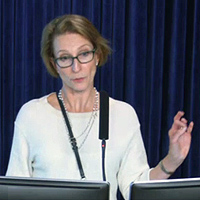 In 2016 HSS, in collaboration with the Arthritis Foundation, presented a symposium entitled "Essentials in Managing Rheumatoid Arthritis (RA): Treatments, Fatigue, Nutrition & Joint Protection."
The symposium presentations by HSS rheumatologists, nutritionists, and occupational therapists are available for viewing here.
Related Departments, Services and Centers