At HSS, your improved quality of life is our goal. Because we specialize in orthopedic and rheumatologic procedures, our patients tell us that what they really want to do is move better and with less pain.
"I am a new person walking
as much as I want with total
abandon. There is just no
surpassing the quality of care
at HSS."
- Melinda Moscow, New York, NY
More patient stories
To better understand how well our patients accomplish their long-term recovery goals, HSS establishes patient registries in which information is collected from patients with the same clinical problem, procedure, or treatment over time. Data collected and evaluated from our registries help us understand what factors can improve patients' recovery and quality of life. Registry data will also help clinicians at HSS and elsewhere establish high quality best practices in our specialty areas of orthopedics and rheumatology.
In many cases, HSS is the only hospital with procedural volume high enough to collect reliable data, especially in rare orthopedic or rheumatic conditions or procedures.
At HSS, we are leveraging our unique expertise and patient registries to conduct long-term studies. These studies will help determine the most effective treatments, implant devices, and surgical techniques in joint replacements.
Initial data from these studies show that people who receive joint replacements at HSS are extremely satisfied with their improved quality of life, measured by both pain reduction and improved mobility. Because these two measures speak to the heart of HSS's mission, we are proud to update and share our two year post-surgery results for patients who had surgery from May 1, 2007 to December 31, 2012.
Two years following joint replacement surgery at HSS, patients reported decreased joint pain and increased abilities to perform activities of daily living and sports-related activities as compared to prior to their surgeries. (Activities of daily living include using stairs, standing up from a chair, using a bathroom, and putting on socks. Sports-related activities include squatting, running, jumping, twisting, and kneeling.)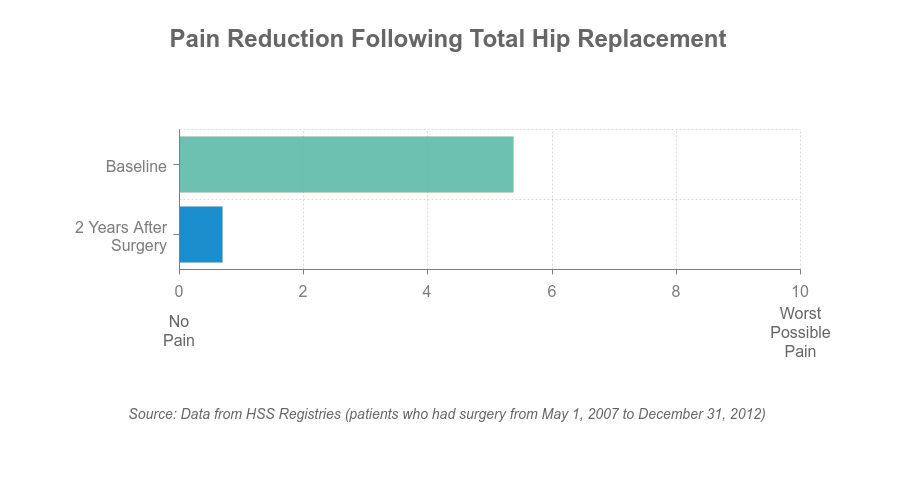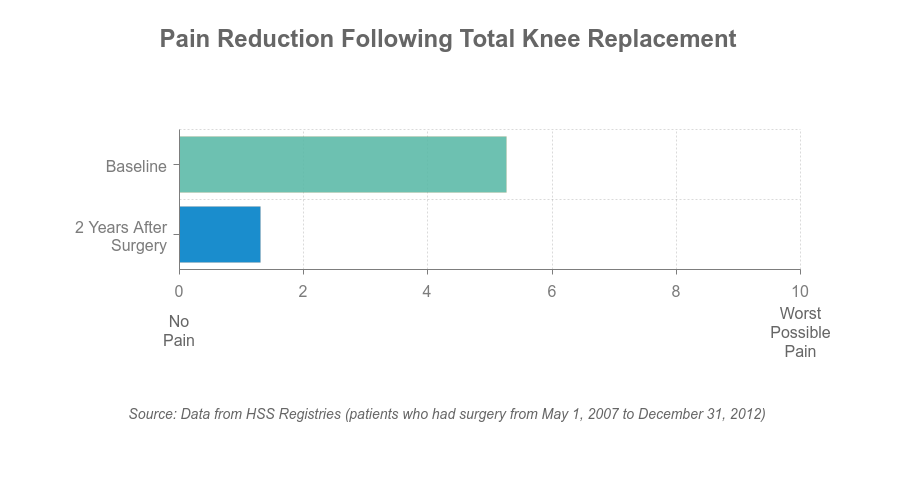 We ask our patients how well they move two years after surgery and measure improved mobility in two ways. The first is how well patients can perform activities of daily living. These activities include using stairs, standing up from a chair, using a bathroom, and putting on socks. Our patients tell us that their ability to perform these critical activities improves after joint replacement surgery.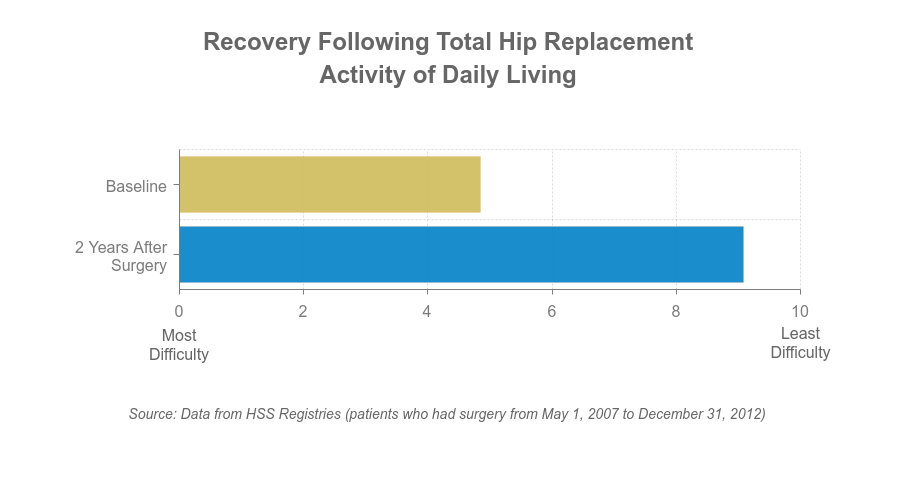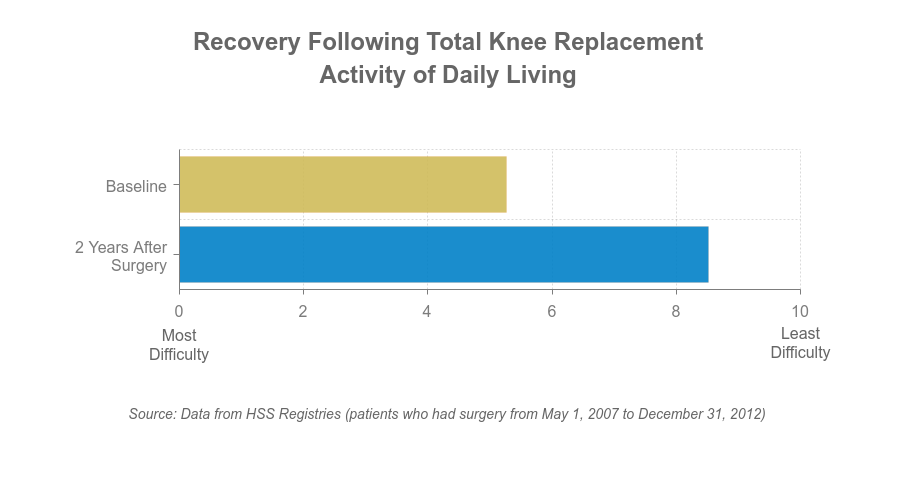 For many of our active patients, being able to move without pain in their daily activities is not enough. They want to return to their active lifestyles, which often include recreational or high level sports activities. When we ask our patients how well they perform sports activities two years following hip and knee replacement, including squatting, running, jumping, twisting, and kneeling, the results are impressive.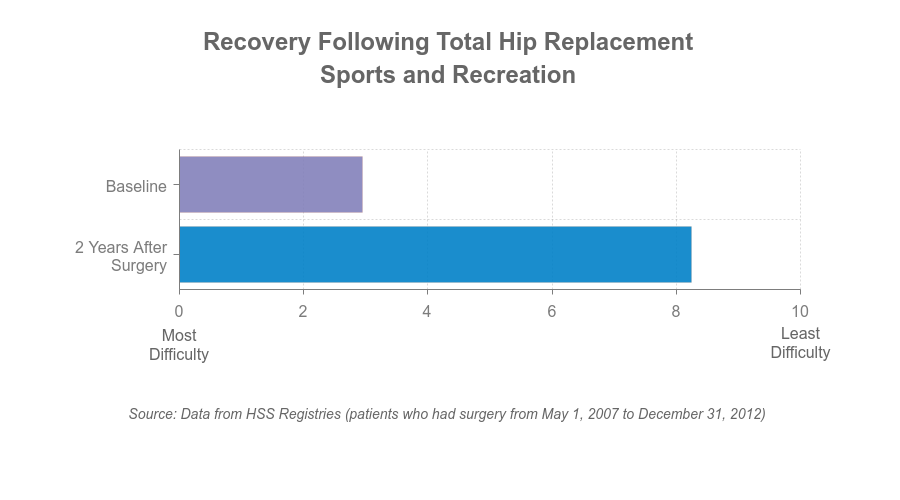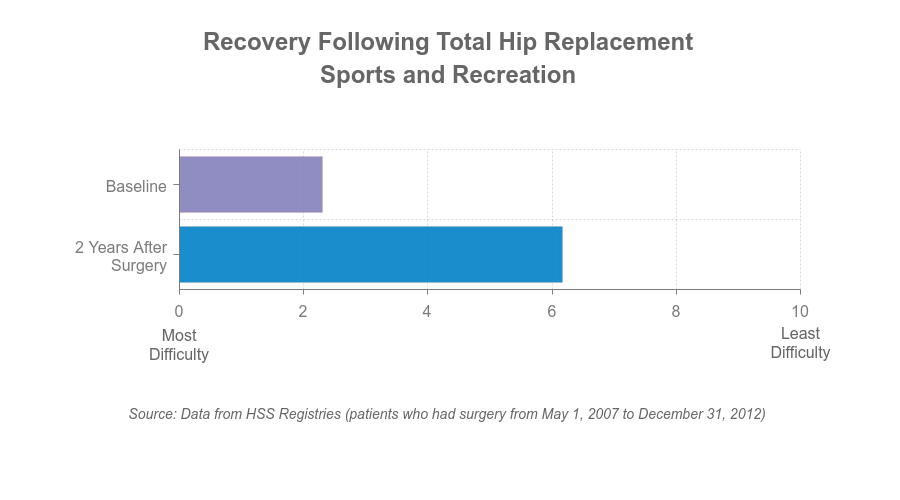 We expect that younger, active people will increasingly recognize the potential lifestyle benefits of hip and knee replacement, and will continue to seek our help as soon as hip or knee pain comes in the way of their sports performance.
Back to Quality and Safety at HSS