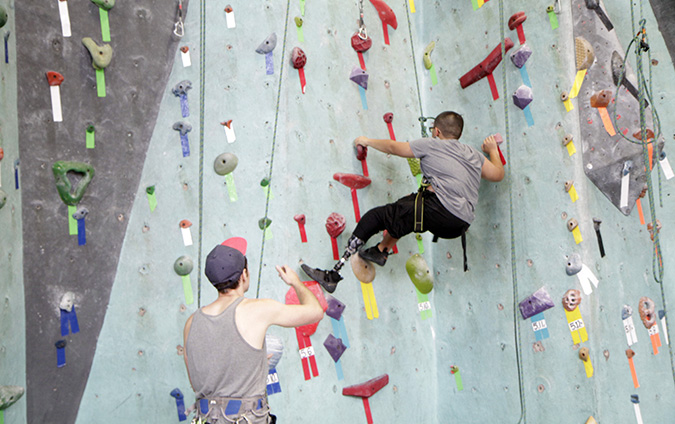 The Adaptive Sports Academy encourages patients to reach for the sky.
A hospital sponsoring ski trips and rock climbing excursions? Unheard of? Not at HSS. An innovative program is enabling young patients with physical disabilities to participate in these activities. The hospital's Adaptive Sports Academy sponsors trips and recreational experiences for pediatric patients to build their self-confidence, encourage independence and increase mobility.
Adaptive sports programs promote physical activity for people with disabilities. HSS works with trained volunteers from local and national adaptive sports organizations to support patients participating in the Academy. Depending on the activity, modifications in equipment may be made to meet their needs.
It's a life-changing experience for many children and teenagers, many of whom had never participated in a sport due to a physical challenge. The program is offered without cost, thanks to the generosity of Academy sponsors.
To date, dozens of patients ranging in age from 5 to 21 years old have taken part: a child with a prosthetic limb who makes it to the top of a climbing wall; a teenager with cerebral palsy who enjoys skiing alongside his HSS doctor; a youngster with a chronic rheumatologic illness feeling the thrill of a new adventure. For many, the experience is priceless.
The joy and enthusiasm among participants is unmistakable, and many parents marvel at what their child can accomplish. "It's a wonderful opportunity for the kids to socialize with other patients and accomplish things they didn't realize they could achieve," says Peyton Katz, pediatric patient and family care coordinator at HSS. "It's also an incredible experience for parents who become aware of what their children are capable of."
The Academy, now in its third year, offers annual skiing and rock climbing trips. Adaptive surfing and adaptive horseback riding are also under consideration for the summer and fall.
"The Adaptive Sports Academy gives our patients a chance to develop new skills and interests, and it promotes mobility and activity. It also reinforces therapy goals by engaging participants in a new activity and requiring them to use their bodies in a new way," explains Dr. Lisa Ipp, Chief of Pediatric Medicine at HSS. "There is also an emotional component. Patients are so excited about what they can achieve, and parents are so thrilled to watch them. The outings have also cultivated connections between families who stay in contact long after the event ends."
"Our annual ski trip to Windham Mountain in upstate New York is a favorite event for all involved. A few of the surgeons usually come along, which makes the day really special," says Peyton. "We have patients who have been seeing doctors at HSS most of their lives who now have the opportunity to ski alongside their physician."
At Windham, young participants are matched with trained volunteers from the Adaptive Sports Foundation. The volunteers adapt ski equipment to meet the individual's needs and accompany the skier down the slopes. Being paired with the volunteers makes the kids comfortable when engaging in the new activity. Often, they are inspired by other children who have already participated.
"Some kids are not sure at first how well they'll do, but they always exceed their own expectations," Peyton says. "Some parents cry when they see what their child can accomplish. It's really an eye-opening experience for a lot of parents."
Brooklyn Boulders, an indoor rock climbing facility, is another fun trip that usually attracts a dozen or so participants. For this activity, HSS has partnered with the Adaptive Climbing Group, a program of the Brooklyn Boulders Foundation. "During our last trip, a five-year-old was so excited, he practically ran up the climbing wall," Peyton recalls with a smile.
At Brooklyn Boulders the climbing wall is 35 feet high. Most of the kids make it to the top, even if they weren't sure they'd get there. Their parents and members of the HSS team are there to cheer them on.