The National Association of Social Workers/New York Chapter announced that Jillian Rose, LMSW, Manager, LupusLine® and Charla de Lupus®, Department of Social Work Programs, was selected to receive the 4th Annual Emerging Social Work Leader Award on December 2, 2010.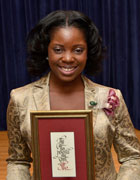 The award was presented to Ms. Rose and a select number of emerging leaders in the social work profession at the Grand Harmony Restaurant in Manhattan. The award recognizes social workers who demonstrate exemplary leadership qualities and a unique commitment to the improvement of social and human conditions. Ms. Rose is the only recipient selected from a hospital.
Since joining Hospital for Special Surgery, Ms. Rose's leadership, dedication, and unique commitment to addressing the concerns of traditionally underserved communities has been demonstrated at local, regional, and national levels. Under her direction for the past five years, these model national lupus peer support and education programs have grown by nearly 40 percent and have provided approximately 25,000 interventions to patients, families, and communities impacted by lupus.
She has widely represented Hospital for Special Surgery in presenting evidence-based practice models at community, professional, and government sponsored venues, such as the American College of Rheumatology, the European League of Rheumatism, and the Department of Health and Human Service's (DHHS) Office of Minority Health's Leadership Summit.
In addition, Ms. Rose is an active member of the Hispanic/Latino Work Group for the National Institute for Arthritis and Musculoskeletal and Skin Diseases' (NIAMS) Multicultural Initiative Strategic Planning Committee, as well as the Professional Development Subcommittee for the American College of Rheumatology and DHHS's Office of Minority Health's Initiative for Eliminating Health Disparities in Lupus.