HSS Florida provides residents of South Florida with the highest-quality outpatient surgery, performed by experts from the No. 1 US hospital for orthopedics. Outpatient surgery, also known as ambulatory surgery, is a "same-day" surgery that does not require an overnight hospital stay.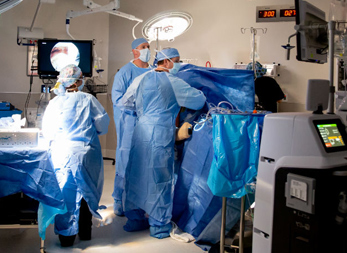 All outpatient surgeries take place at our convenient ambulatory surgery center, HSS Palm Beach ASC. This state-of-the-art facility has been carefully designed to meet the needs of our orthopedic patients.
Some of the outpatient surgeries performed at HSS Florida include:
What Are the Benefits of Outpatient Surgery?
Outpatient surgery has many benefits, including:
the convenience and comfort of recovering at home
lower cost, since it does not include an overnight stay in the hospital
reduced risk of infection
In addition, many outpatient procedures at HSS Florida are performed using regional anesthesia instead of general anesthesia. This means that the patient is not fully unconscious during surgery but, rather, receives pain blocks in the specific area of the surgery (such as in the knee). Typically, patients who receive regional anesthesia require less medication during surgery, experience fewer postsurgical effects, and have faster recovery times.
Care Team
The orthopedic surgeons at HSS Florida play a big role in your treatment. Their specialties include joint replacement, sports injury repairs, hand surgery and surgery for complex fractures. They will listen to your goals and concerns and work with you to develop the best treatment plan possible.
In addition to world-class surgeons, your care team may include a radiologist, anesthesiologist, nurses, physical therapist and more, all of whom are focused on working to achieve the best possible outcome for you.