Hand surgeons are doctors who care for people with injuries or other conditions affecting the hand, wrist, elbow and upper arm, either with surgery or nonoperatively.

The hand is a complex system of 27 bones connected by many ligaments, tendons, joints and nerves. Because there are so many moving parts of the hand and wrist – and because most of us rely on our hands for work-related and daily life activities – injuries to both are common.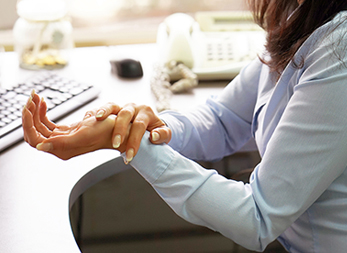 Some common hand and wrist problems include:
carpal tunnel syndrome
fractures or trauma
osteoarthritis
tendinitis
thumb arthritis at the basal joint
trigger finger
In many cases, hand injuries or conditions may be controlled or healed without surgery. However, for some conditions, such as severe fractures, hand surgery may be necessary.
Orthopedic Hand and Upper Extremity Surgeons at HSS Florida
The Hand and Upper Extremity Service at HSS is world renowned for treating all types of bone and soft-tissue conditions of the hand and upper extremities.
Our approach to hand pain, injuries or trauma is to use the least invasive procedure possible. Our goal is to relieve pain, improve functional mobility and restore quality of life.
The hand surgeon at HSS Florida will recommend nonsurgical treatment options whenever possible. These include medications, steroid injections and physical therapy. When surgery is required, our hand surgeon can often perform minimally invasive orthopedic surgery. These techniques decrease recovery time and reduce the risk of injury to surrounding tissue.
Hand and Wrist Injuries
Hand and wrist injuries are common in athletes, people who use their hands often for work and those who have conditions such as arthritis or osteoporosis.
Common complaints associated with wrist or hand injuries include:
pain with daily movement or exercise
decreased strength in the hand, wrist or fingers
numbness or tingling in the fingers
locking, grinding or clicking
finger dislocation
Our hand surgeon is a highly experienced orthopedic care expert who will work directly with you to understand your condition, goals and needs. From this, a treatment plan – whether surgical or nonsurgical – will be designed.
Treatment plans will use appropriate, nonsurgical treatments when possible. If these treatments do not achieve the recovery goals or if they are not considered the best course of treatment, surgery may be recommended.
When to See a Hand Surgeon
A finger that gets jammed during a basketball game or elbow pain that develops following a tennis match may not seem serious at first. However, hand and upper extremity injuries like these can sideline you from activity for months. In some cases, they can also have a permanent effect on how well you can use your hand, wrist or arm.
If you experience significant pain or mobility issues related to your hand, wrist or arm, don't wait to see a qualified hand specialist to diagnose the problem. Delaying diagnosis and treatment may result in a long-term condition.
You should see a physician if you experience any of the following in your hand, wrist or arm:
persistent pain or swelling
persistent restricted range of motion
numbness or tingling
weakness of the hand, fingers or wrist
failure of the injury to improve over time