HSS Statement on COVID-19 Coronavirus Vaccinations for People with Rheumatic Diseases
The Department of Medicine at Hospital for Special Surgery offers the following guidance to patients with rheumatic diseases on vaccination against COVID-19 infection. We will update this guidance as new information comes to light from ongoing scientific studies during the broad rollout of the vaccines.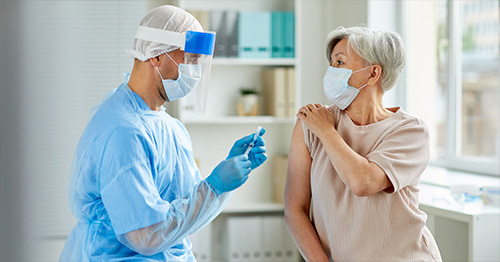 As the COVID-19 pandemic surges across the country, we are looking with hope to the delivery of a vaccine that will end this public health emergency. In the United States, the FDA has granted emergency use authorization for two vaccines (one from Pfizer, one from Moderna), which are being distributed throughout the country for administration. We anticipate that vaccination will reduce the burden of COVID-19 disease and look forward to having all individuals protected against COVID-19 as appropriate for their medical situation.
People with rheumatic diseases (RD) have many very important questions about the vaccines. At this time, it is difficult to offer definitive answers. The Pfizer and Moderna vaccines are injections of messenger RNA, which is a new vaccination technology that differs from traditional vaccines. Additionally, our understanding of the novel coronavirus continues to evolve, particularly for people with RD. Thus far, there are no data on how the vaccine affects people with RD. However, several research groups, including international consortia, are collecting and will be analyzing such data. We are following those results closely and will provide the best and most current advice to our patients and the RD community.
Based on information collected to date, we know that vaccination offers protection against COVID-19. The risks posed by vaccination appear minimal, unlike the risks of COVID-19. It is reassuring that the RNA vaccines have been constructed to minimize inappropriate immune system activation, which may reduce the likelihood of bad reactions. Some RD patients on immunosuppressive medications may be at increased risk of severe illness and death if they contract COVID-19, so vaccination may be very advantageous for these individuals, even if there is some risk involved.
Our understanding of effectiveness and safety will improve as data from clinical trials and other studies emerge during the roll out of vaccines. Once the vaccines become available to RD patients, we strongly suggest that you speak to your rheumatologist before receiving a vaccine so that you can discuss the most up-to-date information and the advisability of your receiving a vaccine.
We expect the benefits of COVID-19 vaccination will far outweigh the risks in patients with RD. We will provide regularly updated guidance as we learn more from scientific studies on the positive and negative aspects of the new COVID-19 vaccines in people with RD. We encourage you to stay informed through conversations with your rheumatologist and from trusted sources such as the Centers for Disease Control and Prevention, your local Department of Health, and the HSS website.
Updated: 12/19/2020
Authors