Denise's Story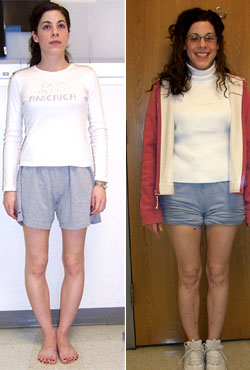 I can't believe it's been 5 years since having my surgery... At times, I thought I would go crazy with two broken legs - but I ALWAYS had faith in you... and I knew the benefits would out weigh the temporary pain I felt. And in the end, the benefits most certainly out weighed the pain.... In fact, I don't even recall the pain - I just remember it was uncomfortable and a bit frustrating... and most of all, I remember your patience and reassurance. I was probably one of the patients you hated because I constantly questioned you, and at times even put you on the defense - but regardless, you remained professional and pleasant - you took your time and made sure to leave me with a smile.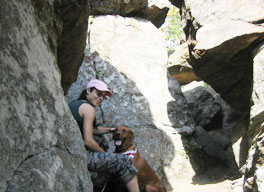 Since my surgery, I have had virtually NO PAIN in my knees... I've been able to return to enjoying an active lifestyle... I ski with no pain, I jog with no pain, I stand on my feet and teach with no pain. Heck, I've even gone skydiving and have had no pain! Finding you on the internet, and deciding to have the surgery was one of the BEST decisions I have made in my life - and I would do it all again - in a heartbeat.
Last year, my boyfriend (the blonde guy that came to the hospital with me) and I were married. In Sept of '07 we became pregnant with our first child! Before my surgery, my leg went numb when I had menstrual cramps... and I was afraid of what would happen when I got pregnant. No fears anymore because my leg stopped going numb once it was "realigned".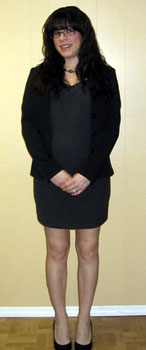 I've enjoyed an uneventful pregnancy with no discomfort for 6 months now. In the last couple of weeks, since I've put on the bulk of my weight - I've had some lingering hip and middle back pain, but it is nothing compared to the knee pain I used to have - and I'm pretty sure it's mainly due to the extra 20lbs I'm carrying around!! I make a joke of it and say that it will give me good motivation to lose weight once the baby arrives! A very small price to pay for being able to live life without constant knee pain!
This letter is longer than I anticipated, but I wanted you to know the extent to which you have helped change my life. You were and continue to be - my angel in white :) Thank you for everything!
By the way... Even though I am whiter than white - you cannot see my scars - they're not pink at all, and I strut confidently in my bikini when I'm at the beach showing off my pretty, straight legs!!