Two studies currently being conducted at Hospital for Special Surgery by rheumatologists Doruk Erkan, MD, and Michael D. Lockshin, MD, may enable researchers to identify new treatments for patients with Antiphospholipid Syndrome (APS) or antiphospholipid antibodies (aPL).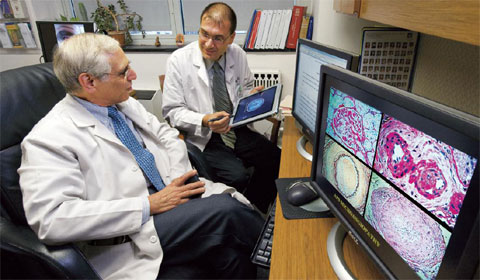 Michael Lockshin, MD (left), and Doruk Erkan, MD, of HSS's Barbara Volcker Center for Women and Rheumatic Diseases, are exploring new ways to help patients suffering from Antiphospholipid Syndrome.
Living with APS
APS is an autoimmune disorder in which the patient's body produces antiphospholipid antibodies, which can cause the blood to clot or become "thickened." These antibodies can result in a variety of symptoms related to clotting, including pregnancy losses and deep vein thrombosis.
APS is divided into two categories: APS occurring in the absence of any other related diseases, and APS occurring in conjunction with a rheumatic disease, such as lupus or rheumatoid arthritis. While some patients with antiphospholipid antibodies may be predisposed to clots, others can have the antibodies in their blood without clots being formed. These patients do not have APS, but are called antiphospholipid antibody positive (aPL positive).
Blood clots in patients with APS occur when an antibody attaches to an endothelial cell on the vessel wall, triggering reactions that result in clotting. Currently, APS patients with blood clots are given an anticoagulant, or blood thinner, to prevent this from occurring. Blood thinners, such as warfarin, make the vascular wall less "sticky," with the goal of preventing the antibody from attaching itself there.
Therefore, while blood thinners reduce the risk of the antibody attaching to the arterial or venous wall, they do not reduce or change the nature of the potentially harmful antibodies. The use of blood thinners also increases the patient's risk of bleeding.
Reducing the Risk of Blood Clots
A clinical trial being conducted by Drs. Erkan and Lockshin, of HSS's Barbara Volcker Center for Women and Rheumatic Diseases, will investigate whether a drug traditionally used to lower cholesterol is beneficial and safe in reducing the risk of cardiovascular disease and blood clots in patients with APS or those who are aPL positive.
The study, being conducted in conjunction with the University of Texas Medical Branch Rheumatology Clinic, seeks to determine the effects of statin drugs on patients with APS. Statins, most commonly used to lower cholesterol, also have anti-inflammatory and antithrombotic effects, which would lend themselves to the prevention of blood clots in patients with APS.
The clinical study is based on basic research conducted at the University of Texas at Galveston by Dr. Silvia Pierangeli. Her research has shown that in mice, the introduction of statins can decrease the inflammatory markers that are induced by antiphospholipid antibodies.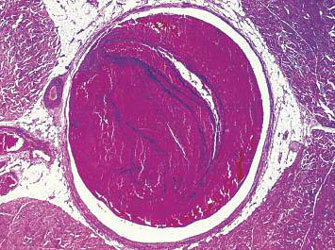 The presence of antiphospholipid antibodies in patients with APS and those who are aPL positive can increase the risk of developing a thrombosis (blood clot) in a vein or artery, as seen above. Without treatment, patients often experience repeated clots which can disturb blood flow to important organs, impairing their ability to function.
Whereas blood thinners focus on the prevention of thrombosis in aPL positive patients, the statins have the potential to modify the immune response itself and decrease both the vascular wall signals as well as inflammation proteins/cells that are involved in blood clot formation.
An immunomodulatory approach with a statin for the treatment of APS could result not only in preventing symptoms, but would be ideal particularly for patients who experience complications with blood thinners, as well as those who get blood clots despite the blood thinners.
Dr. Erkan, who is the Associate Physician­Scientist at the Barbara Volcker Center, is the lead site investigator for the study at HSS, where 30 patients will participate in the clinical trial. He and Dr. Lockshin, who is the Director of the Barbara Volcker Center, are recruiting four classes of patients for this study: patients with lupus and APS, patients with APS alone, patients with lupus who are aPL positive, and patients who are aPL positive but do not have lupus.
Participants will take fluvastatin, which is a particular statin, daily for three months and their blood will be monitored once a month. After three months, the medication will be discontinued, but patients will continue to have their blood monitored for three more months. This study is designed to allow researchers to observe the effects that the medication has on the antibodies.
"After three months of therapy, our goal is to show that the inflammatory markers go down," says Dr. Erkan. "And after three more months, our goal is to determine if a direct causal relationship exists between the drug and the markers."
Rituximab in Antiphospholipid Syndrome
While some aPL positive patients may not exhibit any symptoms, others may experience clinical problems that are resistant to anticoagulants. These clinical manifestations include low platelet count, anemia, heart valve disease, skin ulcers, kidney small vessel clots, and memory problems. Drs. Erkan and Lockshin are also currently conducting a pilot study to evaluate whether an infusion drug called rituximab, approved for treatment of non-­Hodgkin's B-­cell lymphoma and for certain patients with rheumatoid arthritis, will reduce the signs and symptoms of these aPL ­related clinical problems.
"In the simplest terms, rituximab inhibits B-­cells, and B-­cells are the cells that create autoantibodies," says Dr. Erkan. "The idea is that if we can inhibit B-cells, we can decrease the antibodies."
The 20 patients participating in the study will receive two intravenous doses of rituximab, and will be followed for six months for serial aPL monitoring as well as clinical outcomes. "Current treatments available for this syndrome are neither simple nor satisfactory," says Dr. Lockshin. "We hope to define new principles of treatment that will improve the lives of our patients."
The Barbara Volcker Center is the first of its kind in the United States, bringing together scientists, rheumatologists, orthopedists, endocrinologists, and obstetrician/gynecologists under one umbrella. This multidisciplinary approach enables women with conditions such as APS and lupus to get the best medical care by a team of appropriate advisors.
Posted: 5/28/2009
Authors