NBC Nightly News host Brian Williams serves as toastmaster
New York City—June 16, 2011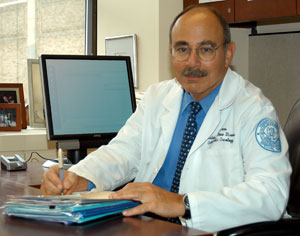 Joseph M. Lane, M.D., an orthopedic surgeon nationally recognized for his work in metabolic bone disease, will receive the Lifetime Achievement Award at the hospital's 28th Annual Tribute Dinner on Monday, June 20, for his innovative research on bone disease and the use of bisphosphonates in treating osteoporosis. Brian Williams, anchor of Nightly News on NBC, will serve as toastmaster.
Dr. Lane's research helped identify the possible link between long-term use of osteoporosis medications and increased risk for certain types of bone fractures. His work received worldwide attention and contributed greatly to a national change in practice as well as a better understanding of the treatment of postmenopausal women.
Dr. Lane is currently chief of the Metabolic Bone Disease Service and medical director of the Osteoporosis and Metabolic Bone Health Center at Hospital for Special Surgery. The center recently celebrated its 25th anniversary and was the first of its kind in the nation when it was established in 1985. He also holds the title of assistant dean.
Dr. Lane began his tenure at Hospital for Special Surgery in 1975 and went on to become professor at Weill Cornell Medical College and an adjunct professor at the Columbia University College of Physicians and Surgeons. He is also associate director of the Orthopaedic Trauma Service at Hospital for Special Surgery. Throughout his distinguished and celebrated career, Dr. Lane has held appointments at top hospitals and educational institutions around the country, including two years as the Elsee Butz assistant professor at the Hospital of the University of Pennsylvania and Children's Hospital of Philadelphia, and 15 years as chief of the Bone Tumor Service at the Memorial Sloan-Kettering Cancer Center.
"For more than three decades, Dr. Lane has been an integral part of the success of the hospital," said Louis A. Shapiro, president and chief executive officer of Hospital for Special Surgery. "We are deeply grateful for his dedication and service and for the role he has played in making this a world-class institution for osteoporosis care and bone research, by building the Metabolic Bone Disease Service and the Osteoporosis Prevention Center here at the hospital."

Dr. Lane's clinical research has focused on bone and soft tissue tumors, adult spine and hip trauma, spinal surgery and osteoporosis. He has received many National Institutes of Health (NIH) career and R01 grants, Orthopaedic Research and Education Foundation (OREF) grants, and foundation awards and has authored more than 300 published articles and chapters. He has been a visiting professor at many premier educational institutions and is on the editorial board of several peer-reviewed journals, including Bone, Journal of Arthroplasty, Journal of Orthopaedic Research and Spine.
"By identifying the possible link between long-term bisphosphonate use and certain types of unusual bone fractures as part of his ongoing studies, Dr. Lane continues to keep the hospital on the forefront of bone research," said Thomas P. Sculco, M.D., surgeon-in-chief at Hospital for Special Surgery. "Dr. Lane is one of the great teachers and research minds in orthopedic surgery."
With expertise in bone tumors, metabolic bone disease, geriatric vertebral compression fractures and geriatric hip fractures, Dr. Lane served as chairman for the American Academy of Orthopaedic Surgeons (AAOS) Oversight Panel on Women's Health and as a member of the AAOS Council on Research. He has received numerous awards and recognitions, including New York Magazine's "Best Doctors in New York" and has served on the Food and Drug Administration Orthopedic Panel, NIH Tissue Engineering Grant Review Panel and NIH Sickle Cell Hip Program (Oversight Committee) for more than a decade.
"I am truly humbled by this award," said Dr. Lane. "The hospital has provided unwavering support as I have grown in my career, and I am eternally grateful for that. I look forward to continuing to work with my brilliant colleagues and to helping patients regain the mobility needed to maintain their active lifestyles."
Dr. Lane graduated Magna Cum Laude from Columbia College in 1961 and received a medical degree from Harvard Medical School in 1965. He then went on to the Hospital of the University of Pennsylvania, where he completed his internship in 1967, fellowship in 1970, and residency in 1973, during which he was awarded the Kappa Delta Award from the American Academy of Orthopaedic Surgeons for his research on inhibiting scar formation.