The Mechanical and Material Assessment Core is based both at Hospital for Special Surgery and at the Sibley School of Mechanical and Aerospace Engineering facility at the Cornell Ithaca Campus. This core focuses on providing complementary techniques for determining mechanical properties of native and engineered bone, cartilage and soft tissue, as well as providing models to study adaptation of these tissues to mechanical stimuli. Assistance with experimental design and data modeling are also available through this core.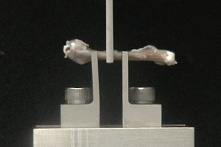 A primary role of the skeleton is to bear loads, and therefore measuring mechanical performance of normal, diseased, traumatized, and treated tissues is critically important. The Mechanical Assessment core provides a broad range of testing capabilities for measuring the load bearing capacity and deformation behavior of skeletal tissues and structures, including:
Mechanical testing of musculoskeletal tissues (e.g., bone and cartilage) and organs (whole bones, joints, spines, ligaments, and tendons
Data reduction and analysis to determine geometric, structural, and material properties
Dedicated and customized testing for bone-implant systems and spinal units
Optical analysis equipment for non-contacting deformation measurements
Access to cadaveric materials for testing
X-ray diffraction and infrared analysis of powdered samples. These analyses provide information on phase composition and crystallinity of single or combined materials.
Consultation on choosing appropriate models and mechanical tests
Core personnel work closely with personnel from the other Hospital core facilities to assure investigators are presented with comprehensive testing plans from which mechanical data complements information (e.g., morphometry data from microcomputed tomography and chemical composition data from infrared imaging) from other cores.
These services are utilized by the research and clinical staff of Hospital for Special Surgery and Weil Medical College and Graduate School of Medical Sciences on a "fee-for-service" basis. The laboratory also provides services to users outside of the Medical Complex. Some standard fees are listed below; custom testing fees will be negotiated with the investigator.
Fee structure
Internal and NIH Users: $100/hour
External / Non-NIH Users: $200/hour

The facility is located on the Second Floor of the Dana Center of the Hospital for Special Surgery with additional facilities located in the Sibley School of Mechanical and Aerospace Engineering at Cornell's main campus in Ithaca.
Helpful Review Papers
Boskey AL, van der Meulen MC, Wright TM. Guidelines for describing mouse skeletal phenotype. J Orthop Res. 2003;21:1-5.

van der Meulen MCH, Huiskes R. Why mechanobiology? A survey article. J Biomech. 2002;35: 401-14.
van der Meulen MC, Jepsen KJ, Mikic B. Understanding bone strength: size isn't everything. Bone. 2001;29: 101-4.