Brian Williams to serve as toastmaster
New York City—June 12, 2013

Hospital for Special Surgery (HSS) will celebrate its 150th anniversary and honor the City of New York at its 30th Annual Tribute Dinner. Special guest Mayor Michael Bloomberg will accept the award on the City's behalf at the event on Monday, June 17, at the Waldorf Astoria in New York City.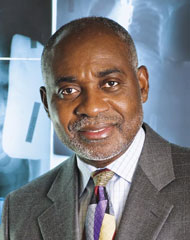 The Dinner will also pay tribute to renowned spine surgeon Oheneba Boachie-Adjei, M.D., chief of the Scoliosis Service at HSS, with the Lifetime Achievement Award.
Brian Williams, anchor and managing editor of NBC Nightly News, will serve as toastmaster.
The history of Hospital for Special Surgery, founded on the Lower East Side in 1863, is intertwined with the history of New York. "As we celebrate the hospital's 150th anniversary, it is fitting that we recognize New York City," said Lou Shapiro, HSS president and CEO. "As New York has flourished to become a leading financial, cultural and social force over the last 150 years, Hospital for Special Surgery has grown to become a world leader in orthopedic and rheumatology treatment, education and research."
Mr. Shapiro added that the hospital is also honored to recognize Dr. Boachie for his many achievements. "He never hesitates to take on the most complex cases. His skill as a spine surgeon is matched only by his unwavering commitment to help those less fortunate, particularly in his native country of Ghana, Africa."
Dr. Boachie has distinguished himself as both an outstanding spine surgeon and a compassionate humanitarian in the United States and abroad. He has served as chief of the Scoliosis Service at HSS since 1994. People come from across the country and around the world when they require highly skilled surgical care for scoliosis and other complex spine conditions. In many cases, surgery to correct severe spinal deformities can be life-saving.
"I am deeply honored to receive the Lifetime Achievement Award from Hospital for Special Surgery," Dr. Boachie said. "It has been a privilege to work and grow professionally at one of the finest specialty hospitals and orthopedic research centers worldwide. HSS has also played a key role in helping me achieve my life-long dream of opening a hospital in Ghana."
In 1998, Dr. Boachie founded the Foundation of Orthopedics and Complex Spine (FOCOS), an organization committed to providing affordable medical care to patients with spinal deformities and other orthopedic problems in developing countries. Since its inception, FOCOS teams have treated more than 27,000 local and international patients. They have performed more than 1,000 surgeries, including complex spine operations, knee and hip replacements and other orthopedic procedures.
Last year, HSS representatives, along with those from the Scoliosis Research Society and executive and volunteer staff, joined Dr. Boachie to open a 50-bed specialty hospital providing comprehensive orthopedic and rehabilitative services for adults and children in Ghana. The FOCOS Orthopaedic Hospital is fully accredited to operate both inpatient and outpatient departments.
"Dr. Boachie has earned an international reputation for his expertise in the treatment of scoliosis, kyphosis and spine reconstruction in both adult and pediatric patients," said Thomas P. Sculco, M.D., surgeon-in-chief at HSS. "His pioneering work has improved surgical techniques and patient care and has led to major advances in the field of scoliosis surgery."
Dr. Boachie was born in Kumasi, Ghana, and immigrated to the United States in 1972. He earned a bachelor of science summa cum laude from Brooklyn College in 1976 and received a doctor of medicine degree from Columbia University College of Physicians and Surgeons in 1980. He completed his orthopedic residency at HSS and went on to pursue advanced training in scoliosis at the University of Minnesota.
Dr. Boachie has published and lectured extensively on topics in spine surgery, with special emphasis on surgery to correct spinal deformities. He is an inventor and holds several patents for devices used in spine surgery. In 2004, he received the American Academy of Orthopaedic Surgeons' Humanitarian Award.
The Dinner is among the events celebrating Hospital for Special Surgery's 150th anniversary this year. HSS was founded when a doctor opened his own home on the Lower East Side to destitute street children with disabilities.
The new book, "Anatomy of a Hospital," tells the fascinating story of HSS and is available at HSS.edu/store and on Amazon.com.
The HSS event will start with a reception at 6:30 p.m., and the dinner will start at 7:30 p.m.
To purchase tickets, please contact Terry Cooper at tcooper@projectsplusinc.com or call 212-997-0100, ext. 238.
About HSS | Hospital for Special Surgery
HSS is the world's leading academic medical center focused on musculoskeletal health. At its core is Hospital for Special Surgery, nationally ranked No. 1 in orthopedics (for the ninth consecutive year) and No. 3 in rheumatology by U.S.News & World Report (2018-2019). Founded in 1863, the Hospital has one of the lowest infection rates in the country and was the first in New York State to receive Magnet Recognition for Excellence in Nursing Service from the American Nurses Credentialing Center four consecutive times. The global standard total knee replacement was developed at HSS in 1969. An affiliate of Weill Cornell Medical College, HSS has a main campus in New York City and facilities in New Jersey, Connecticut and in the Long Island and Westchester County regions of New York State. In 2017 HSS provided care to 135,000 patients and performed more than 32,000 surgical procedures. People from all 50 U.S. states and 80 countries travelled to receive care at HSS. In addition to patient care, HSS leads the field in research, innovation and education. The HSS Research Institute comprises 20 laboratories and 300 staff members focused on leading the advancement of musculoskeletal health through prevention of degeneration, tissue repair and tissue regeneration. The HSS Global Innovation Institute was formed in 2016 to realize the potential of new drugs, therapeutics and devices. The culture of innovation is accelerating at HSS as 130 new idea submissions were made to the Global Innovation Institute in 2017 (almost 3x the submissions in 2015). The HSS Education Institute is the world's leading provider of education on the topic on musculoskeletal health, with its online learning platform offering more than 600 courses to more than 21,000 medical professional members worldwide. Through HSS Global Ventures, the institution is collaborating with medical centers and other organizations to advance the quality and value of musculoskeletal care and to make world-class HSS care more widely accessible nationally and internationally.