WCBS-TV 2—December 29, 2008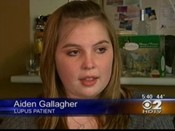 Sweet 16 parties and quinceañeras are a tradition in many countries. They symbolize a young girl's transition to womanhood. While most girls want to be the focus of their sweet sixteen, one very special young woman is using her party to spread awareness about a disease that affects millions, including her.
Aiden Gallagher was a model child in most ways: fun-loving, athletic, and an A-student. Then at age 11 she developed lupus and her life changed dramatically.
"She had a near perfect GPA and very high aspirations to go on to a huge career in her future. Little by little those things are being stripped away," said Elizabeth Gallagher, Aiden's mother.
In the five years since she was diagnosed, lupus has spread to Aiden's brain. She's gained 80 pounds from medication side-effects, developed arthritis and been hospitalized almost 50 times.
"They can have chest pain, they can have problems thinking, they can have strokes, virtually every part of the body can be affected by lupus if it's not properly treated and controlled," said Dr. Thomas Lehman of Hospital for Special Surgery.
And yet Aiden does not feel sorry for herself. Here's a hint of her amazing outlook: she gets senior citizens to make blankets that she distributes to patients in the hospital.
"You just can't think about it as 'I wish I was this, I wish I was that,' because it's going to just drag you down," Aiden said.
Aiden decided to turn her Sweet 16 into a fundraiser for lupus awareness and research.
"By coming that night, you're giving a donation and everyone there will realize how important this is to my life, but it's not just my life. It's 1.5 million people's lives," Aiden said.
"I want the people that I live by to realize instead of asking me everyday what lupus is to realize that there is something going on and that there is something you can do about it," Aiden said.