NEW YORK CITY—April 25, 2008
How are the weekend warrior, early morning runner, health club enthusiast and professional athlete going to return to their routine without risking injury again? This is the No. 1 question most people ask after a sports-related injury.
"We support the idea of getting back on your bicycle or skis, slamming a tennis racket, swinging a golf club, running a marathon or swinging a bat," said Certified Strength and Conditioning Specialist Barry Heyden of Hospital for Special Surgery's Sports Performance Center. "A personal training program based on a comprehensive evaluation allows clients to go on safely for their personal gold--their ultimate level of mobility."
While the goal of sports rehabilitation is to restore function and mobility, relieve pain and prevent or limit physical disabilities, the goal of sports performance is to help clients reach ultimate performance levels while reducing the risk of sport-related injury.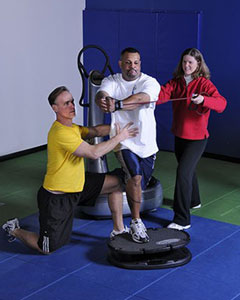 Barry Heyden (kneeling) and Polly de Mille demonstrate the Power Plate with the assistance of Anthony Harrelson in the new Sports Performance Center.
"For athletes at any level, the HSS Sports Performance Center goes even further," said Exercise Physiologist Polly de Mille, who also staffs the HSS Sports Performance Center. "It takes into account both the importance of physical recovery and the client's psychological need to get back to—and even exceed—pre-injury levels of sports performance to feel fully recovered."
From adolescents to adults, clients of the Sports Performance Center receive care that calls upon the skills of an exceptional team of seasoned professionals: physical therapists, exercise physiologists, strength and conditioning specialists, athletic trainers, massage therapists, nutritionists and sport psychologists. Prior to training, a comprehensive fitness assessment is performed by the exercise specialist.
The Sports Performance Center's program is composed of three related services focused on enhancing sports performance and minimizing the risk of injury:
Personal Fitness Profile and Performance Plan (2 one hour-long sessions): Clients receive a thorough assessment of overall fitness, including aerobic capacity, body composition (percent body fat), strength and flexibility. Based on the comprehensive evaluation, a personalized blueprint is designed.
Testing of Individual Fitness Parameters (15 minute increments):  Clients can also be tested on a number of individual fitness parameters, including body composition, aerobic capacity, lactate threshold, flexibility, muscular strength, strength and agility, and resting metabolic rate.
Individualized Training Session or Small Group Sessions (on-going): Training sessions with an HSS exercise specialist educate clients to help them reach their goals and desired outcomes.
Complementing the Sports Performance Center's services is Dartfish analysis. This state-of-the-art computerized video analysis system can be incorporated to further enhance the assessment of a client's personal fitness profile.
A world leader in the field of orthopedics and rehabilitation, HSS has served professional sports teams for many years. "As we have evolved to provide the broadest continuum of care, the Sports Performance Center was created to meet the needs of the growing numbers of seriously committed nonprofessional athletes and fitness enthusiasts who are taking on greater physical challenges. After our staff assists recovery to pre-injury levels, clients need to learn how to lower their risk for hurting themselves again," said JeMe Cioppa-Mosca, PT, MBA, assistant vice president, Department of Rehabilitation.
Mr. Heyden and Ms. de Mille have complementary interests and skills.
Ms. de Mille holds a master's degree in exercise physiology and is also a registered nurse. She is certified by the American College of Sports Medicine as a registered clinical exercise physiologist, exercise specialist, and exercise test technologist. Additionally, she is a certified USAT level 1 triathlon coach, as well as a certified strength and conditioning specialist. Her experience includes years of critical care nursing, as well as more than 15 years managing a corporate fitness program. Ms. de Mille has participated in numerous running events, adventure races, triathlons and open water competitions.
A certified strength and conditioning specialist, Mr. Heyden has spent the past 10 years focused on developing training regimens to realize the predetermined objectives of both the athlete and fitness enthusiasts.
Beginning his career in progression training methodology for major league baseball, Mr. Heyden worked for three years with the Pittsburgh Pirates and Texas Rangers before serving as director of strength and fitness conditioning for the New York Mets from 1997-2001. He has also been a consultant with both the men's ATP and women's WTA Professional Tennis Associations in recent years, and between 2001-2006 was owner/founder of Athlete International in Greenwich, Conn. and Westchester.
Mr. Heyden was a key participant in developing sports specific and functional training regimens that are widely considered a standard for training programs. He is a popular international speaker and author of Conditioning for Baseball Done Right, an industry standard in Japan for training baseball players. Mr. Heyden has also served as a consultant for Bobby Valentine in developing the conditioning program for the Chiba Lotte Marines in Japan.
The Sports Rehabilitation and Performance Center is located in the Belaire Building, Ground Floor, 525 East 71st Street (between York Ave. and the East River), New York.
For more information about the HSS Sports Performance Center, or to schedule an appointment, please call 646.797.8005 or write to SportsPerformance@hss.edu.
About HSS | Hospital for Special Surgery
HSS is the world's leading academic medical center focused on musculoskeletal health. At its core is Hospital for Special Surgery, nationally ranked No. 1 in orthopedics (for the eighth consecutive year) and No. 3 in rheumatology by U.S. News & World Report (2017-2018). Founded in 1863, the Hospital has one of the lowest infection rates in the country and was the first in New York State to receive Magnet Recognition for Excellence in Nursing Service from the American Nurses Credentialing Center four consecutive times. The global standard total knee replacement was developed at HSS in 1969. An affiliate of Weill Cornell Medical College, HSS has a main campus in New York City and facilities in New Jersey, Connecticut and in the Long Island and Westchester County regions of New York State. In 2017 HSS provided care to 135,000 patients and performed more than 32,000 surgical procedures. People from all 50 U.S. states and 80 countries travelled to receive care at HSS. In addition to patient care, HSS leads the field in research, innovation and education. The HSS Research Institute comprises 20 laboratories and 300 staff members focused on leading the advancement of musculoskeletal health through prevention of degeneration, tissue repair and tissue regeneration. The HSS Global Innovation Institute was formed in 2016 to realize the potential of new drugs, therapeutics and devices. The culture of innovation is accelerating at HSS as 130 new idea submissions were made to the Global Innovation Institute in 2017 (almost 3x the submissions in 2015). The HSS Education Institute is the world's leading provider of education on the topic on musculoskeletal health, with its online learning platform offering more than 600 courses to more than 21,000 medical professional members worldwide. Through HSS Global Ventures, the institution is collaborating with medical centers and other organizations to advance the quality and value of musculoskeletal care and to make world-class HSS care more widely accessible nationally and internationally.