The Erickson Tribune—February 28, 2008
Without a doubt, arthritis and its accompanying pain is the most common reason people seek out hip replacements or knee replacements.
"People who come for surgery have often been in pain for several years, but they've been receiving more conservative treatment," says Thomas Sculco, MD, surgeon-in-chief at New York City's Hospital for Special Surgery, a hospital specializing in joint injuries. "That includes physical therapy, pain relievers [including steroids], and simply losing weight; obesity is a big reason we do joint replacements."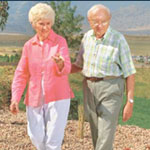 Today a knee replacement takes 45 minutes instead of three hours, so you're likely to be home much sooner.
Not so long ago, hip and knee replacements were seen as being for those age 65 and younger. But advances in materials, types of procedures, and even anesthesia, are making it more likely for surgeons to accept patients aged 80-plus. The result? From 1997 to 2005, the number of knee surgeries rose from 328,800 procedures to 555,800, and hip replacements increased from 290,700 procedures to 383,500 procedures.
More options for better fit
A wider range of sizes has made a big difference in finding the right joint replacement over the last thirty years. Between both hip and knee implants, Sculco figures he now has up to 60 different options to make the right fit.
"For working on a hip, I might have seven different sizes for the femur [the ball at the top of the leg fitting into the hip] and another seven for the tibia [the major lower leg bone]. Then I have combinations where one part of the implant is plastic, another is metal, or I have two parts that are metal," he says.
"It used to be we only had three sizes for knee replacements, essentially small, medium, and large. Now we have at least ten different sizes," says David Mayman, MD, orthopedic surgeon at Hospital for Special Surgery. Mayman says a gender-specific knee really isn't important, but admits he would like to see manufacturers working on slimmer and wider versions of the sizes currently available. "It would be like having a 7 narrow or 7 wide shoe, instead of just a size 7 for all women," he explains.
Getting hip
"Walking, and the differences between a woman's pelvis and a man's, are more of a gender concern when it comes to hip implants rather than the knee," Sculco says. That's why, Mayman adds, "We're very particular about measuring the side of the femur [the thigh bone] in a female hip implant." That is what will ultimately affect the leg's range of motion and flexibility.
Unless one is totally rebuilding the hip (which is not the most common procedure), a hip replacement refers to smoothing out the top of the femur (which is shaped like a ball) and the socket—a hole at the bottom of the pelvis—so that they fit together.
Fitting a hip used to literally require cement, but this isn't necessarily true anymore.
That doesn't mean cement is obsolete. "If the bone is of poor quality, perhaps due to osteoporosis, the bone may not grow," Sculco says. "So we'll cement the implant anyway to ensure it stays in place." He adds that he believes a good surgeon can determine the bone quality via x-ray or when actually looking at it during surgery. A bone test called a DEXA scan done beforehand is another aide.
Other advances
There have been advances beyond the actual bone replacements. "We've seen the incision for a hip replacement, for example, go from up to 12 inches to only about three or four inches. That makes recovery easier, and people lose less blood," Sculco says.
Sculco says he feels the biggest advance in allowing older adults to have joint replacements relates to regional anesthesia. "Older patients didn't do well with general anesthesia," he says. "Now we use an epidural, sedating the patient lightly. The patient is more alert so there's less confusion afterward. There are fewer breathing problems."
This kind of anesthetic is also a big reason for less blood loss and shorter time spent in surgery.
Computer technology allows surgeons to be more precise in joint placement. "It's like having a computer guidance system. It helps me find the ideal placement 95% of the time versus 80% of the time when I had to do it with just my own vision," Mayman says.
"Pain management is another big advance. After surgery, we control patients' pain much better," Sculco says. Besides leading to less mental fogginess, pain management "is a big key to success in getting someone out of bed the same day instead of in four days," he adds.
Whether you're seeking a hip or knee replacement, bring all of your concerns and goals to your orthopedic surgeon. That is ultimately the person to help you determine the implants and procedures most likely to meet your expectations.