New York—January 25, 2013
Researchers at Hospital for Special Surgery have identified a potential new target for drugs to treat patients with rheumatoid arthritis (RA), a protein known as IRHOM2. The finding could provide an effective and potentially less toxic alternative therapy to tumor necrosis factor-alpha blockers (TNF-blockers), the mainstay of treatment for rheumatoid arthritis, and could help patients who do not respond to this treatment. Efforts to develop drugs that hone in on this new target are underway.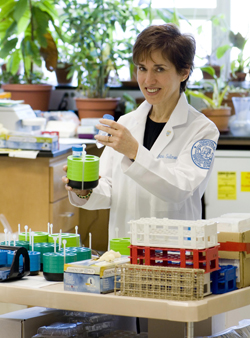 Jane Salmon, MD, Collette Kean Research Chair and co-director, Mary Kirkland Center for Lupus Research at Hospital for Special Surgery (HSS) in New York City, and an author of the study. "We have identified a clinically relevant target that can be applied to patients in the near term." The study will appear online, ahead of print, on January 25, in the Journal of Clinical Investigation and in the February 2013 print issue.
Rheumatoid arthritis, an autoimmune disease, is triggered, in large part, by TNF-alpha, a small signaling protein usually involved in launching protective systemic inflammatory responses. With excessive TNF production, however, immune cells can become activated inappropriately and cause tissue inflammation. This produces a number of diseases, including RA. While TNF-blockers help many RA patients, these treatments are very expensive, and some patients do not respond. For this reason, researchers have been searching for alternative targets in patients with inflammatory diseases against which drugs can be directed.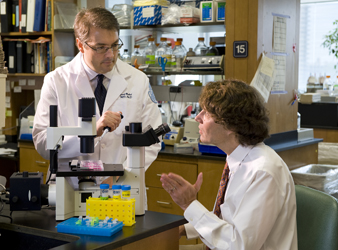 Carl P. Blobel, M.D., Ph.D., left, collaborates with Lionel B. Ivashkiv, M.D., in the Arthritis and Tissue Degeneration Program lab.
"TNF can be thought of as a balloon tethered to the surface of cells. To work, it must be cut loose by signaling scissors called TACE (TNF-alpha converting enzyme)," said Carl Blobel, MD, PhD, program director of the Arthritis and Tissue Degeneration Program at HSS. While blocking TACE could be another way to treat rheumatoid arthritis, researchers know this strategy would likely have side effects since patients lacking TACE are prone to skin infections and intestinal lesions.
Earlier this year, HSS investigators demonstrated that the TACE scissors are regulated by molecules called IRHOM1 and IRHOM2, which are thought to wrap around TACE and help it mature into functional scissors. They also demonstrated that mice that are genetically engineered to lack IRHOM2 lack functional TACE on the surface of their immune cells and don't release TNF. Surprisingly, these mice are healthy, and do not develop skin or intestinal defects.
In the current study, HSS researchers set out to investigate why this paradox exists. After examining tissues of IRHOM2-deficient mice, they found that IRHOM2 regulates TACE on immune cells, whereas IRHOM1 is responsible for helping TACE mature elsewhere in the body, such as in brain, heart, kidney, liver, lung and spleen cells. "IRHOM2 appears to have a more restrictive and exclusive function in immune cells," said Dr. Blobel.
The researchers then set out to determine whether blocking IRHOM2 could be a strategy to treat RA. They used a mouse model that mimics human rheumatoid arthritis in mice genetically engineered to be deficient in IRHOM2. They found that these rodents did not develop inflammatory arthritis and were otherwise healthy.
"When we tested mice that don't have IRHOM2 in a model for inflammatory arthritis, we found they were protected and they were protected as well as mice that didn't have any TNF," said Dr. Blobel. "Because TNF is the driver of rheumatoid arthritis in human disease, as evidenced by how well anti-TNF drugs work, we feel that this provides a completely new angle on blocking TNF release. It would be wonderful to be able to inactivate TACE in a tissue-specific manner and IRHOM2 provides a unique mechanism for us to do so."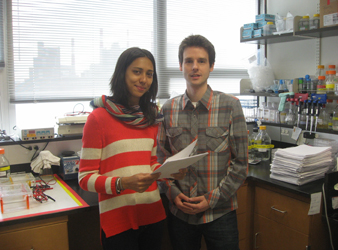 Priya D. A. Issuree, left, graduate student, Arthritis and Tissue Degeneration Program, Autoimmunity and Inflammation Program, and Thorsten Maretzky, Ph.D., postdoc, Arthritis and Tissue Degeneration Program, Hospital for Special Surgery.
Using drugs that inactivate IRHOM2 in humans, clinicians will be able to block the function of TACE only in immune cells. "We can prevent the deleterious contribution of TACE to rheumatoid arthritis patients and preserve its protective function in skin and intestines," said Dr. Blobel. "With IRHOM2, we have a unique and unprecedented opportunity to inactive TACE only in certain cell types, and not in others, and there is currently no other effective way of doing that."
The researchers say the next step is to identify antibodies or pharmacological compounds that can be used to block the function of IRHOM2 and are safe in patients. These HSS investigators are currently working to identify and test such agents. "In theory, IRHOM2-targeted drugs will have less toxicity than TNF alpha blockers," said Dr. Salmon. "They block TNF release only from specific cells, those known to contribute to joint inflammation and damage."
About HSS | Hospital for Special Surgery
HSS is the world's leading academic medical center focused on musculoskeletal health. At its core is Hospital for Special Surgery, nationally ranked No. 1 in orthopedics (for the ninth consecutive year) and No. 3 in rheumatology by U.S.News & World Report (2018-2019). Founded in 1863, the Hospital has one of the lowest infection rates in the country and was the first in New York State to receive Magnet Recognition for Excellence in Nursing Service from the American Nurses Credentialing Center four consecutive times. The global standard total knee replacement was developed at HSS in 1969. An affiliate of Weill Cornell Medical College, HSS has a main campus in New York City and facilities in New Jersey, Connecticut and in the Long Island and Westchester County regions of New York State. In 2017 HSS provided care to 135,000 patients and performed more than 32,000 surgical procedures. People from all 50 U.S. states and 80 countries travelled to receive care at HSS. In addition to patient care, HSS leads the field in research, innovation and education. The HSS Research Institute comprises 20 laboratories and 300 staff members focused on leading the advancement of musculoskeletal health through prevention of degeneration, tissue repair and tissue regeneration. The HSS Global Innovation Institute was formed in 2016 to realize the potential of new drugs, therapeutics and devices. The culture of innovation is accelerating at HSS as 130 new idea submissions were made to the Global Innovation Institute in 2017 (almost 3x the submissions in 2015). The HSS Education Institute is the world's leading provider of education on the topic on musculoskeletal health, with its online learning platform offering more than 600 courses to more than 21,000 medical professional members worldwide. Through HSS Global Ventures, the institution is collaborating with medical centers and other organizations to advance the quality and value of musculoskeletal care and to make world-class HSS care more widely accessible nationally and internationally.