Tips for Serious Swimmers to Get the Most Out of the Sport
New York—July 5, 2011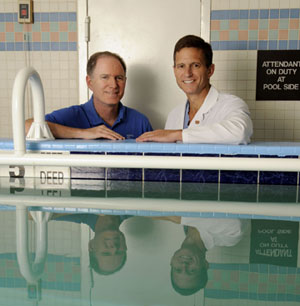 John Cavanaugh, PT and Dr. Scott Rodeo
Swimming is one of the best forms of exercise. It's easy on the joints and provides a terrific workout in terms of aerobic exercise and improving muscle strength.
With summer on the way, many people are gearing up to get back in the swim. Competitive swimmers may be training for triathlons that often take place during warm weather months. At a recent conference focusing on the endurance athlete at Hospital for Special Surgery, Dr. Scott Rodeo discussed the most common swimming injuries, why they happen, and how to treat and prevent them.
Dr. Rodeo, co-chief of the Sports Medicine and Shoulder Service at Hospital for Special Surgery and chairman of the USA Swimming Sports Medicine Committee, said the most common injury is referred to as "swimmer's shoulder" and can affect up to 70 percent of competitive swimmers.
"Most often, shoulder pain is caused by an overuse injury," he said. "If you think about a competitive swimmer's number of stroke revolutions per day, per week, per month, per year, it's phenomenal. We're talking about half a million stroke revolutions per year."
According to Dr. Rodeo, the main causes of shoulder pain in swimmers are:
Muscle fatigue from overdoing it.
Degenerative changes in the rotator cuff tendon, a condition called tendonosis.
Impingement of the rotator cuff during the swimming stroke. The rotator cuff is a group of four tendons that hook up to muscles that stabilize the shoulder joint. Impingement results from pressure on the rotator cuff from part of the shoulder blade (scapula) as the arm is lifted.
Shoulder laxity – various muscles and ligaments play a role in shoulder stability. Looseness in the shoulder may lead to injury.
Dr. Rodeo noted that the shoulder is an inherently unstable joint. "Shoulder stability is controlled by a synchronous pattern of muscle firing. Changes in the way the muscles work due to overload or fatigue can alter shoulder mechanics and cause problems."
Basically, by doing too much of the activity, the shoulder muscle becomes overloaded. When a muscle is fatigued, other muscles try to compensate, leading to an imbalance. The shoulder is no longer functioning normally, and this leads to pain.
Good practices can minimize the risk of a shoulder injury, according to John Cavanaugh, PT, a physical therapist at Hospital for Special Surgery. He has the following tips:
Do not attempt to swim if you are too tired, too cold or overheated.
Make sure to warm up properly.
Focus on swimming technique. Poor technique can leave you more prone to injury.
Engage in a general exercise program on land to develop muscle strength, endurance, balance and flexibility. This includes strengthening the core abdominal muscles.
Do not swim vigorously if you have a fever, upper respiratory infection or ear infection.
Keep in mind that a triathlon swim is completely different from pool swimming. Generally, in open water, you can't see where you're going and there are people all around you. Be prepared.
If shoulder pain develops, it's important to pay attention to it so it doesn't turn into a serious problem, according to Dr. Rodeo. He has this advice:
Rest the injured shoulder. Take a break from the activity.
If you continue to swim, avoid strokes and exercises that exacerbate the pain. Change your swimming stroke or do more kicking sets.
Use ice and anti-inflammatory medication.
If shoulder pain does not get better with rest, see a physician.
Enlist the help of an experienced physical therapist.
Return to swimming gradually after your pain improves.
For more information on swimming injuries, you can listen to Dr. Rodeo's podcast below:
About Hospital for Special Surgery
Hospital for Special Surgery (HSS) is the world's leading academic medical center focused on musculoskeletal health. HSS is nationally ranked No. 1 in orthopedics and No. 2 in rheumatology by U.S. News & World Report (2016-2017), and is the first hospital in New York State to receive Magnet Recognition for Excellence in Nursing Service from the American Nurses Credentialing Center four consecutive times. HSS has one of the lowest infection rates in the country. HSS is an affiliate of Weill Cornell Medical College and as such all Hospital for Special Surgery medical staff are faculty of Weill Cornell. The hospital's research division is internationally recognized as a leader in the investigation of musculoskeletal and autoimmune diseases. Hospital for Special Surgery is located in New York City and online at www.hss.edu.