New York, NY—May 14, 2015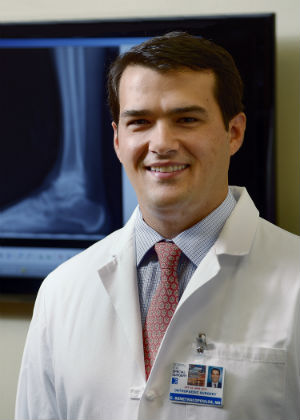 Hospital for Special Surgery (HSS) in New York City has been awarded a grant to compare two different treatments for ankle arthritis, a debilitating problem that causes significant pain and limits activities of daily life. The $20,000 grant comes from the American Orthopedic Foot and Ankle Society.
"The overarching goal of the proposed research is to determine the biomechanical differences in function between individuals who receive a total ankle replacement compared to an ankle fusion," said principle investigator of the study Constantine Demetracopoulos, MD, attending orthopedic surgeon at HSS.
Ankle arthritis occurs in roughly one percent of the population and is caused by a trauma, such as a fracture or dislocation. Roughly 18 percent of the elderly population has degenerative changes in their ankle.
In recent years, as newer ankle replacement designs have become available, the use of ankle replacement surgery has grown in popularity for treating ankle arthritis. Early studies suggest that patients with ankle arthritis who are treated with an ankle replacement (ankle arthroplasty) may have better function than patients with an ankle fusion (ankle arthrodesis), but hard data is lacking. Clinical studies have demonstrated equivalent pain relief and function in patients who undergo ankle replacement compared with ankle fusion. Analyses of gait mechanics have revealed that patients who undergo an ankle replacement have a slightly better walking speed, stride length, and walking cadence, but whether these slight benefits translate into objectively better function is unclear.
The HSS researchers are launching the new study so that they can fully understand how function actually differs between patients with a fused ankle compared with a replaced ankle, especially during functionally demanding tasks such as climbing stairs. The investigators will recruit 20 patients, ten who have undergone an ankle replacement and ten who have undergone an ankle fusion. Patients, who are at least one year removed from surgery, will be matched for age, sex, body mass index, pre-operative diagnosis, and time from surgery. The researchers will use a series of measurements and tests to determine arch height flexibility, foot motion, joint movements, and plantar (bottom of the foot) pressures. Tests include electromyography, a diagnostic procedure that assesses the health of muscle and nerve cells by measuring electrical signals that cause muscles to contract.
In addition to helping identify which surgery results in better outcomes, a greater understanding of how these patients function in the gait lab will allow investigators to better design biomechanical cadaveric studies. The findings will be used to improve and fine-tune the cadaveric gait simulator that is used to study ankle arthritis. The gait simulator is used to examine factors that contribute to the development of ankle arthritis, test various treatment options, and determine the effects of various ankle prosthesis designs on the function of the ankle and its adjacent joints.
"The new data will be foundational to future studies for driving a high fidelity cadaveric simulator to examine treatment mechanisms within the foot and ankle, for example treating stress in adjacent joints," said Dr. Demetracopoulos. "Understanding the gait mechanics during a task such as navigating stairs is important towards understanding how a total ankle prosthesis functions in patients."
To be eligible for the study, patients should be between the ages of 40 to 75 years of age and at least year one year removed from surgery. Individuals should also be able to walk unassisted and have unilateral disease. Exclusion criteria include (1) advanced degenerative changes in adjacent joints of the hindfoot, or the presence of arthrodeses in any of the other joints within the hindfoot, midfoot, or forefoot, (2) pain greater than 20mm visual analog scale during weight bearing activities, (3) advanced contralateral hindfoot, midfoot, or forefoot arthritis, (4) other neuromusculoskeletal diseases that could affect one's ability to walk.
Howard Hillstrom, PhD, director of the HSS Leon Root Motion Analysis Laboratory, is co-principle investigator of the study. For more information about enrolling in the study, please contact Lowsant Guzman, surgical coordinator, HSS Orthopedic Surgery-Foot and Ankle Surgery, at 212-606-1056.