The 162-bed hospital is known for achievements in sports medicine, joint replacement and research.
Orthopedics Today—July 2, 2009
The 146-year history of Hospital for Special Surgery is rich with clinical, research and educational accomplishments that have improved how orthopedic medicine is practiced.

In 1863, Hospital for Special Surgery (HSS) in New York began as the Hospital for the Ruptured and Crippled in a philanthropic effort to provide medical care to injured Civil War soldiers and needy city residents. It has been led by 11 surgeons-in-chief and now has 85 full-time orthopedic surgeons who performed 24,000 orthopedic procedures in 2008, including more than 7,366 joint replacements, according to current HSS Surgeon-in-Chief Thomas P. Sculco, MD.
The list of musculoskeletal medicine pioneers from HSS reads like a who's who of orthopedic innovation: Harlan C. Amstutz, MD, Albert Burstein, PhD, John N. Insall, MD, Chitranjan S. Ranawat, MD, Peter S. Walker, PhD, and Russell F. Warren, MD, among others.
---
"The many strong physician contributors at HSS over the years are typified by how well they integrated excellent patient care with critical review and analysis of clinical results and applied, basic science," said Douglas W. Jackson, MD, Chief Medical Editor of Orthopedics Today.
Leading the way
"We are the oldest orthopedic hospital, certainly in the United States and probably in the world," Sculco said.
HSS was founded by the first surgeon-in-chief, James Knight, MD, whose interest in orthopedics was limited to designing and constructing braces for children's congenital deformities.
Eventually HSS' focus shifted entirely to the treatment and rehabilitation of the musculoskeletal system for patients locally and around the world, which remains the mission of the 162-bed hospital.
Surgical innovation
An early HSS pioneer, Virgil P. Gibney, MD, became the second surgeon-in-chief in 1887 and held the position 40 years. He instituted changes in the work performed at the hospital and wrote about hip surgery.
"Virgil Gibney was responsible for establishing the first orthopedic residency," in the 1890s, Sculco told Orthopedics Today.
"He put the hospital on the map as a surgical hospital," said David B. Levine, MD, Director of HSS Alumni Affairs.
| | |
| --- | --- |
| The first Surgeon-in-Chief Dr. James Knight, MD | John Marshall, MD |
Gibney's leadership
Gibney was the first president of the American Orthopaedic Association.
Under Philip D. Wilson Sr., MD, who became the fifth surgeon-in-chief in 1935, the hospital changed its name to The Hospital for Special Surgery, moved to its current site and affiliated with Weill Cornell Medical College. In 1996, HSS dropped "The" from the beginning of its name.
"Wilson, Sr. had the vision to make it a very specialized institution and improve its research and academic mission," Sculco said.
Wilson was AAOS president in 1934. His son, Philip D. Wilson Jr., MD, was the eighth surgeon-in-chief and AAOS president in 1972.
Knee arthroplasty
Wilson Jr. bridged the gap between engineering and biomechanics, according to Sculco.
"He created an environment here in the late 1960s and early 1970s for the design and development of implants with surgeons collaborating closely with engineers and basic scientists. To a large extent, that still goes on today."
The joint arthroplasty research work performed by engineers like Walker and Burstein exemplifies that collaboration, yielding the duo-condylar knee developed in 1971. In 1973 Walker broached the concept of the cemented cruciate-sacrificing total condylar knee prosthesis that improved on other available designs.
Burstein and Insall developed the first posterior stabilized knee prosthesis in 1979 and in 1989 an updated version was marketed.
Subspecialization
In the 1970s, "[Wilson, Jr.] reorganized the orthopedic department into subspecialties and anatomic regions," Levine said. "He was way ahead of his time."
Specialty clinics for treating groups of patients with similar problems followed.
Sculco said this change at HSS mainly influenced what happened nationally and started the trend toward subspecialization. More importantly, Wilson, Jr. created an environment where individual doctors and researchers could flourish.
The research accomplishments at HSS are as strong as its clinical areas with work underway in tendon and ligament repair, soft tissue healing, osteolysis, spine, sports medicine, cartilage repair, osteoarthritis and other areas. The hospital has a strong commitment to registries and has several, including a prospective total joint replacement registry with data on nearly 13,000 patients and one containing more than 20,000 retrieved implants.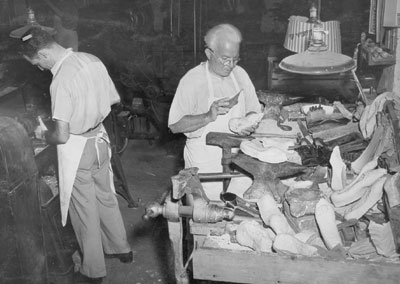 Workers at the HSS brace shop
Retrieval program
Timothy Wright, PhD, Director of the Department of Biomechanics started the HSS retrieval program in 1977 with Burstein.
The research and biomechanics programs Walker had in place when Wright joined HSS in 1976 were unmatched in the world. About then, they started collaborating with the engineering department at Cornell University's main campus, which provided valuable resources for computer modeling, biomechanical studies and related research, Wright said.
"That collaboration has been really vital and continues today," he told Orthopedics Today.
Collaboration
Internal collaboration between surgeons like Ranawat, Insall and Allan E. Inglis, MD, also spawned many successful concepts.
"If you look at modern total knee replacements some 30 years later, about half the market consists of posterior stabilized knees. Insall and Burstein developed that concept originally. That was a big stepping stone because it took an implant that did all the right things - it resurfaced bone so the pain went away and was well-fixed - and assured patients of something close to normal function and a larger range of motion," Wright said, noting that nothing remotely like it was being done elsewhere.
Translational research
Another HSS achievement: digitizing radiographs and CT scans so they could be stored on computers and manipulated. "We were at the forefront of computer-aided design of implants," Wright said.
Currently, HSS biomechanics researchers are investigating areas including tissue engineering and bone adaptation that will no doubt impact the orthopedic therapies of the future. Wright said researchers at HSS thrive because they can focus solely on the musculoskeletal system.
"It is a wonderful environment to do translational research that exists to go not just from bench top to bed, but more importantly, from bed to bench top and then back to the bed," he said.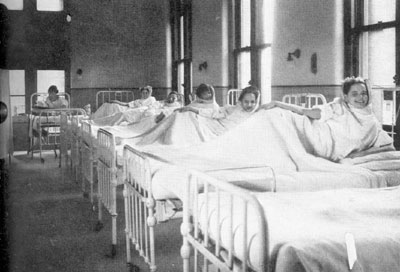 Children being treated for scoliosis during the early days of HSS
On the field
HSS boasts an early sports medicine specialty practice started by John Marshall, MD, which Warren, surgeon-in-chief emeritus, greatly expanded. HSS physicians are team physicians or associate team physicians for six major New York-area professional sports teams.
"I have valued the published results and teachings of John Marshall. He impacted sports medicine by making it more of an academic discipline," Jackson said.
In terms of academics, HSS has 40 residents and a large multi-national orthopedic fellowship program, with at least one fellow working with each service and multiple fellows working with the larger ones.
"Our fellowship program has been very successful. It spawns research and interaction between our faculty, fellows and researchers which generates research studies," Sculco said.
This story originally appeared at orthosupersite.com.