Prestigious international award recognizes seminal achievements in exploring reasons for high incidence of pregnancy loss in women with lupus
NEW YORK, N.Y.—July 31, 2007
Jane E. Salmon, M.D., the Collette Kean Research Chair and co-director, Mary Kirkland Center for Lupus Research at Hospital for Special Surgery in Manhattan, is the co-winner of the Carol-Nachman Prize for 2007 for outstanding research in rheumatology. This prestigious international prize, which Dr. Salmon shared with Josef S. Smolen, M.D., chairman, Division of Rheumatology, Medical University of Vienna, was awarded in a ceremony in Wiesbaden, Germany, by the Lord Mayor of the city.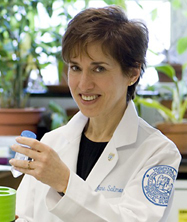 The award recognizes Dr. Salmon's innovative research into the pathogenesis of organ damage in systemic lupus erythematosus and other disorders of the immune system. Her research crosses the boundary between basic and clinical disciplines.  Experiments performed in models of human disease elucidate the mechanisms and mediators of the organ damage and provide the information necessary to develop new treatments for patients.  Most recently, her laboratory has explored the reasons for the high incidence of pregnancy loss in women with lupus, and particularly in those who have the antiphospholipid syndrome.
Dr. Salmon organized and directs a multicenter study funded by the National Institutes of Health (NIH) to translate her findings in laboratory animals with lupus-associated pregnancy loss to patients.  The PROMISSE (Predictors of pRegnancy Outcome: bioMarkers In antiphospholipid antibody Syndrome and Systemic lupus Erythematosus) Study is a prospective observational study of 400 pregnant patients enrolled at six major clinical centers that seeks to identify biomarkers that predict a poor pregnancy outcome and find targets for treatment.
"Hospital for Special Surgery could not be prouder of Jane Salmon, M.D., not only because she has received the prestigious Nachman Prize, but also because of her uniquely productive physician-scientist career that led to this international recognition," said Stephen A. Paget, M.D., physician-in-chief and chairman of the Division of Rheumatology, Hospital for Special Surgery.  "Dr. Salmon is the first woman who has received this award in a decade, a fitting honor for a scientist who has dedicated her life's work to improving the longevity and quality of life of women with systemic lupus erythematosus and the antiphospholipid syndrome.
"Her investigations have spanned the spectrum of research, from basic to translational to clinical.  They have been transformative, profoundly changing our paradigms of disease causation and treatment. She is the model, modern, rheumatologic scientist, one who moves back and forth effortlessly and tirelessly from the bedside to the bench to alter the ways in which we think about autoimmune disease and their pathogeneses," he noted.

Based on the experience of two decades in lupus research, Dr. Salmon formed a hypothesis that challenged conventional understanding and embarked on a project that contradicted accepted thinking about the antiphospholipid syndrome, a disorder frequently associated with lupus and characterized by pregnancy complications and thrombosis.  She was convinced that inflammation, rather than thrombosis, is the event that leads to pregnancy loss in patients with the disorder.

The series of papers that proved her hypothesis and defined the cascade of events responsible for pregnancy failure is considered one of the seminal achievements of recent research in rheumatology. 
Dr. Salmon received a bachelor of arts degree, magna cum laude, from New York University in 1972, and a doctor of medicine degree from Columbia University, College of Physicians and Surgeons, in 1978, where she was the first woman chosen for the Medical Scientist Training Program.  She completed a residency in Medicine at New York Hospital and fellowship in Rheumatic Diseases at New York Hospital and Hospital for Special Surgery, New York.
She currently holds the rank of professor of Medicine, Weill Cornell Medical College, New York, and senior scientist and attending physician, Hospital for Special Surgery. She is an attending physician at New York Presbyterian Hospital and a professor in the Graduate Program in Immunology, Weill Graduate School of Medical Sciences of Cornell University.
Dr. Salmon is the recipient of numerous academic awards and honors, including election to membership in Phi Beta Kappa and Alpha Omega Alpha, receiving the Henry Christian Award for Excellence in Research from the American Federation for Clinical Research, and being named one of 100 Young Women of Promise by Good Housekeeping Magazine.
She has been invited to deliver numerous named lectureships throughout the world, including the Edmund L. Dubois, M.D., Memorial Lectureship Award of the American College of Rheumatology and, most recently, the Eric Bywaters Memorial Lecture at Imperial College of London.
A consistent participant in scientific advisory and review panels in her discipline, Dr. Salmon has served on the advisory committee for NIH Lupus Multiplex Registry and Repository, was chair of the National Institute of Arthritis and Musculoskeletal and Skin Diseases (NIAMS) Special Grants Review Committee, is currently chair of the Alliance for Lupus Research Study Section, and is chair of the Protocol Review Committee, Rare Diseases Clinical Research Network, National Center for Research Resources, NIH.  She is a member of the Board of Directors of the American College of Rheumatology and served as chair of its Committee on Research.
Dr. Salmon is the author of more than 100 peer-reviewed publications and of many textbook and monograph chapters.  She is currently co-editor of the main journal in her subspecialty, Arthritis and Rheumatism, and a member of the editorial board of the journal Lupus.
Dr. Salmon's research interests also include the mechanism of premature cardiovascular disease in patients with lupus and rheumatoid arthritis and the genetic basis for differences in renal disease severity in lupus patients.
In addition to NIH support for the PROMISSE Study, she recently received a five-year renewal grant from NIH/NIAMS to study the mechanism of antiphospholipid antibody-induced pregnancy loss.  She is also the principal investigator for a National Institute of Allergy and Infectious Diseases-funded grant to study the mechanisms of recurrent miscarriage.   
The Carol-Nachman Prize was established in 1972 to honor outstanding innovative research work in the field of rheumatology. Each year, one or two scientists from around the world are recognized in Wiesbaden with this honor.