New York, NY—August 12, 2014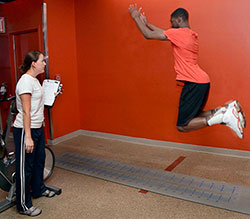 A student from Curtis H.S. in Staten Island amazes with his broad jump.
More than 150 New York City high school football players got a taste of the big leagues at a special "combine" offered at Hospital for Special Surgery (HSS) on August 9. Open to athletes in the Public Schools Athletic League (PSAL), football players from 27 schools took advantage of the free pre-season health and fitness screening at HSS, the official hospital for the New York Giants and other pro teams.
Hospital for Special Surgery offers the annual screening to avoid what could be a parent's worst nightmare. While playing a sport, often football, a teen athlete collapses on the field and doesn't make it. Every year, such cases are reported around the country. Sometimes the tragedy is the result of an injury. But it can also be due to an underlying health problem that went undetected before the game or a previous injury that did not completely heal, according to James Kinderknecht, MD, a primary care sports medicine physician at HSS.
The risks inherent in playing football have made medical clearance mandatory for all New York City high school students wishing to play the sport. Increased attention to the dangers of concussions and other injuries has also underscored the importance of being in good condition not only before the season starts, but being completely healed before returning to play after an injury.
At the screening, sports medicine specialists, primary care physicians, physician assistants, physical therapists, certified athletic trainers and other health professionals recorded the students' medical history; checked their heart, lungs and vision; tested their strength and flexibility; determined body fat percentage; performed balance/concussion management testing; assessed their posture; and tested lower extremity power via the broad jump.
Doctors also checked the young athletes for previous injuries to make sure no one returns to the game too soon. Sixteen year-old Orville Lactaoen of Queens tore his anterior cruciate ligament at last season's final game. After he was injured, he went to a special PSAL Football Clinic at HSS offered on Mondays during football season. Orville, who had surgery at HSS to repair his torn ligament, was at the August health screening, anxious to see if he could return to the game.
"We believe we are meeting a need in the community, and it gives Hospital for Special Surgery the chance to provide a valuable service," said Dr. Kinderknecht.
Students lacking good health insurance can fall through the cracks of a fragmented health care system. Special Surgery wants to make sure, at least in the case of the young athletes, that this doesn't happen, according to John Cavanaugh, PT, ATC, SCS, clinical supervisor, Sports Rehabilitation and Performance Center at Hospital for Special Surgery.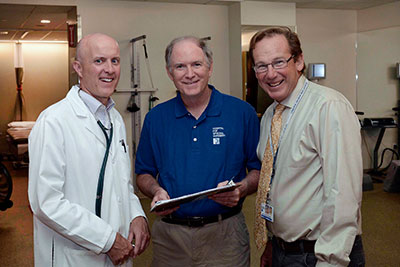 PSAL James Kinderknecht, M.D., John Cavanaugh, Mark Sherman, M.D.
"In addition to giving the students a complete physical, we assess their core muscle strength as well as their lower extremity strength, power and flexibility, information that can lead to injury prevention and performance enhancement," said Mr. Cavanaugh, who organizes the screening each year.
Once the season begins, hospital physicians and certified athletic trainers will provide medical coverage for the games at seven schools. And specialists will ensure that players receive the necessary care if they get hurt on the field -- again, regardless of ability to pay. The hospital's PSAL Football Clinic will again be open on Mondays during football season to see players injured during a game.
"We are committed to making sure these high school athletes have access to medical care, so they don't have to worry about 'who do I see, and how do I get in,' because the clinic is accessible," Dr. Kinderknecht explained. "It's not always easy to get in to see a doctor when you get hurt. The more cumbersome the process, the more likely it is a student will fall through the cracks. The goal is to make it as easy as possible, removing any financial barriers that may be there, as well."

About HSS | Hospital for Special Surgery
HSS is the world's leading academic medical center focused on musculoskeletal health. At its core is Hospital for Special Surgery, nationally ranked No. 1 in orthopedics (for the ninth consecutive year) and No. 3 in rheumatology by U.S.News & World Report (2018-2019). Founded in 1863, the Hospital has one of the lowest infection rates in the country and was the first in New York State to receive Magnet Recognition for Excellence in Nursing Service from the American Nurses Credentialing Center four consecutive times. The global standard total knee replacement was developed at HSS in 1969. An affiliate of Weill Cornell Medical College, HSS has a main campus in New York City and facilities in New Jersey, Connecticut and in the Long Island and Westchester County regions of New York State. In 2017 HSS provided care to 135,000 patients and performed more than 32,000 surgical procedures. People from all 50 U.S. states and 80 countries travelled to receive care at HSS. In addition to patient care, HSS leads the field in research, innovation and education. The HSS Research Institute comprises 20 laboratories and 300 staff members focused on leading the advancement of musculoskeletal health through prevention of degeneration, tissue repair and tissue regeneration. The HSS Global Innovation Institute was formed in 2016 to realize the potential of new drugs, therapeutics and devices. The culture of innovation is accelerating at HSS as 130 new idea submissions were made to the Global Innovation Institute in 2017 (almost 3x the submissions in 2015). The HSS Education Institute is the world's leading provider of education on the topic on musculoskeletal health, with its online learning platform offering more than 600 courses to more than 21,000 medical professional members worldwide. Through HSS Global Ventures, the institution is collaborating with medical centers and other organizations to advance the quality and value of musculoskeletal care and to make world-class HSS care more widely accessible nationally and internationally.