Hip Procedures Expected to Increase Dramatically by 2030
NEW YORK—April 1, 2008
In an effort to help orthopedic surgeons working in underserved areas in Greece continue to expand their medical knowledge and improve patient care, New York's Hospital for Special Surgery (HSS) is hosting a group of 22 Greek surgeons in a two-day interactive symposium focused on hip disorders and hip replacement surgery.
According to research recently presented at the American Academy of Orthopaedic Surgeons' (AAOS) annual meeting, hip replacement procedures are expected to increase by 101 percent, to 572,000 procedures, by 2030. This trend is also playing out internationally, the result of increased arthritis in the general population, an increased aging population, younger patients, and better diagnosis and treatment options.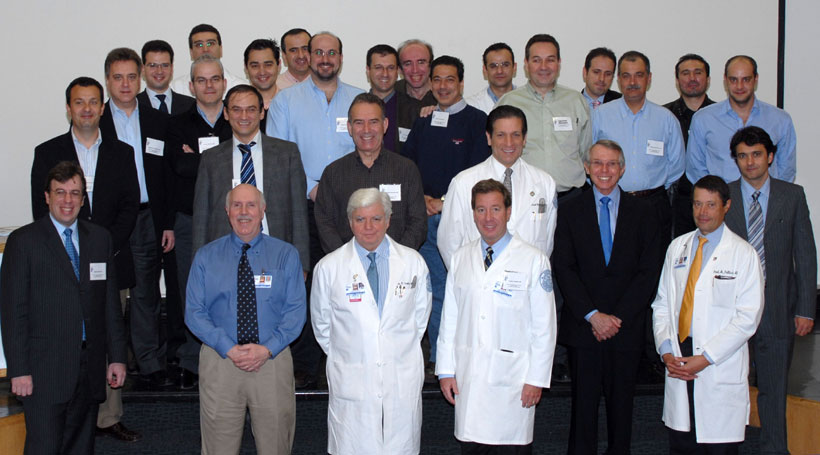 "As demand around the world for hip replacements continues to grow, this educational program provides an opportunity for HSS orthopedic surgeons to share their specialized knowledge with fellow physicians from Greece," said Douglas E. Padgett, M.D., associate attending orthopedic surgeon and chief of the Hip Service at HSS.
Funded by the Stavros S. Niarchos Foundation, the Hip Replacement Continuing Medical Education program will cover the full spectrum of hip replacement surgery with the patient in mind. Topics to be covered include innovative surgical techniques, pre- and postoperative care, treatment of infection, and rehabilitation.
While the symposium is open to all Greek orthopedic surgeons, the goal of the program is to encourage surgeons who are early in their practicing career to take advantage of the type of educational program that isn't always available to them in their native country.
The two-day symposium, taking place on Friday, April 4 and Saturday, April 5, will be co-chaired by Dr. Padgett and Thomas P. Sculco, M.D., surgeon-in-chief at HSS, and will include a live minimally invasive hip replacement surgery.
HSS surgeons perform approximately 2,800 hip replacements each year, more than anywhere else in the United States. They are consistently improving upon surgical techniques and implant technology to offer patients the greatest opportunity to return to normal function. Special Surgery has continuously opened its doors to international physicians. In the past, the hospital has hosted Japanese and Italian orthopedic surgeons in similar efforts to share knowledge.