Evening Hours: Solstice Soirees
The New York Times—June 27, 2010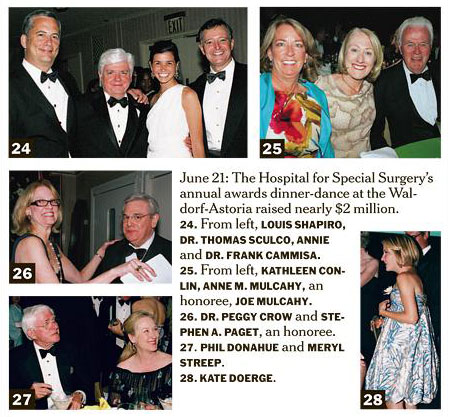 June 21: Hospital for Special Surgery's annual awards dinner-dance at the Waldorf-Astoria raised nearly $2 million.
24. From left, Louis Shapiro, Dr. Thomas Sculco, Annie and Dr. Frank Cammisa.
25. From left, Kathleen Conlin, Anne M. Mulcahy, an honoree, Joe Mulcahy.
26. Dr. Peggy Crow and Dr. Stephen A. Paget, an honoree.
27. Phil Donahue and Meryl Streep.
28. Kate Doerge.
See the full article at nytimes.com.

<!IoRedDot_hdl_pageTitle>
Media Contacts
<!IoRedDot_hdl_pageTitle>
Social Media Contacts