Forever Grateful: One New Jersey Girl Reclaims Her Life from Spondylolysis
After Justine Lancaster of Bloomfield, New Jersey, hobbled into the office of Dr. Daniel Green at Hospital for Special Surgery, anyone hearing the details of her case might have believed that she was a skilled athlete who had pushed her body to the limits over decades of competition.
She hadn't been able to shoot a basketball or dance in over a year. She had lost substantial weight and looked too thin. She had been on strict bed rest for over six months, and still, her pain was so unbearable that she needed medication just to get through the day.
But Justine was no seasoned veteran whose worn body was just not capable of performing - she was a young girl. Just 13 years old, she initially thought she had simply tweaked her lower back during a basketball game.
"It wasn't anything specific," she says of her injury. "At the time, I didn't think it would be such an ordeal because we thought I had just strained a muscle."
Throughout the course of the next year, however, Justine would be examined and tested by numerous specialists who would provide as many different diagnoses and prescribe various conservative treatments. None of it seemed to make a difference.
Her health would continue to deteriorate; she found herself unable to join her friends on the basketball court. Soon thereafter, she was unable to even sit among them in the classroom.
"I was out during 7th grade," she says, referring to the bed rest that robbed her of several months of classroom instruction. "A tutor came to my house and my parents did a lot of review with me. It got a little lonely, but my grandpa came over to watch me."
Spending time with Justine was no sacrifice for the tightly knit Lancaster family, but her injury and physical pain had begun to take an emotional toll.
"It was very hard to watch my daughter's health deteriorate," says Carol Lancaster, Justine's mother. "We were so used to going from sport to sport that it was upsetting that she couldn't do what she loved…all I could think was, 'will my daughter ever get back to a normal life?'"
Around that time, following what had become a routine visit to Justine's therapist, Carol made a decision that she claims has forever altered her daughter's life.
"Justine's physical therapist suggested that it was time to go to New York and visit HSS," Carol says. "I did research and saw Dr. Green had a good reputation, and this is when I decided to make an appointment."
Dr. Green recognized that Justine's lower back pain was being caused by a stress fracture in a portion of the posterior elements of her spine called the pars, a condition referred to as spondylolysis and found commonly among young athletes.
Further, Dr. Green recommended fixing the fracture using more aggressive treatments than Justine's other doctors; instead of rest, physical therapy, and a brace, he would perform a L5-S1 single level spinal fusion surgery, fusing the fifth lumbar vertebra and the sacrum.
Though the procedure is rather common in adult patients, Dr. Green says that only a small minority of pediatric patients require such measures.
"This type of injury usually happens to kids who are very athletic and competitive – the ones who are doing repetitive motions over and over," says Dr. Green. "Typically, the treatment is conservative, but in about 5% of cases, conservative treatment doesn't help. In those cases – cases like Justine's – surgery can provide relief."
Though the Lancaster family now knew what it would take to return Justine's quality of life, Carol and Justine both agree that the prospect of spinal surgery was stressful.
"Some relief came when Dr. Green said he could help her, but we also knew that the operation and the recovery would be hard," says Carol. "We were encouraged by friends and family, who kept pushing us to see that there was finally light at the end of the tunnel."
To assuage any fears and concerns, Dr. Green detailed the process in its entirety, including the multiple days in the hospital required after the procedure and the months of physical therapy that would not only strengthen the muscles in Justine's back, but also the muscles in her legs that had weakened during the previous months of inactivity.
"I was a little nervous," says Justine, "but I trusted Dr. Green and knew everything would be fine."
"Dr. Green was very thorough and explained everything step by step," Carol remarks. "I felt that, finally, she was going to have a chance at having a better quality of life."
Justine's surgery took place on June 11, 2007 and was a complete success. After spending an additional four days at HSS following the procedure, Justine then began a regimen of physical therapy designed to get her walking again.
Although competitive sports were prohibited for six months after the surgery, Justine was able to reclaim one vital element of her life. That September, she returned to school.
"It felt good to be back with my friends," says the now vibrant, 15-year-old high school sophomore. "We could finally do something other than sit around and play games."
In the years since her spine surgery, Justine's interests, as any teenage girl's interests might, have moved away from sports and toward the arts. But that's not to say that she isn't as energetic and active as ever; on a recent family vacation to the Dominican Republic, she spent her time scuba diving, horseback riding, parasailing, playing volleyball, and swimming.
Though she chooses to no longer chase her old hoop dreams, Justine has found other passions to pursue.
"I do tap, ballet, and jazz," she says. "In June, I had a dance recital and danced in all three numbers. I also enjoy singing and joined a choir, and I plan on getting back into theatre."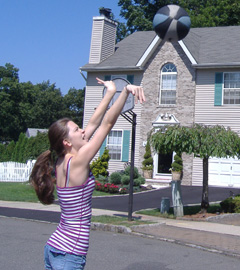 Justine shoots some hoops after recovering from spondylolysis, a stress fracture of the pars, a section of the lower back.
While some families might find all of this activity to be exhausting, for the Lancasters, it all comes as a welcome gift for which they credit Dr. Green and the staff at HSS.
"I always tell people about Dr. Green and HSS, and about the great quality of care we received," says Carol. "The nurses and other workers were all so wonderful when Justine was in the hospital… her family and friends are all so grateful. Dr. Green is Justine's guardian angel."