Great Performances: Reaching New Heights - Hip Replacement Surgery and Recovery
Mark di Suvero was not going to let a devastating spinal cord injury at the age of 27 keep him down. Critically injured in a freight elevator accident, the internationally renowned sculptor spent two years in hospitals and rehabilitation facilities, gradually regaining some use of his legs. Mr. di Suvero, now 77, went on to become a master sculptor known for using a crane and acetylene torch to create monumental assemblages of steel and wood.
"He is just an amazing individual," says Thomas P. Sculco, MD, Surgeon-in-Chief, who replaced each of Mr. di Suvero's hips, which had deteriorated in all likelihood as a result of the accident. "For some 50 years, he has been overcoming mobility issues and weakness in his legs, climbing up the steel and in and out of cranes to create these brilliant sculptures."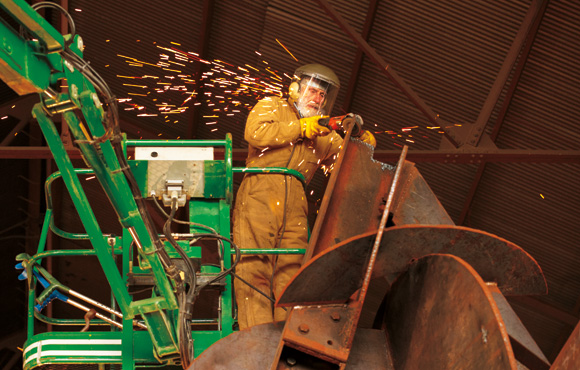 Mark di Suvero, Sculptor
Because of medical issues associated with the original injury, Mr. di Suvero's hip replacement surgeries and recovery were more challenging. "He's courageous, strong, and determined," says Dr. Sculco. "He didn't go to a rehab center. He insisted on going home. Artists tend to know what they need in terms of their bodies, particularly those who make a living with their hands or their legs. Their careers are based on their mobility and function. It's important when we operate on them that we return them to that function at a very high level."
"I work with my hands. They've allowed me to build my dreams," said Mr. di Suvero in a 2005 interview in Sculpture magazine. Mr. di Suvero's works are created in three studios – in Long Island City, New York, and in California and France. His sculptures have been exhibited in museums and outdoor settings all over the world, and on March 2, 2011, he received the 2010 National Medal of Arts from President Barack Obama, the highest award given to artists and arts patrons by the United States government.
Clearly, Mr. di Suvero's injury early in his life and, more recently, hip replacement surgery at Hospital for Special Surgery, have not diminished his ability to construct sculptures that "…connect earth and sky" and bring great joy to the millions who have the opportunity to see his creations.

This story first appeared in the Spring 2011 issue of Horizon, the HSS news magazine.