Eonsiniphilic Fasciitis Presenting During Travel Abroad
This case appears in the HSS publication, Grand Rounds from HSS - Management of Complex Cases, Fall 2012 - Volume 3, Issue 3, Case 3
Sergio Schwartzman, MD, presents a patient who developed hand arthralgias and diffuse edema of the lower extremities during a trip to Asia. History, physical exam and laboratory data were quite unremarkable, other than extensive non-pitting edema of the legs and an elevated aldolase.
A diagnosis of eosinophilic fasciitis was made based on MRI and skin biopsy, the patient responded well to steroid therapy, but any potential link between the patient's travel and the development of the illness remained undefined.
Read full case details in Volume 3, Issue 3 of Grand Rounds - Complex Cases.
Click on the image to enlarge and read the captions.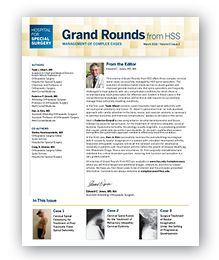 Return to the Grand Rounds - Complex Cases Main Page
to receive new
Grand Rounds - Complex Cases
issues via email, as well as updates on other professional publications from Hospital for Special Surgery.